A RETIRING cleaner has won the hearts and minds of the internet after taking aim at her "aggressive and cruel" boss in a brilliantly brutal goodbye note written on her last day in the job.
Julie Cousins got to live the dream of countless employees the world over after penning the perfect response to her confrontational boss.
Cousins had reportedly spent the last 35 years working as a cleaner for HSBC.
However, she decided to quit her job with the bank after receiving a very public dressing down from her manager in front of several co-workers.
That proved the final straw, with Julie deciding to depart the role – though not before she spoke her mind about the treatment, she and her colleagues had face..
"Hi ladies, tomorrow will be my last clean for HSBC," she begins.
"I have made up a bucket of cleaning materials for the next cleaner whoever that may be!!
"I've left the job [manager's name] after the way you dressed me down in the office.
"It was nothing more than aggressive and cruel but that's a reflection on your character, not mine.
"So going forward, please all of you remember: in a world when you can be anything, BE KIND.
"Because you are all no better than the cleaner."
The note was first highlighted on Twitter by her son, Joe.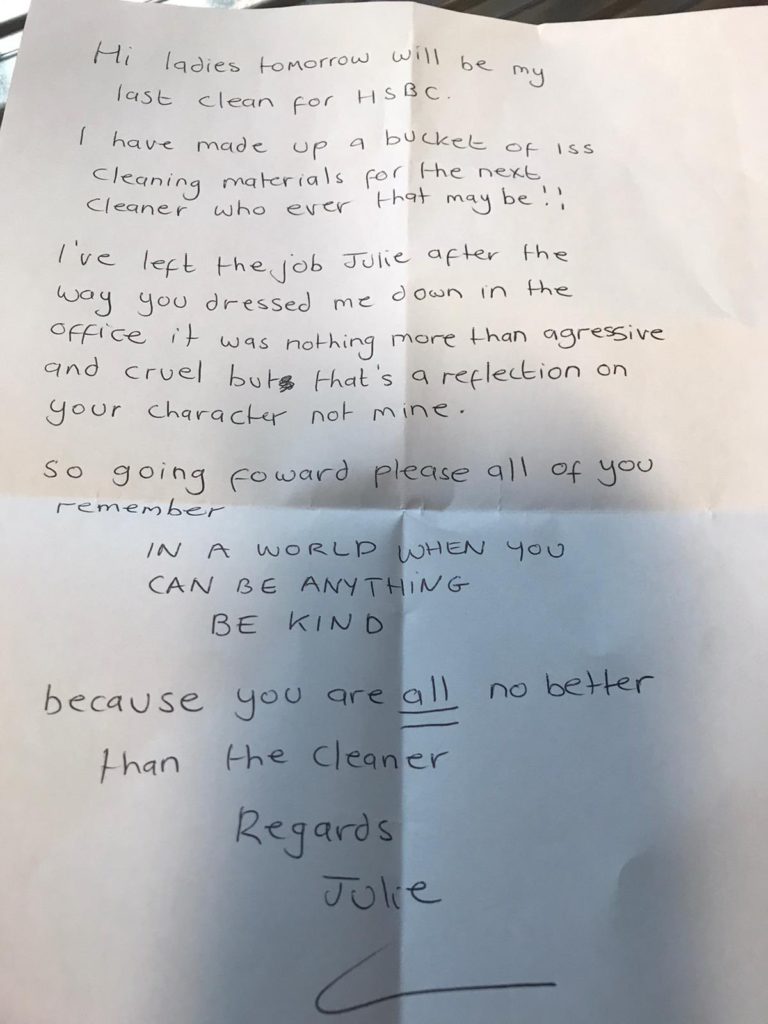 "And this is why I love my mum. She's been cleaning banks for 35 years and today walked out with this lovely note left behind for that awful manager," he wrote alongside an image of the note.
"Happy retirement mum – always have the last laugh eh!"
The message struck a chord with many on social media.
"I was raised to believe that a job is a job and anyone getting up and going to work deserves the same respect, whether they pick up trash or run the company," one person commented.
"Good for your mom! Respect!"
"Well done her!" a second wrote.
"My dad was a caretaker of a school for 30 years, so many rude staff."
"Never understood why people think what they do for a living reflects their importance," a third added.
"I was raised to believe that a job is a job and anyone getting up and going to work deserves the same respect, whether they pick up trash or run the company. Good for your mom! Respect!"