A MURAL depicting the legendary Sister Michael has appeared on a wall in Dublin close to the recently closed Bernard Shaw pub.
The popular Derry Girls character is shown raising her eyes to the heavens in her trademark exasperated style, with two speech bubbles stating "Another hotel? Christ".
The mural is a not-so-subtle protest against the perceived loss of culture in Ireland's capital city, where popular murals have been painted over by the council and small alternative businesses such as the Bernard Shaw pub and Eatyard venue have been closed down in order to make room for-- you guessed it-- hotels.
Though the pub will be reopening in a different part of the city later this month, the decision to force the Bernard Shaw to close in the first place in order to make room for yet another hotel ("Christ") sparked frustration from many.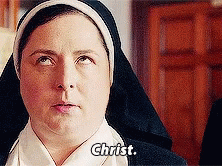 The pub drew creative and like-minded individuals from across the city, and its forced closure was condemned across the board, with one person saying the act was a part of the "cultural strip-mining" of Dublin.
Derry Girls actress Siobhán McSweeney, who plays Sister Michael, was sent photos of the mural by several fans and said she finds it "brilliant" and that she "totally, totally" approves of it.
OH MY GOD YEEEEEOOOO This is brilliant. Fuck YES! Brilliant. Totally totally approve. #anotherhotel🙄 Who did this ? https://t.co/Uxu7KULaMr

— Siobhán McSweeney (@siobhni) November 3, 2019
The mural was painted by prominent artist Emma Blake, who is responsible for many of the iconic murals which can be seen on walls across the city, including one honouring Northern Irish journalist Lyra McKee.
So it appears that @emmaleneblake who was responsible for the wonderful #LyraMcKee mural also did this. So obviously talented and compassionate. Fair fucking play #AnotherHotel🙄 pic.twitter.com/siyXnaj0U7

— Siobhán McSweeney (@siobhni) November 3, 2019
To see more of Ms Blake's street art you can visit her website here.