A DRUNKEN gran who subjected fellow passengers to an ISIS rant during a Glasgow to Birmingham flight has been jailed.
Elaine Ryan, aged 60, loudly claimed a man on board the Flybe flight was a member of the terror group and had a bomb on board.
Birmingham Crown Court heard 48 passengers, including children, were terrified by her claims during the 50 minute flight.
A self-confessed alcoholic, Ryan was seen by crew members with a half-empty bottle of vodka in one hand and an un-lit cigarette in the other.
A former nurse with 30 years experience in the NHS, Ryan, of Sevillia Close, Coventry, had to be removed from her seat and was strapped in a galley area when crew were unable to stop her drunken tirade.
Even then she continued hurling abuse and accused a steward of also being a member of ISIS who was armed with a bomb.
The court heard the plane was able to continue on its scheduled flight path despite an emergency landing being considered by the captain.
He was forced to request a priority landing slot, jumping ahead of other aircraft, to get the plane on the ground so rowdy Ryan could be arrested at Birmingham Airport.
Lal Amarasinghe, prosecuting, said even as police attempted to arrest her, Ryan demanded to be allowed to smoke before scratching one of the officers causing an injury.
Interviewed the following day once sober, Ryan said she had no memory of the flight or attacking the cop.
She was jailed for seven months after pleading guilty to an offence of being drunk on an aircraft and obstructing a police constable.
Melbourne Inman QC, the Recorder of Birmingham, told a hysterical Ryan; "You began to shout at another passenger that he was a member of Islamic State and was going to blow the plane up.
"Some passengers were clearly very frightened and they included children.
"Many were growing extremely alarmed and hostile at your appalling behaviour.
"(The) plane had to become a priority landing which had a knock on effect on other planes wanting to land at that airport.
"All those travelling in an aeroplane are relatively vulnerable because even a small incident may have potentially catastrophic consequences 25,000 feet in the air.
"Behaviour such as this cannot be tolerated and courts should include an element of deterrence for the benefit of the public.
"In your case it is particularly serious given present circumstances, you made references to somebody being part of a terrorist group and being armed with a bomb.
"I am afraid for offences of this nature  custody is inevitable."
Since 2010 Ryan had been convicted of assaulting two police officers and a paramedic, all when drunk.
The judge went on; "You must learn if you continue to attack those who are doing their duty you just suffer the consequences.
"I hope you can do something to address your alcoholism.
 "If you continue to offend in this way the time has come when the public will be protected by sentences of imprisonment."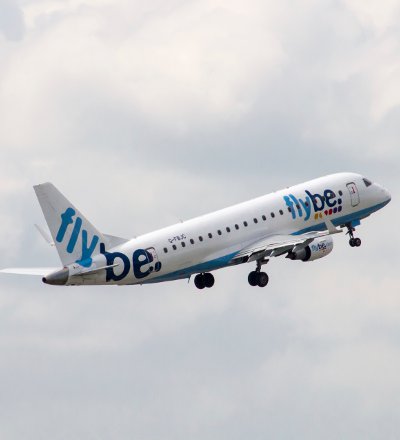 Ryan boarded the Flybe flight at Glasgow on March 27 after visiting her daughter who had just given birth.
A nervous flier, the recovering alcoholic turned to drink to calm her nerves.
Mr Amarasinghe said stewards tried to sober her up with food and water but Ryan soon became abusive.
He said: "Passengers had a very distressing time.
"When they finally landed and police boarded they started shouting, angrily shouting at her and telling her what a disgrace she was."
Anthony Cartin, defending, said mum-of-three Ryan, had been tackling her alcoholism but had suffered a relapse.
He said; "She has her demons, she has not ignored them.
"Hopefully it would have been apparent they were empty allegations and this was more someone acting up"