GEORGE R.R. MARTIN has received the International Recognition Award the annual Irish Book Awards in a ceremony in Dublin on Tuesday evening.
He was honoured for his contribution to fantasy and science fiction writing over the past 40 years.
The Game of Thrones author said he was thrilled to win the award and to be included in such illustrious company - previous recipients of the award include David Walliams, Bill Bryson and Jilly Cooper - but the fantasy novelist stressed to his fans not to "neglect real history."
Accepting the prize, the American writer said: "Thank you. It's quite a thrill for me to be here and to accept this award.
"I've been told a little about it and some of the previous winners of it and I always think that people who have gotten an award, the company you keep is always a very important part, so I'm thrilled to have been included in this company and to receive it in this place, the Irish Alamo."
He then told the audience that while he was pleased that so many have enjoyed his tales of make-believe, it was important for his fans to learn and remember real history and not to ignore the lessons history teaches us.
"I'm glad so much of the world has fallen in love with my books and my TV show. But we're living in perilous times, folks, in the US and UK and I'm sure it's affecting every part of the world.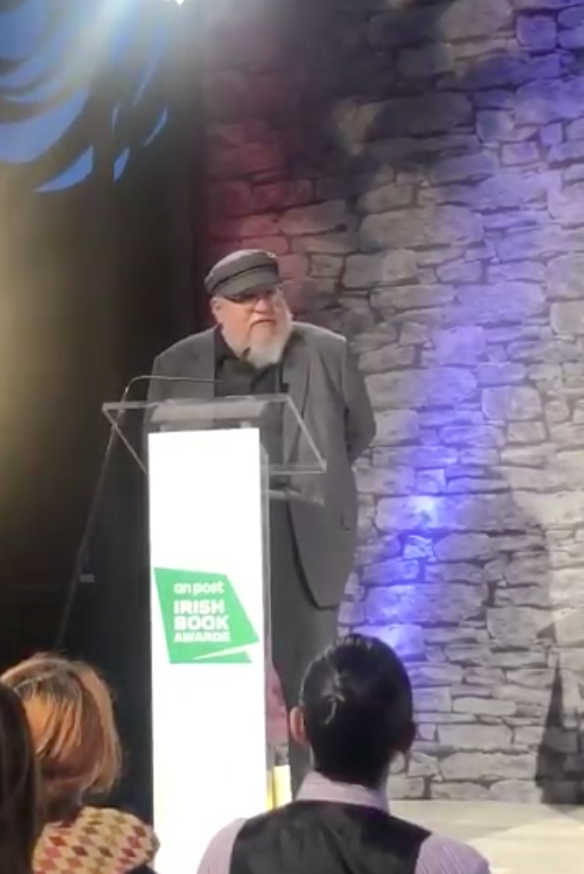 "Nothing is ever truer than those who do not know real history are doomed to repeat it.
"I sometimes wake up at night wondering what precise history we're about to repeat.
"Being in this building, infused with its enormous sense of history and knowing the men who fought here and the men who died here in the names of having the right to govern themselves and the right to freedom is a very moving experience.
"So thank you so much for bringing me here to this place and for giving me this award. It means a lot."
Martin received his award ahead of the official awards ceremony later in the year.
The Game of Thrones creator has been writing since the 1970s but rose to prominence after the release of his book series A Song Of Ice And Fire which began in 1996 and his notoriety exploded following the hugely successful HBO adaption, which first aired in 2011.
Team IMAGE is at a very special event with @AnPostIBAS, celebrating the legend George R.R Martin 🎉🎉🎉 #readerswantit #GameofThrones#GoTGPO pic.twitter.com/f2lW8yT0GY

— IMAGE Media (@image_magazine) August 20, 2019