A PHOTO has emerged of a five-year-old homeless boy eating his dinner off of a sheet of cardboard on a street in Dublin.
The boy in the picture, Sam, is seen eating carbonara on a pathway on Tuesday night.
The image was shared on Facebook by a volunteer group called The Homeless Street Cafe.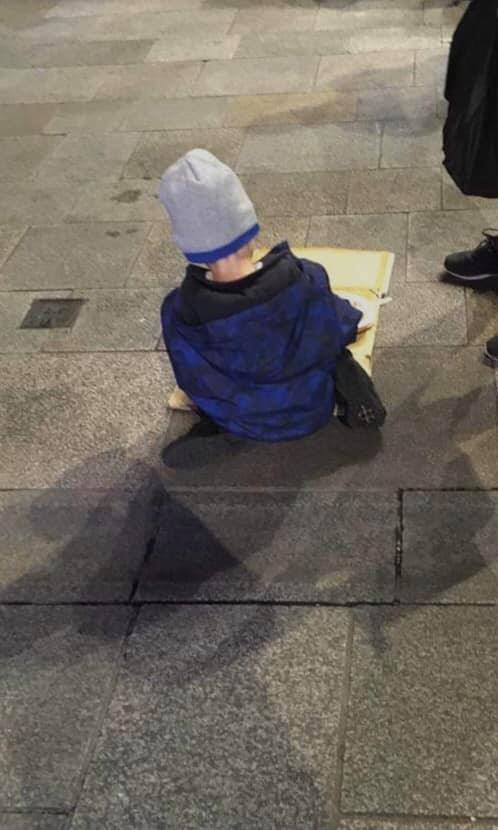 Their caption read: "We are home after another incredibly busy night.
"I'm exhausted, weary and emotional and should (guiltily) go to bed BUT there is an image burnt in all the teams minds tonight.
"It's wrong and it's distressing but this IS happening and it's only getting worse each week.
"'Sam' is 5 and this was him eating a dinner of carbonara tonight on a sheet of cardboard.
"Can we really accept this?"
The post has been shared and reacted to over 10,000 times since it was posted at around 11.30pm on Tuesday evening.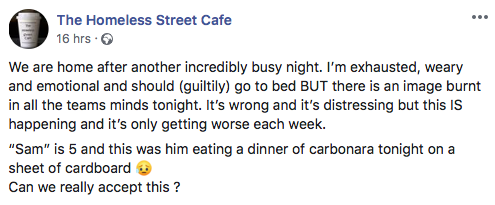 One user commented: "My god this is just devastating and so hard to see as a mother of 2 little boys.
"My heart is broke looking at this picture we need to take a stand as a country, things need to change."
Another said: "Oh my god, that poor child."
"This is the saddest photo I've ever seen."