A CAFÉ in Dublin is refusing to open its indoor dining area because it doesn't want to participate in "discrimination".
The owner of the White Moose Café took to Facebook to announce his stance, following the return of indoor hospitality on Monday.
Paul Stenson said his business has always been "pro-choice" and will not "stand by discrimination", in a Facebook post on Sunday.
"The indoor seating area of the café will not reopen tomorrow... because the White Moose is not prepared to stand by discrimination.
"We have always been pro-choice here and that's not going to change now I'm afraid."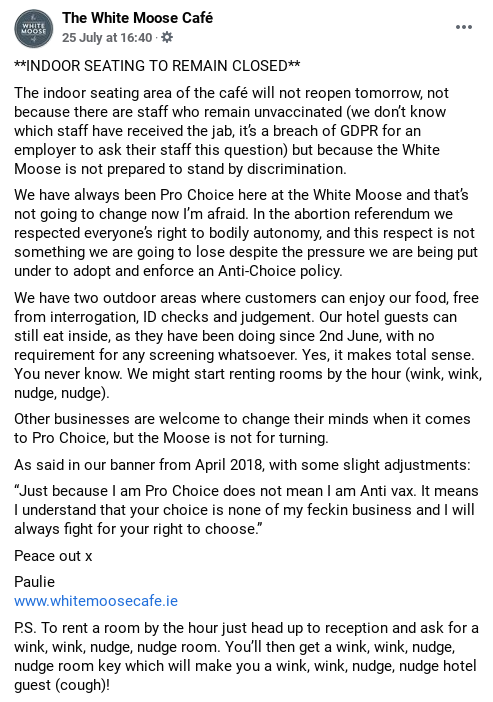 He stressed that businesses across Ireland are being "put under pressure to adopt and enforce an anti-choice policy," and that he couldn't be a part of that.
Paul also posted an image of a pro-choice banner he hung during the abortion referendum in 2018, which read: "Just because I am pro-choice does not mean I am pro-abortion. It means I understand that your choice is none of my fecking business, and I will always fight for your right to choose."
He stressed that their limited outdoor seating will remain available, but until indoor dining is opened up to everyone, the White Moose Café would keep its doors closed.
"Other businesses are welcome to change their minds when it comes to pro-choice, but the Moose is not for turning," Paul added.