The driver of the car reportedly collided with another vehicle in their attempts to escape the Gardaí.
It's beginning to look like Irish people are some of the worst drivers in the world. Or rather, the drivers who commit crimes behind the wheel and somehow think they'll get away with it.
The news comes less than two weeks after one car in Limerick was driving so fast in the city centre that they wedged their car between a wall and a basement. The driver of the silver car was retrieved from the car luckily unharmed, however the same could not be said for their car.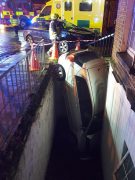 The most recent car to be caught for bad driving is a driver from Co. Kerry according to the official Garda Síochána Twitter account.
One driver has been arrested by Gardaí for dangerous driving for performing 'doughnuts' behind the wheel - the process of locking the front wheels of the car and skidding around in 360-degree motion to replicate the circular nature of a doughnut - however, when pursued by Gardaí for their antics, they proceeded to drive off.
Mid-fleeing the Gardaí, the Kerry driver collided with another vehicle in their way and when finally stopped by the Gardaí hot on their tails, the offender was found to have no insurance.
The Gardaí released a photo of the offending car, displaying the damage the car has inflicted on itself trying to escape them and also the consequences for the negligent driver.
Gardaí reported the story in full from Tralee Garda as: "Driver of this car arrested for dangerous driving after being caught doing doughnuts and crashed into another vehicle when trying to evade Gardaí.. Charged with dangerous driving and no insurance. Court appearance end of November."
Tralee Garda: Driver of this car arrested for dangerous driving after being caught doing doughnuts and crashed into another vehicle when trying to evade Gardaí.. Charged with dangerous driving and no insurance. Court appearance end of November. pic.twitter.com/y6G3fyc3Ja

— An Garda Síochána (@GardaTraffic) November 13, 2017