A CROWD of over 100 people filled St. Patrick's Hall in Coatbridge on Sunday night for a debate on 'The Irish in Scotland: Past, Present and Future' as part of the Coatbridge St Patrick's festival.
A panel of speakers with roots in the Irish community in Scotland discussed a wide range of subjects including anti-Irish racism, the planned famine memorial in Glasgow, the north of Ireland, the future of Catholic schools in Scotland, and September's referendum on independence.
This included professors Tom Devine and Patrick Reilly, Catholic media spokesperson Peter Kearney, and MSPs Siobhán McMahon, Hugh Henry and Joan McAlpine, and Irish community worker Danny Boyle.
Tom Devine, professor of history at Edinburgh University, said that through Scotland's history Irish Catholicism was "marginalised".
"As late as 1952 the Kirk's Church and Nations Committee denounced all forms of racism there were still references to the Irish as an alien race and a menace," he said.
"Times have changed rapidly but…Africans and Asians seem to be more attractive for support and public recognition (than the Irish). It does suggest that there's a fear that such recognition would be divisive."
Hugh Henry, Labour MSP for South Renfrewshire, agreed that the Irish in Scotland still struggle for recognition.
"There's still a reluctance in this country to allow people like me to express their identity through an Irish identity or culture. We can stand up and sing as all Scots together and that's fine.
"But if I say I've different references and tastes I think there's still a discomfort about being too assertive about that."
Joan McAlpine, SNP MSP, said that the situation for the Irish in Scotland had improved since devolution in 1997.
"A lot of the discussions about this issue have happened since we had a Scottish parliament," she said. 'When I was growing up (anti-Irish racism) wasn't discussed."
The Irish came to Scotland "during the transformational process of what made Scotland what it is today", said professor Devine.
"(The Irish) built the new Scotland more than the Gaels or the Lowlanders but still think of themselves as a group outside. But they are powerful motors of the development of modern Scotland. We don't make enough noise in this community. Other communities across the world have made a lot of noise."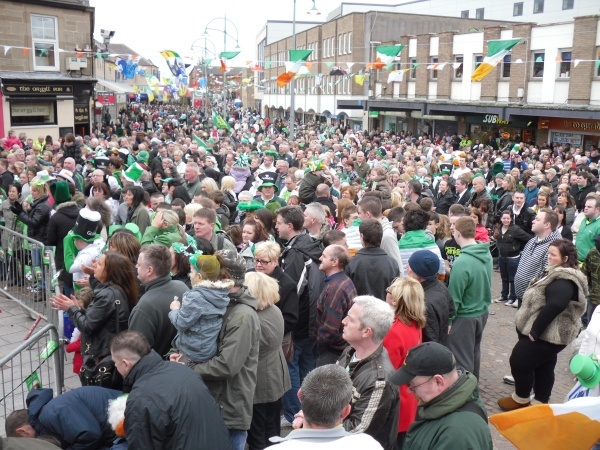 But Irish Catholics in Scotland have now reached economic and educational parity, professor Devine added.
Professor Devine also said Irish Catholics were more likely to vote 'yes' to independence in the September 18 referendum than those who identified with the Church of Scotland or had 'no religion'.
'In 2012, 30 per cent of Catholics support independence as against 26 per cent of those with no religion and 17 per cent among Church of Scotland identifiers,' he said. "A mere 16 per cent were very concerned about the possibility of an independent Scotland."
Average Catholics are "more comfortable with the way modern Scotland is going". "That doesn't mean that these people are going to vote for independence," he added.
The offensive behaviour at football act, which the Scottish Government introduced in 2011 as part of an anti-sectarian drive, was heavily criticised by both speakers on the panel and members of the audience.
On the subject of Catholic schools, Peter Kearney said they 'are grudgingly accepted not celebrated' in Scotland. Calls for the introduction of shared campuses in some areas were evidence of 'pressure to eradicate the identity of Roman Catholic schools,' he said.
Now in its 12th year, the Coatbridge St Patrick's culminates on Saturday, March 15 with a family street festival in the town.