A LONDON-BASED nurse has revealed that several of her colleagues have shockingly been mugged at knife-point in the last few days.
The NHS worker, who has remained anonymous, says that the attackers were seeking out hospital staff to get a hold of their phones and their NHS ID badges.
The 30-year-old shared a screenshot of a WhatsApp message she'd received from a friend on Sunday night on her Instagram page.
In the message, she's warned to "be careful coming in and leaving work" after four members of staff were mugged for their ID badges.
The message read: "Oh and in more good news, be careful coming in and leaving work as 4 members of staff have been mugged in the past couple of days, in daylight as well, because fewer people are around the muggers are just going for it!"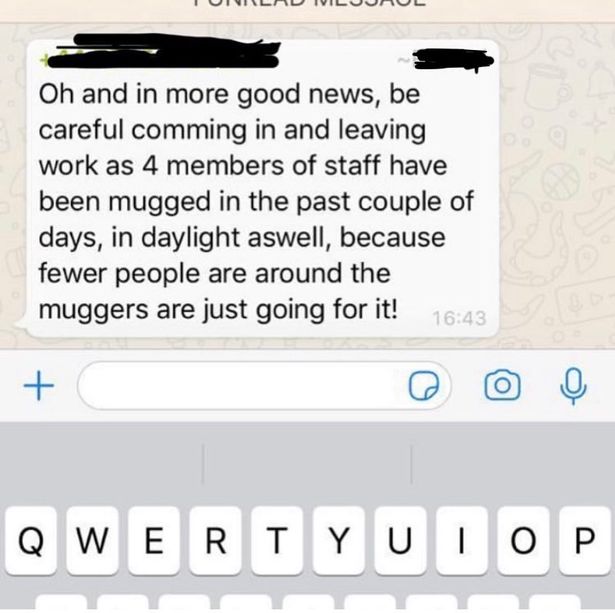 The nurse wrote in her Instagram post: "As if work isn't scary enough at the minute. Please look after one another. Action needs to be taken to keep our streets safe just now."
Speaking to OK! Online, the NHS worker added: "Thankfully I didn't experience any of these muggings first hand, and my thoughts go out to the four members of staff who did. It's awful.
"Four members of staff - on leaving their shift - were mugged at knife-point, which is obviously terrifying and they wanted their phones and ID badges."
The reason for thieves wanting NHS ID badges could be to try and take advantage of various NHS staff deals, which have been offered as a result of their bravery and hard work in battling the coronavirus pandemic.
"At first I thought maybe the muggers wanted hand sanitisers or medication to be stealing things from the hospital, but on further thought I realised that it's probably low-life people wanting the NHS discounts and the perks health workers are getting for continuing their work and continuing to go into a very dangerous environment."