PROTESTORS have wowed to keep vigil at the site of the demolished Carlton Tavern in north London until its owners rebuild the pub.
Following the shock bulldozing of the pub in Kilburn, Maida Vale last month, regulars and local residents – many from the area's vast Irish community – have led protests to have the watering hole restored.
This week word came that officers at Westminster City Council have issued an enforcement notice to the owners of the historic venue, requiring them to "recreate in facsimile the building as it stood immediately prior to its demolition".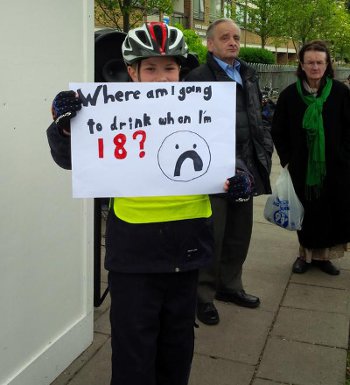 Tel Aviv-based owners CLTX Ltd illegally demolished the pub last month, despite being denied planning permission to develop the property into luxury flats three months earlier.
They sent the bulldozers in, without warning, on April 8 – while the site was being considered for listed building status.
The wanton act caused uproar among the Kilburn community, where the pub – which is the only building to have survived a WW2 bombing of the Carlton Vale area – has stood since the 1920s.
Robert Davis, deputy leader of Westminster Council, claimed he was "absolutely horrified" at the "scandalous" destruction and numerous protests have been held at the site and in Westminster in the weeks that have followed.
Rita Conneely, Labour councillor for the Kilburn ward, has been among those campaigning against the illegal demolition.
She claims there has been a "brilliant showing" from residents and pub customers throughout, with local Irish musicians offering a supportive soundtrack to some of the campaign events.
Following this week's news, Cllr Corrigan, whose family hail from Co. Galway, tweeted: "Great announcement on Carlton Tavern - but local people won't disappear until it actually happens."