STEPHAN KENNY has hit out at the "incomprehensible" behaviour of those fans heard booing his Ireland players for taking the knee before their game with Hungary.
The Republic team took the knee ahead of kick-off in a show of support for the anti-racist Black Lives Matter movement.
However, booing could be heard among the Hungarian fans present for the game at the Szusza Ferenc Stadion in Budapest.
While Ireland's players took the knee just before the game began, the Hungary team remained standing with several players seen pointing to their sleeves and, specifically, the UEFA respect campaign logo.
First launched in 2008, Respect is a social responsibility programme set up by European football's government body as part of an effort to work towards unity and respect across gender, race, religion and ability in football.
Budapest is one of several cities across the continent due to host games at this summer's delayed Euro 2020 tournament.
Speaking to Sky Sports after the game, Kenny branded the hostile reaction to the Ireland team's gesture as "disappointing."
"The fact it was booed is incomprehensible really, and it must be damaging for Hungary, with the Euros in Hungary," he said.
"It's disappointing and it doesn't reflect well on Hungary really, on Hungarian support. It doesn't reflect well.
"Our players wanted to do it. It's important. It's an important stance and I commend them for taking that stance.
"I think it was the right decision. I approached [the Football Association of Ireland's international operations manager] Barry Gleeson and said it was something we wanted to do, take the knee, and I think it's a very important message."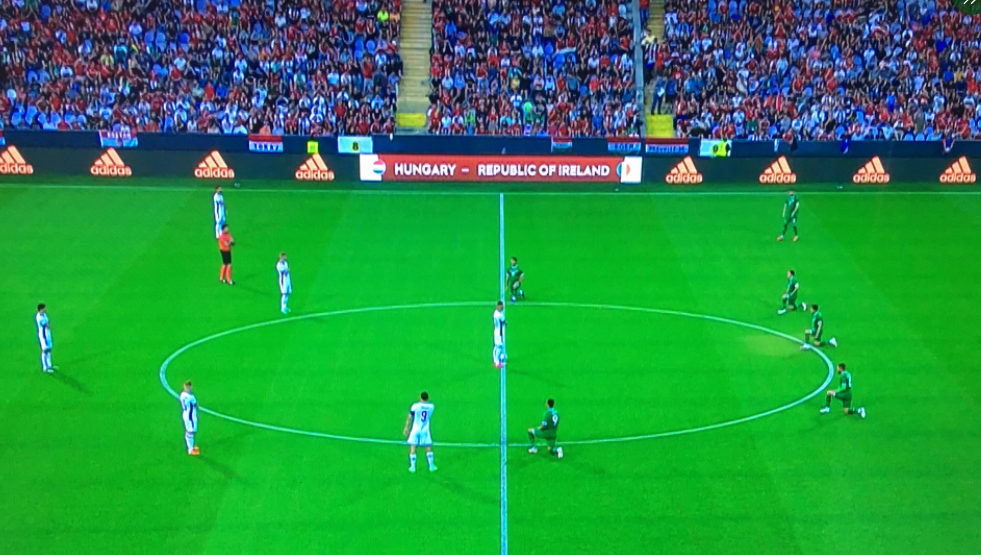 The incident comes just months after the Ireland Rugby Union team opted against taking knee ahead of kick-off in each of its Six Nations fixtures.
The Irish Rugby Football Union defended the decision as a personal choice on the part of the players and noted that the team remained supportive of the tournament's main anti-racism initiative.