Thirty years after Ethiopia was ravaged by famine hunger globally still claims the life of a child every 10 seconds.  We speak to Concern's Kate Corcoran about the charity's Hunger Stops Here appeal
This year marks 30 years since one of the darkest periods in Ethiopian history.
In the two years of hardship the country suffered during its famine, it is estimated that about a million people died.
The world rallied around and, mainly thanks to a certain Sir Bob Geldof, millions of pounds was raised to aid the relief in the region.
His philanthropic legacy had a lasting effect on many — on one Irish woman in particular, though. Kate Corcoran is country director with Concern Worldwide in Ethiopia.
"I first got involved with Concern in the 1980s and it was because of Bob Geldof," she said.
"He is an inspiration to Irish people and to the people here in Ethiopia. He is thinking forward with Band Aid, long term, which is what Concern is all about."
While Live Aid ended and the Band Aid single became an instant Christmas classic, the world moved on.
For some, however, it did not. In the wake of the famine, Ethiopia was left a shell of its former self.
The 1980s was a bleak time in many parts of the world but perhaps it is fair to say that no country suffered like the developing countries.
Concern is Ireland's largest charity.
It first focused its aid efforts on Ethiopia 40 years ago — a full decade before the famine hit.
Before, during and after this devastating blemish in Ethiopia's rich history, Concern was there, working tirelessly to battle hunger and malnutrition in this country and countless more like it.
But it was during the famine of 1984 to 1985 that Ethiopia needed help more than ever. It was around this time that Kate first got involved with Concern and she has never looked back.
This festive period, Concern is running a 'Hunger Stops Here' appeal, donations to which will be matched pound for pound by the UK Government.
The aim of this drive for funds is to tackle hunger and malnutrition in children, in some of the world's poorest countries.
Concern is a charity determined not to have a situation like the Ethiopian famine recurring.
"From an Ethiopian perspective, hunger has been a major theme in our work here since we first arrived 40 years ago," Kate said.
Malnutrition remains a worrying issue for people in many parts of the world. Things like wondering about being able to feed the family once a day are a reality for millions upon millions of people around the globe.
"We look at malnutrition in a multi-faceted way. The malnourishment rates have actually fallen quite a bit but we are targeting young groups of farmers and groups of girls and encouraging them not to marry so young to tackle it," Kate explains.
In many of the areas where Concern works the issue of young marriage is a problem.
In local culture, girls marry young and because they are living in poverty they are most likely to be undernourished.
An undernourished mother will give birth to a low weight baby, the low weight baby will be an undernourished child — and so the cycle of malnutrition goes on.
Tackling hunger is also a major objective for Concern, in the hope that by focusing on key issues, the overall quality of life for the local people will improve.
"We do both humanitarian and long-term work to prevent hunger," said Kate. "Long-term work would include initiatives such as promoting potato production in the region for a food source."
Agriculture has traditionally been the largest industry in the country and has been a major benefactor in the recent economic progression, currently accounting for over 80 per cent of the entire country's exports.
Luckily, thanks to a fast-growing economy, the number of Ethiopians living in extreme poverty has fallen by almost 10 per cent in the last decade alone.
Every day, 8,000 children die of hunger worldwide — one child every 10 seconds.
Those children that barely survive on poor nutrition also end up stunted. Hunger leaves children's physical and mental wellbeing permanently damaged.
It will come as no surprise to learn, then, that providing locals with the knowledge of how to avoid malnutrition in the next generation is a key part of Concern's work.
Justine Greening is the UK Government's International Development Secretary.
"Concern's Hunger Stops Here appeal will tackle hunger for thousands of the world's poorest children.
"One of the most important ways Concern will do this is by providing women with the know-how and tools to grow more nutritious, diverse crops. We know that this sort of investment, particularly in women, has a knock-on effect that benefits families and wider communities as well."
Concern's aim with the Hunger Stops Here drive is to raise a minimum of £1.5million over the course of this appeal to invest directly in the sustainable development of countries with a significant population that falls below the poverty line.
It may sound like a huge amount to raise but luckily for the people involved, the UK Government has pledged to help by matching every penny that Concern manages to raise with the appeal.
"People get fed up of the same old same old. They are giving money but still seeing and hearing about starvation," said Kate. "What is key for us is that the ordinary people on the streets believe in what Concern is doing. We need money to allow us to start up our projects."
Charities all over the world step up their game ahead of Christmas, appealing for people to dig deep but it is the unique generosity of the Irish people that Kate believes gives Concern the edge.
"It's great to see the generosity of the Irish people, and the people in the UK. For all the money we get, we can achieve an awful lot."
While Ethiopia is in a much more stable condition than it was the last time Band Aid came around, some of the neighbouring countries have not been so lucky. Ebola has ravished West Africa, with more than 5,500 deaths reported so far in the current epidemic.
Bob Geldof is not the only Irishman to bring the Ebola crisis to the forefront of people's thoughts as Christmas rolls around; President Michael D Higgins has been doing his bit too.
He was recently in Ethiopia, where Kate had the honour of meeting him, before moving on to Malawi and South Africa, on a three-week state visit to the continent.
Speaking of Ebola, he commented: "I think it is very important that those countries which are among the poorest on our planet and who have the least capacity, be assisted to deal with this issue on the ground for them so that it is the best approach."
Concern's Hunger Stops Here appeal is step one in ending hunger in those countries that President Higgins speaks of.
There are several ways to get involved; Concern has already had people hold bake sales and quizzes nationwide. To sign up, get in touch on www.concern.net.
How you can help to stop to stop hunger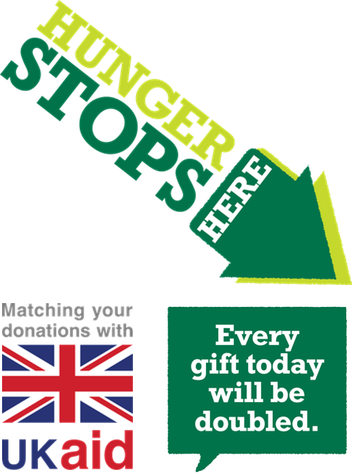 • £10 could provide life-saving food for a child for two weeks
• £28 could buy a chicken, goat, seeds, tools and training for two families
• £47 can buy water pumps for three communities
Every donation being made until December 14 will be matched pound for pound by the UK Government, doubling the difference you can make in tackling hunger for the world's poorest children. Please donate by calling: 0800 032 4001 or go to concern.net/hungerstopshere.
To make a £5 donation text HUNGER to 70007. You will be charged £5 plus one message at your standard network rate. 100 per cent of your donation will be received by Concern Worldwide (UK). Registered charity in England and Wales (1092236) and Scotland (SCO38107). To opt out of hearing further from Concern please end your text message with NOINFO.
All donations received by 14/12/2014 will be doubled by the UK Government.