UKIP have a new leader. And his name isn't funny, OK. It isn't.
Richard Braine, who was elected party leader on Saturday, has instead decided to focus on the shortcomings of the names of others.
Smart, I guess.
However in this case, it's probably a little bit racist.
Mr. Braine has said that he often confuses London mayor Sadiq Khan with the 7/7 bomber Mohammad Sidique Khan, in a tweet that Labour condemned as "unacceptable racism".
On June 27, Dick misspelled the London mayor's name on Twitter as "Siddique Khan". After being corrected by another Twitter user, Braine replied: "Apologies, I often confuse him with the leader of the 7/7 bombers."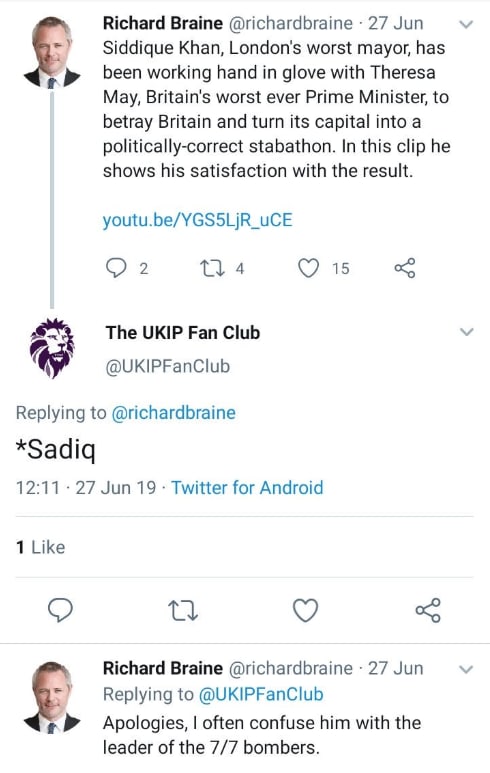 What a dick brain.
Mohammad Sidique Khan was one of the terrorists responsible for a series of bombings on the London Underground and on a bus in July 2005, which killed 56 people and injured over 700 others.
While he's clearly not going to be invited round to the Mayor of London's house for a couple of glasses of wine, a tub of ice cream and a bad movie anytime soon, he has been cosying up to another politician - Tommy Robinson.
Braine has previously defended the far-right activist, saying in a interview in May: "Tommy Robinson is not a racist or an extremist, that's the media smearing him because he spoke about grooming gangs."
While this reporter wouldn't recommend following any of the examples set by Robinson, formerly known as Stephen Yaxley-Lennon, Dick Braine might want to ask him where he got his name changed. Y'know, because why not?