A 20-YEAR-OLD woman is the talk of the internet after ordering arguably the most bizarre sandwich in the history of the fast-food chain.
Famous throughout the world and available across a variety of towns and cities on the island of Ireland, Subway currently operates under the motto: "Make It What You Want".
But for one woman called Anna, making it how she wanted ended up causing a fair amount of controversy among fans of the footlong sandwich giants.
Heading to Subway after a night of drinking was always likely to result in chaos, but few could have predicted how Anna's sandwich would end up.
The results proved so bizarre, in fact, the Subway worker who put it together suggested she share a picture of it on Twitter to see what other people thought.
It wasn't long before the image went viral [via Daily Star] – and it's not difficult to see why.
A truly distinctive creation, the sandwich combined black olives with cheese and cucumber.
"First time in Subway and the worker took a picture of my order," Anna wrote alongside the offending image, before asking: "Am I doing this wrong?"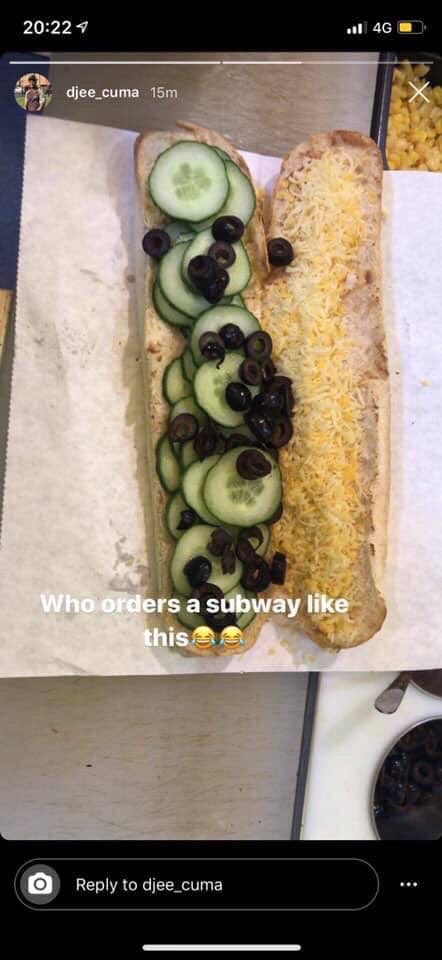 Judging from the response, the answer was a resounding "yes".
"That's actually so wrong," one follower said.
"Who orders a Subway like this?" another asked.
The tweet soon went global, earning 18.7k retweets and 89.2k likes – though most of them were more dislikes, than likes.
Not that Anna was all that bothered, later returning to Twitter to defend her distinctive choice.
"Hi my mentions are crazy so to clarify: I was drunk, there's no meat because I'm a veggie," she said.
"No, I would not like to go to Subway with you."
Thankfully someone did jump to her defence – Subway.
Never ones to miss out on a marketing opportunity, they tweeted in response: "Looks like he's just documenting a true masterpiece."
Whar's been the strangest sandwich or roll you've seen, or inded that you love ?
** Originally Published on: Sep 8, 2019