FOODIES FAR and wide are falling in love with Heinz's brand-new Valentine's Day creation: Tomato Ketchup Truffles.
A unique combination of chocolatey goodness and their signature red sauce, the truffles have already proven a hit with the public.
It's the perfect gift for anyone with a sweet tooth and appreciate for a good Irish chipper.
Even better still, the sweet treats are suitable for vegetarians.
Sold exclusively through Fortnum & Mason, the first 1,000 boxes of the limited-edition sweet treats have sold out already.
Advertisement
It's an impressive effort considering they were retailing in the UK for a hefty £19.95.
However, with initial online reviews for the unusual pairing proved positive, it didn't long before Fortnum & Mason found supplies running low.
The luxury retailer describes them as "a confectionary innovation" with each Heinz ketchup truffle balancing "the creaminess of chocolate with the tanginess of tomatoes".
"Delve into this wondrous selection box of milk, dark and white shelled truffles, each filled with a rich, silky blonde ganache and infused with the unmistakable flavour of Heinz Tomato Ketchup," the official listing declares.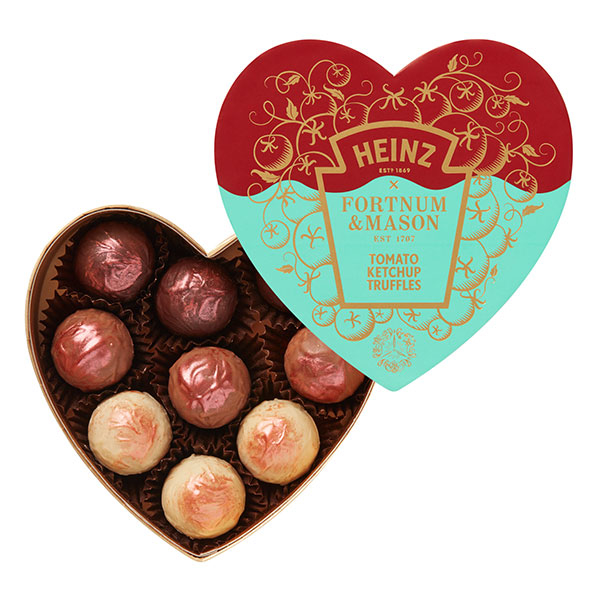 Speaking back when plans for the truffles were first announced, Heinz Sauces Marketing Manager Alexandra Bayet explained the thinking behind unusual combination.
"Ketchup and chocolate are two of the nation's most loved foods," she said.
Advertisement
"We felt that it was only right that on the international day of love we combine these two ingredients, resulting in mouth-watering truffles that are set to delight ketchup and chocolate lovers across the country."
Here's hoping they get another batch out soon.