AFTER revisiting the story of Bobby Robson's dabble with the Irish national side - and how he very nearly took charge of them (Check it out here) - we've decided to explore a few other football stars who came mighty close to donning the green jersey.
Wayne Rooney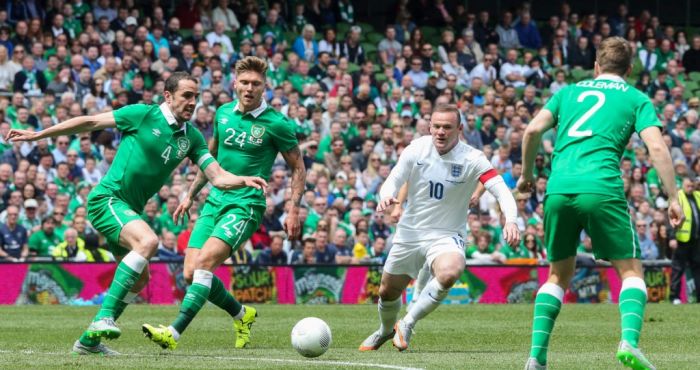 A scouser representing Ireland? Well I never! England's record goalscorer was eligible to play for the Republic through his Irish grandmother. In 2002, Rooney was indirectly approached by Ireland boss Mick McCarthy who tried to coax him into switching allegiances after making waves in Everton's youth side.
It was teammate Lee Carsley who lead the charm offensive, but a 16-year-old Wayne said he wasn't interested.
"Lee Carsley asked me [on behalf of McCarthy] about it and it never crossed my mind. I have Irish grandparents, so if they wanted to play for Ireland I'm sure they could have, but it was never something I thought about," Rooney revealed in a 2015 interview.
Robbie Keane wasn't half bad either, but Rooney would've been a half-decent impact sub down the years.
Paul Gascoigne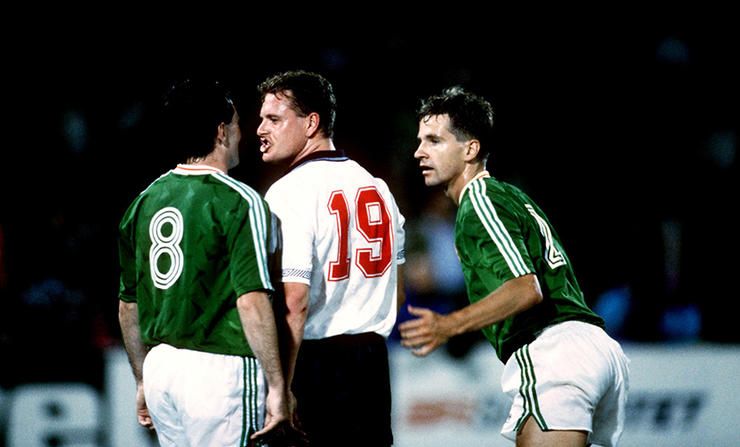 Hasn't exactly endeared himself to the Catholics among us, with his flute-playing celebration while at Rangers during the Old-Firm derby in 1998, but it all could have been so different. Word on the street is that he was a week away from choosing Ireland over England. In 1987, Ireland boss Jack Charlton - who had spotted a young Gazza while in charge of Newcastle - discovered that the young midfielder had an Irish grandmother and tried to offer him a call-up straight to the national side.
Gascoigne, famously daft-as-a-brush, was blissfully unaware of his Irish roots, and spurned Charlton's advances. He was called up to the England U21 squad a week later and his future was sealed.
"The problem was getting him to play for Ireland and if only I'd spoken to his mother a week earlier, I might have had the chance," Charlton said. "He actually qualified to play for Ireland but no one knew it at the time and we only just missed out on him."
Oh what could've been.
Tim Cahill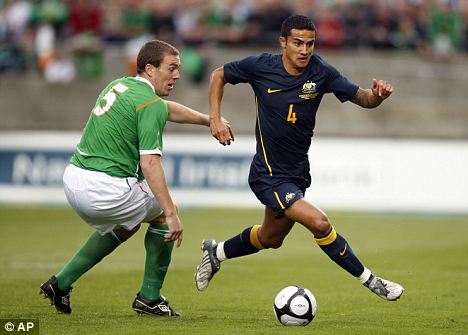 This one was really *should've* happened.
Listening to Cahill speak, you'd be forgiven for asking what his Irish connection is, but you only have to look at his surname to have your answer. The Aussie star's father was English, but is of Irish descent, and had it not been for a bogus administrative rule put in place by FIFA (which has since been removed), the former Everton man's international career could've been a lot different.
Heading back to Mick McCarthy in 2002, he found a 22-year-old Cahill playing for Millwall without an international appearance to his name. But before he could snap him up for Ireland - after being told of his heritage-  there was a snag. A couple of appearances for Western Samoa during an U20s World Cup qualifying campaign back in 1994 - when he just 14 - temporarily scuppered Cahill's hopes of a 'prestigious' international career (no disrespect to any Irish-Western-Samoans reading this, it's just you're not that good at football), as he wasn't allowed to represent any other nation.
Cahill insisted he thought nothing of his meaningless appearances for Western Samoa as (let's face it) a child, and even took FIFA to court over his inability to switch allegiances to Ireland, but eventually backed down.
Two years later, football's government body changed their rules, and Australia - the country of his birth - swept in. 15 years, 108 appearances and 50 goals later, I'd say the Aussies got a pretty good deal.
Harry Kane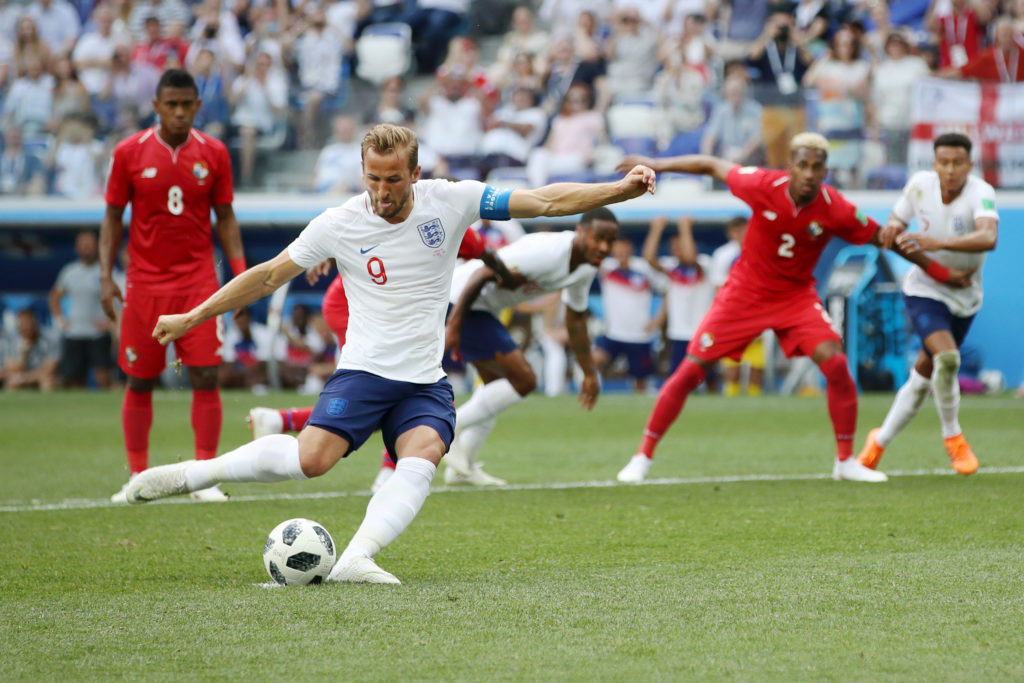 Boy was this close.
Unlike the previous stories, where Ireland have approached the youngster, this is the opposite. It was actually Harry Kane (well, his agent at least) who came to Ireland asking to play for them. Martin O'Neill revealed in a 2015 interview that a year prior, Kane's representatives came to him saying their client had a "keen interest" in donning the green shirt. He qualified through his father who was born in Galway.
"The order of events is that initially the agent got in touch and said that he would have a keen interest and we wanted to go and chase it up," remembers O'Neill.
Unfortunately for him, and Ireland, it was around this time that Tottenham strikers Emmanuel Adebayor and Roberto Soldado were struck with injury and poor form respectively, so Spurs gave a young (and not particularly fancied) Harry Kane the chance to step-up. And boy did he step-up.
Shortly after, his goals and rampant form established him as Tottenham's first choice striker, and by the end of 2014, he had ruled out the chance of switching allegiances. A few months later he scored on his England debut after just 80 seconds.
We haven't really heard much from him since, but he's probably doing OK, wherever he ended up.
Vinnie Jones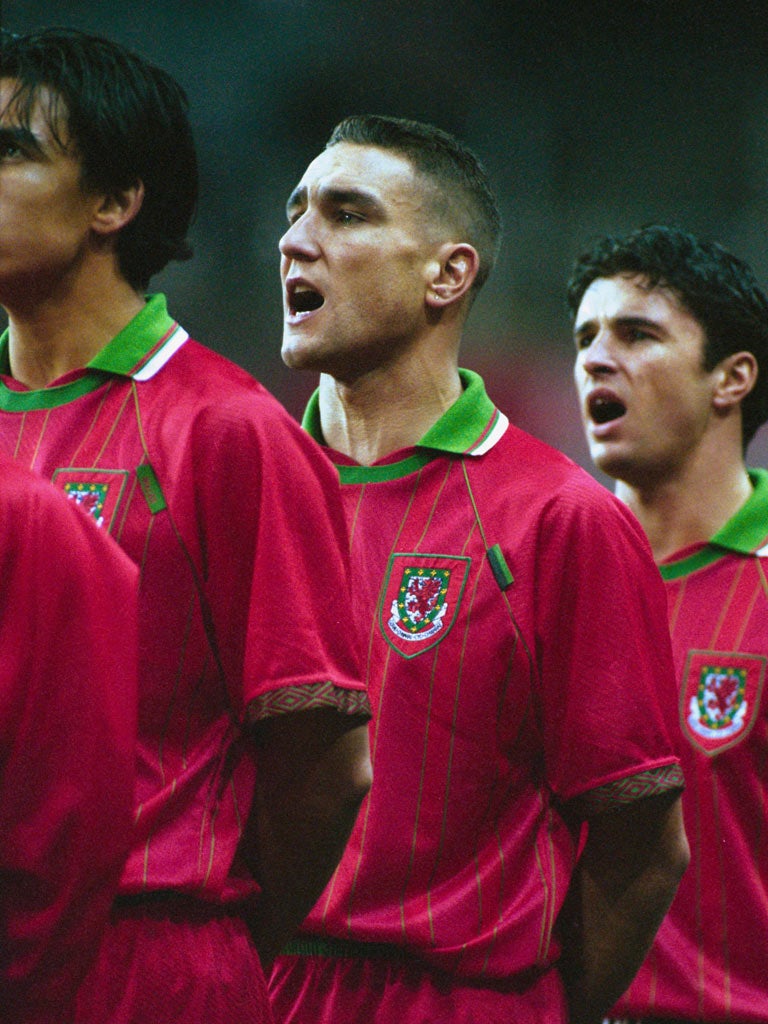 Just imagine for a second a midfield partnership of Roy Keane and Vinnie Jones. Leg-snappingly mouth-watering right?
He tried to join Ireland's Euro '88 squad by asking Jack Charlton to pick him, citing some distant Irish connection through his mother's second-cousin twice-removed or something. Perhaps due to his troublesome reputation (the famous photo of him squeezing Gazza's squeezables was captured just a few months before) or perhaps because he simply wasn't good enough, Charlton didn't pick up the phone.
"I wasn't trying to get a cheap ticket to the Euros or anything like that," Jones insisted at the time.
Six years later, the Englishman - who'd already tried to be Irish - suddenly decided he was Welsh, and was called up to feature in a few Euro '96 qualifiers. He featured nine times for Wales, failing to win a single game, before quitting international football in 1997.
Lock, Stock and Two Smoking Barrels came out a year later, so I guess it wasn't all bad for Vinnie in the end.
Paul Scholes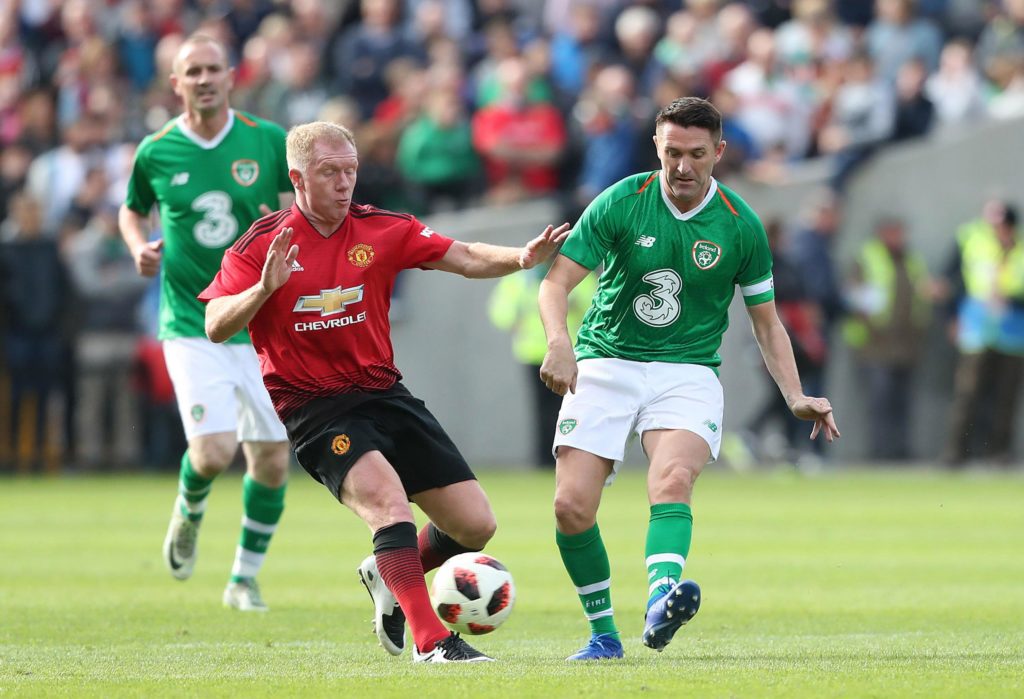 We love a red-head don't we? Keane and Jones might have been an intriguing prospect, but Keane and Scholes was a tried and tested partnership. In reality, Scholes was never really that close to partnering Keane for both club and country, but the Man United star admitted in the past that he at least had to make a choice about whether to represent Ireland or England due to his strong Irish heritage.
Ultimately, Scholes barely strayed from the thought of representative anyone other than England, but given that he was forced out of the starting eleven of national side by the emerging Steven Gerrard and Frank Lampard in 2004, and promptly retired because of it, one wonders if a career playing in green might've been more worthwhile for Scholesy.
"I had the same options as Jack Grealish when it came to international football, in fact I could have played for Northern Ireland as well as the Republic, but it never occurred to me to play for anyone other than England," Scholes said.
No Lampards or Gerrard across the Irish Sea, Paul. Should've put your money on green.
Raymond Domenech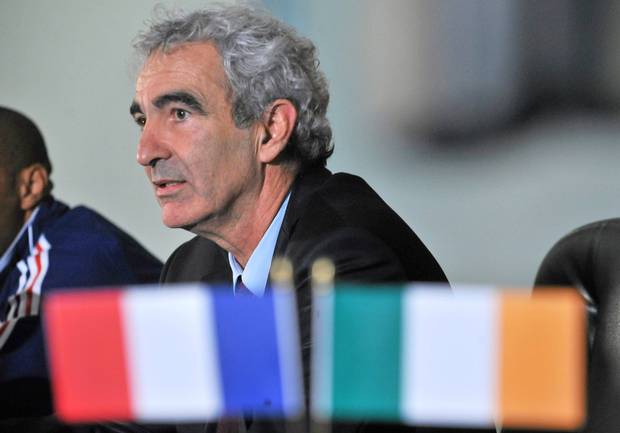 That's right. Raymond Domenech. The Frenchman was actually born and raised in Sligo and spent his summers stocking shelves in Supervalu, and throughout his tenure as France boss, he'd have a stash of Taytos hidden for him in the dressing room to munch on at half time.
… OK, maybe not. But he very nearly managed us.
That's right, the Emperor Palpatine to Thierry Henry's Darth Vader. The man who oversaw the infamous "hand of frog" incident back in 2009 which controversially and unjustly robbed Ireland of a place at the 2010 World Cup, was almost Ireland boss.
Back in 2003, while he was coaching France's U21 side, he was approached by the FAI and interviewed in the French capital as Mick McCarthy's potential successor.
"I made it on to a three-man shortlist for the Ireland job and was interviewed for it in Paris. In the end they decided to give it to an Irishman, Brian Kerr. But I would have adored it if I'd got it. I love Ireland and the Irish." Domenech noted.
Just think how different it all could've been. He could've guided Ireland to the 2006 World Cup final, it could've been John O'Shea who headbutted Marco Matterazzi, and it could've been the big Irishman appearing in those awful awful jeans at his Real Madrid managerial unveiling earlier this summer.