THE little-known Irishman who managed Spanish football club Real Betis to their only La Liga title will be honoured in Spain tonight.
A bronze bust depicting Patrick O'Connell is being unveiled at the Seville club's Estadio Benito Villamarin prior to the home game against Real Sociedad.
O'Connell steered Betis to the La Liga title in 1935 and is also credited with saving FC Barcelona from financial extinction.
The former Manchester United and Ireland captain died in poverty in London in 1959, and was a name little remembered even among Irish football fans for many years.
But O'Connell's reputation has witnessed a revival in recent years thanks to the efforts of the Patrick O'Connell Memorial Fund to make his achievements known.
The fund previously raised money for O'Connell's unmarked pauper's grave in North London to be restored.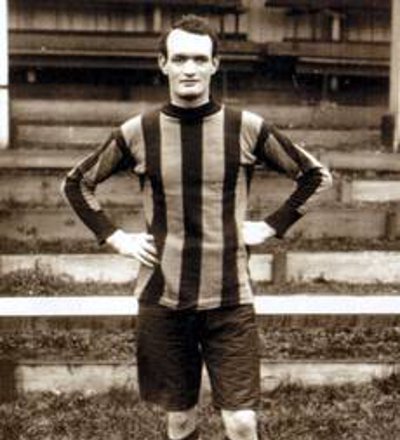 A mural in honour of O'Connell was also unveiled on the Falls Road in Belfast in 2015.
The cause has been backed by a number of influential names in the world of football including Republic of Ireland manager Martin O'Neill and Roy Keane.
The bust, which will be unveiled in Spain tonight at around 7.45pm, was previously unveiled at a ceremony in honour of O'Connell in Dublin.
Fergus Dowd, one of the Memorial Fund's organisers, said: "Patrick O'Connell grew up near to Croke Park and had an astonishing career.
"He was the first Irishman to captain Manchester United and he even played on with a broken arm for Ireland against Scotland in the final of the British Home Championship.
"Ireland went on to win and that was their first ever major trophy."
After retiring as a player, O'Connell went on to have an extensive management career in Spain.
He took over the reins at Real Betis in 1932 and quickly achieved promotion with the club after winning the second division championship.
He managed the club to the La Liga Championship two years later in the 1934-35 season – becoming the only Irishman to ever win the division.
Real Betis have never won another championship since.
'Don Patricio' left Betis for FC Barcelona in 1935 and is attributed with saving the world famous club from financial ruin during the Spanish Civil War.
He was inducted into FC Barcelona's illustrious hall of fame in December 2015 by club president Josep Maria Bartomeau.
In 1959 O'Connell died penniless in London after spending the last decade of his life begging on the streets and drawing national assistance.
That, O'Dowd says, is a tragedy occasions such as the presentation in Spain can only go so far to make up for.
"No one had heard of this man when we started and one of the things we wanted to achieve was to raise awareness of Patrick in each city he worked," he said.
Among those in attendance at the match against Real Sociedad will be Patrick O'Connell's grandson Michael O'Connell.