THE National Transport Authority and Transport Infrastructure Ireland have announced details of the Emerging Preferred Route for Ireland's new MetroLine.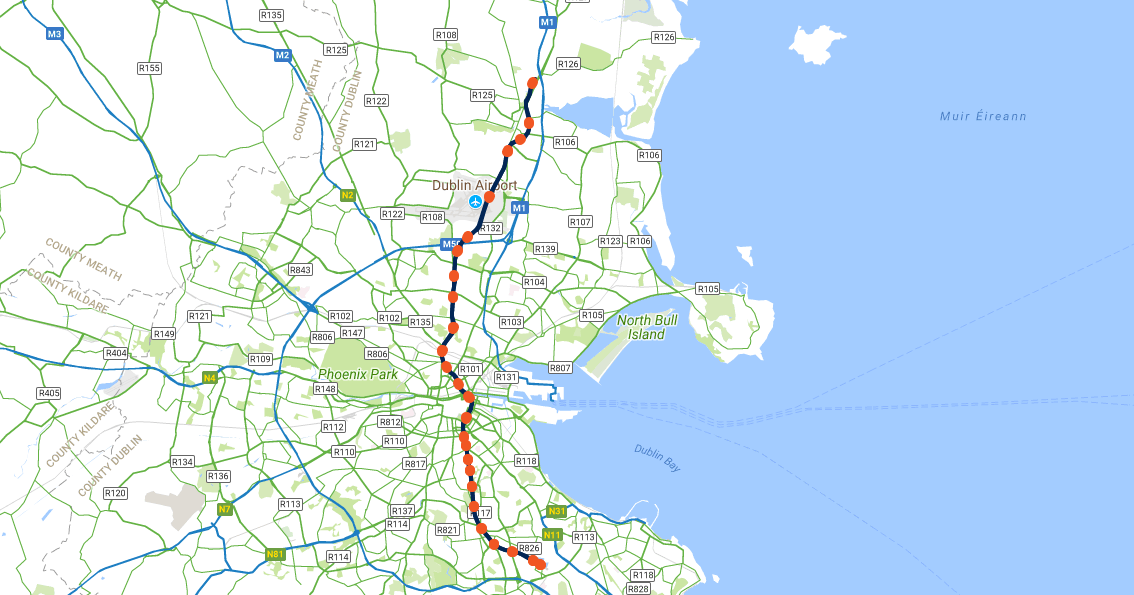 Where will the new line run?
The new €3billion metro service will run from Estuary north of Swords to Sandyford on the southside, serving Dublin Airport and the City Centre.
Stations will include:
Estuary (P+R)
Seatown
Swords Central
Fosterstown
Dublin Airport
Dardistown (Future)
Northwood
Ballymun
Collins Avenue
Griffith Park
Glasnevin
Mater
O'Connell Street
Tara
St Stephen's Green
Charlemont (Metro)
Ranelagh
Beechwood
Cowper
Milltown
Windy Arbour
Dundrum
Balally
Kilmacud
Stillorgan
Sandyford
When is it expected to open?
The MetroLink is scheduled to open in 2027. There will be 25 stations in total, inlucding 15 new ones.
How many passengers will use it?
It's predicted 15,000 passengers per hour each way will use the line at peak times - and that it will carry 50million people per year.
Metro Line will have the capacity for 30 trains per hour in each direction.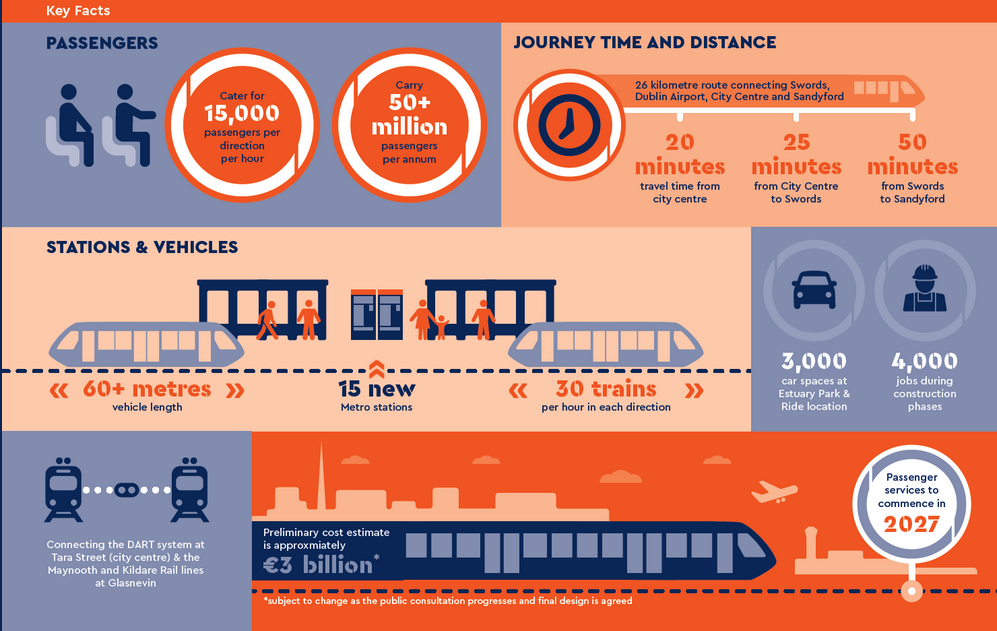 When will construction begin?
A total of 4000 jobs will be created during construction, which is expected to start in 2021.
The CEO of the National Transport Authority CEO Anne Graham said there would be significant benefits to the new line.
"For example, thanks to MetroLink, there will finally be a rail link to Dublin Airport, and with easy interchange with other modes including bus, Dart and commuter rail, MetroLink will make it easier than ever to move into and around the capital," she said.
Controversy
Local GAA club Na Fianna is concerned that three of their pitches will be out of use for six years while construction is underway.
A hundred private homes will alos need ot be purchased by the state and emolished to make way for the metro.
Preferred route is not the final route
Transport Infrastructure Ireland CEO Michael Nolan said they wanted to make sure locals have a say in the final route.
A period of public consultation will begin next week.
"What we are publishing here is the 'Emerging Preferred Route' (EPR), rather than the final route," he said.
"Having examined in detail the various alignments and options, the EPR is the one that we feel is the best fit for the project. But we remain open to looking at other proposals, and if people or communities feel there are better ways of doing it, we will of course be happy to consider any alternatives put forward."
Advertisement