TWENTY-year-old Éamonn Nugent started playing Irish music when he was just seven. His grandfather was one of the founders of the St Patrick's branch of Comhaltas in Coatbridge where he stared to play.
"We used to go to all the fleadhs up and down the country and in Ireland. When I was about 12 I picked up the bodhrán and ever since then I've been playing," he explains.
Although Éamonn's school friends in were more used to seeing him play the drums, his talent for the bodhrán was clear.
He competed (and came second) in an All-Ireland championship in 2010, but more recently he's enjoying success as a session musician, gigging, playing with Paddy Callaghan, last year's BBC Young Musician of the Year, and recording an album called Storymap with musicians Kris Drever and Éamonn Coyne.
He's still at university, but says if the gigs are still there when he is finished then he would seriously consider making music full time.
Having played at every Coatbridge St. Patrick's Festival since it started he has seen the festival grow and grow. "It's an ideal way for young musicians to play in front of large audiences, and they are very big on including the community." And despite the weather, which has been known to be changeable, the atmosphere Éamonn says, is always reliably great.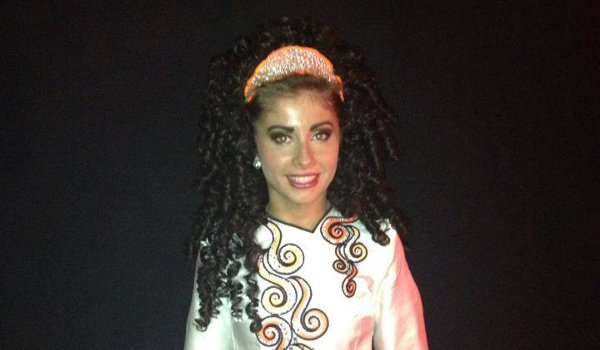 While Éamonn showed musical ability from an early age, his younger sister Ciara jokes that she wasn't quite so musical. Dancing was her strongpoint and at just 17, she has already been dancing for 14 years.  Both Ciara and Éamonn come from Bellshill, just outside Coatbridge.
Their grandparents are Irish and encouraged them in music and dance. Ciara has competed in All-Ireland, National and World Championships since the age of 10, and says dancing twice a week for three hours at a time is a great way to keep fit.
Ciara says her class have been taking time out to prepare their "mini Riverdance" for the St Patrick's Day celebrations in Coatbridge. She says the festival is a great opportunity to show off their hard work and skills and they class are looking forward to it.  And with that she has to run, not surprisingly, to an Irish dancing class.
For more information: www.stpatricksdayfestivalcoatbridge.org or telephone 07742 008926