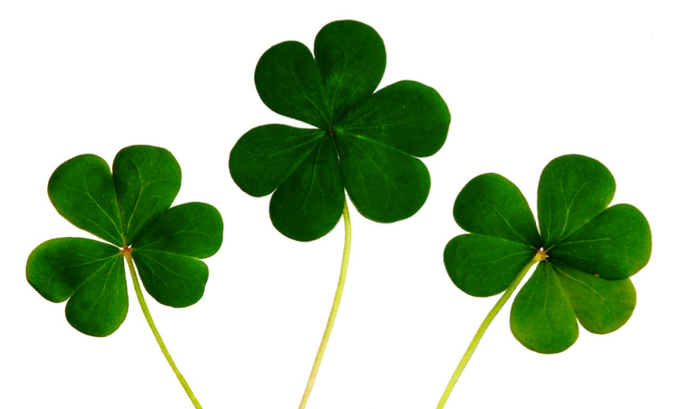 GAMBLING is now a major industry in Ireland. An op-ed in the Independent in June 2019 indicated that the Irish gambling industry generates €100 million annually in taxes for the government. The annual value of the Irish gambling market ranges between €6 billion and €8 billion. Such is the scope of this market, that many peripheral and complimentary industries are thriving because of it. David Stanton, the Minister of State has established a gambling regulatory authority to oversee the Irish gambling industry.
This independent body operates under the jurisdiction of the Department of Justice, and is tasked with licensing and regulatory issues for the gambling industry in Ireland. Much of the current legislation is archaic, and in need of a dramatic overhaul. Gambling in Ireland is governed by the Betting Act of 1931, as well as the GLA (Gaming and Lotteries Act) of 1956. At the time, there was no online gambling, and barely enough electrical supply in the country.
The Complex Landscape of Regulated Gambling in Ireland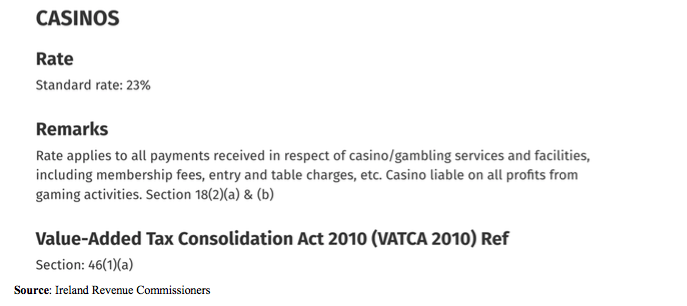 New committees, frameworks, and legislation are needed to accommodate the current gambling market. The rapid rise of online gambling warrants careful consideration from licensing authorities, given its pervasiveness and popularity. Geolocation-based gambling networks, prevention of underage gambling, and socially responsible conduct are some of the many issues that need to be tackled in the Irish gaming market. In March 2019, councillors in Donegal approved legalised gaming machines, allowing thousands of slot machine players to legally play in towns and local communities.
The Department of Revenue approved 32 gaming machine licences per day in 2018 – an incredible amount. This attests to the runaway popularity of gambling in Ireland. These gaming machines include slot machine games, video poker terminals, and other electronic gambling devices. Current Irish law in respect of gaming machines is best described as bizarre. The government has absolutely no role, duty, or responsibility to regulate these gaming machines. Instead, all licensing and regulation falls within the purview of the local authorities and the district courts. The Revenue Commissioners must then decide whether or not to issue a licence.
It should be pointed out that operating a gaming machine without a licence is illegal in Ireland. The process requires that a local authority must make the decision to allow or disallow gaming machines in its jurisdiction. Next, a person is required to apply to the district court for certification. The Revenue Commissioners will then decide about issuing a gaming licence. According to statistics pointed out by Senator David Norris, Ireland has some 40,000 operational gaming machines.
However, the Irish Revenue Commissioners only issued 11,846 gaming machine licences in 2018. For example, Dublin Ireland is home to thousands of gaming machines, and there are no licenses available for these based on Part III of the Gaming and Lotteries Act 1956. The Revenue Commissioners have seized several hundred gaming machines operating without licences in recent months, in a series of crackdowns on illegal gaming activity.
In March 2019, councillors in the municipal districts of Letterkenny and Inishowen voted to legalise gaming machines in their area. Since this is a local authority decision, a person can easily apply for a certificate from a district court and then fast-track licensing from the Ireland Revenue Commissioners. While most people didn't expect the vote to pass, it did. Now, gaming machines have been legalised in these districts, facilitating the rise of slot machine games in arcades, bowling alleys, and pubs.
The Current State of Gambling in Ireland
The Irish Department of Health published a study indicating that 67% of legal age Irish folks have gambled within the last 12 months. The most common forms of gambling include scratch card tickets and lottery tickets. Government has set itself an ambitious target of modernising its gambling legislation and frameworks to incorporate online gambling activity, prevent underage gambling, and combat problem gambling.
Contrary to perception, the problems related to compulsive gambling are not endemic in semiskilled and unskilled manual workers, apprentices, or trainees. They are localised within the middle and higher management sector, senior civil servants, and business owners. Naturally, this lends itself to a modernised licensing approach to cover all aspects of gambling. This means that amendments to the Gaming and Lotteries Bill must be made, and to the Gaming and Lotteries Act 1956. In terms of statistical data, the following percentages have been recorded:
 72.4% of people aged 55-64 have gambled within the last year
70.5% of people aged 35-44 have gambled within the last year
69.4% of people aged 45-54 have gambled within the last year
10% of people aged 15 – 17 years old bought scratch card tickets or lottery tickets within the last year
Gambling by telephone is popular among the 25 – 34-year-old group with 5.7% reporting gambling within the last year
Problem gambling among females is minuscule at under 1% across all age groups
Gambling involves many activities including bingo, card games for money, casino games for money, gaming machines, bets at a bookmaker, telephonic bets, online gambling, lottery games, scratch card games, horseracing, dog racing, and the like.
*Source: Prevalence of Drug Use in Gambling Survey: Gambling Results in Northern Ireland By the Department of Health
The History of Betting in Ireland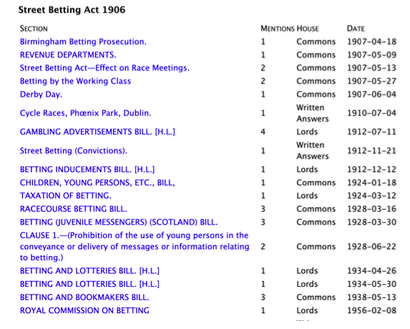 Gambling has always been part and parcel of the cultural zeitgeist of Ireland and many other cultures throughout the world. In fact, horseracing and betting activity were the domain of the gentry and Irish aristocracy. At the time, only horse owners were partaking in this type of gambling activity among themselves. This took place in the 16th and 17th centuries in Ireland.
Gambling occured on private lands among friends and acquaintances. In fact, one of the most notable high-profile gamblers was none other than King Charles II. Horse racing rapidly grew in popularity over the years, although it was unregulated. It operated on a credit system, but ultimately the government stepped in to ban gambling activity in public houses. This facilitated the growth of betting shops.
By 1751, reports indicate some 409 separate locations for horse race betting. Fixed odds betting was soon introduced alongside cash betting to facilitate a structured market in Ireland. In 1906, the Street Betting Act was passed which banned cash betting activity. The Irish Free State Government licensed betting shops in 1926 and by 1929 the Totaliser Act was passed in Ireland.
In 2001, the Horse & Greyhound Racing Act was passed. Since then, Irish gambling activity has undergone many dramatic changes. Most horse race betting and greyhound betting in Ireland takes place through licensed betting offices. However, there has been a sharp decline in these from 1385 back in 2008 to just 850 in 2016, and falling fast.
On-course betting has declined from €282 million back in 2007 to just €169 million in 2016. As a result, bookmakers have lost tremendous market share in that time. The Betting Amendment Bill of 2015 sought to integrate online gambling into the Irish market. The issue of taxation remains a contentious issue for the industry, and one which is sure to resurface as new legislation is crafted.
Irish Slot Themes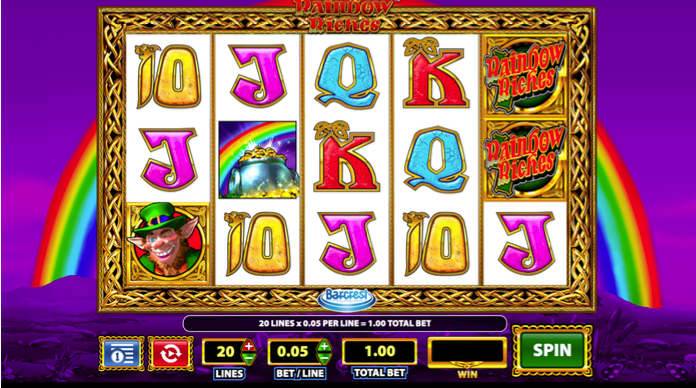 It comes as no surprise that Ireland is associated with fields of green, lucky Little Leprechauns, 4-leaf clovers, shamrocks, rainbows and pots of gold. Indeed, the Luck of the Irish is a pervasive theme in Irish slot machine games. Many popular titles have made their way to market in recent years, including: Irish Luck, Irish Riches, Lucky Leprechaun, Leprechauns Fortune, The Road to Emerald City, Jack in a Pot, Rainbow Jackpots, Rainbow Riches, Irish Eyes, and other themed attractions.
Many of the abovementioned popular slots can be found at leading online casinos such as 888 casino which is fully licensed and regulated to offer real-money gambling games. This online casino offers responsible gaming resources which include age verification measures, and the prevention of compulsive gambling. Thanks to a gambling licence from the United Kingdom Gambling Commission (UKGC) and the Irish Revenue Commissioners (IRC), players in Ireland can access these online slot machine games and experience the majesty of 4-leaf clovers and Lucky Little Leprechauns. Fortune certainly favours the brave, and the Irish seem to have an uncanny knack for winning.
Gambling in Ireland vs Gambling in the UK
Despite its size, Ireland is a formidable gambling market. According to the Irish Bookmakers Association (IBA), several thousand people are currently employed in the betting industry at land-based bookmakers. Plus, there are an estimated 1,000 people employed at online gambling operators. Among others, Irish folks are avid horse racing fanatics as evidenced by the pervasiveness of fixed odds betting terminals across the country. Despite its popularity, gambling in Ireland is in a state of flux. Back in 2013, Ireland was considering the Gambling Control Bill (GCB) which currently awaits passage in parliament.
The UK by contrast is a robust gambling market with regulations firmly in place to accommodate all forms of gambling activity. UK gambling legislation is considered among the most inclusive and progressive anywhere. The regulated nature of UK gambling activity means that operators of all gambling games can apply for licensing with the United Kingdom Gambling Commission (UKGC). Irish gambling activity struggles with problem gambling, owing to the lack of regulatory frameworks and support systems. Money laundering is another activity which features prominently among unlicensed online casino operators in Ireland.
It is clear that Ireland must update and overhaul its current gambling laws. Issues include problem gambling, unlicensed operators, money laundering and lack of accountability; From a player perspective, online gambling is a robust industry. The 18-35 year-old-group is partial to mobile betting, including sports betting, online casino, online bingo, and online poker. The public is pushing for expanded regulatory frameworks for gambling activity. Additional safeguards are being requested to protect against underage gambling, problem gambling, and shady operators.
Land-Based Casinos vs Online Casinos in Ireland
Ireland is home to a formidable number of land-based casinos. These are complemented by an equally-impressive number of online casinos too. There are casinos in Dublin, Limerick, Cork, Dundalk, and Clondalkin. Thanks to the Casino Regulation Committee, many land-based casinos now pepper the landscape across Ireland. There are some 25 land-based casinos in Ireland. These include: The Fitzwilliam Casino and Card Club, Fitzpatrick's Casino, The Sporting Emporium, Playland Casino, D1 Club, Amusement City, Ned Kellys, Colossus, Macau Sporting Club, Carlton Casino Club, Claudes Casino, Westbury Casino, Caesars Palace Casino, and The Bank Casino.
Online casinos are equally pervasive across Ireland and include a long list of operators including Slots Heaven, Play Frank, Play Club, Omnia Casino, 888casino, Casumo, Gate 777, Vegas Hero, Genesis Casino, ShadowBet Casino, Dream Vegas, CasiPlay, Volt Casino, Magic Red Casino, Dunder Casino, Casimba, PlayZee and others. The Irish Revenue Commissioners (IRC) offers remote bookmakers licenses to applicants. According to the World Casino Directory, there are an estimated 24 casinos, and 15 poker rooms. Ireland's casinos include 69 table games, 996 slot machine games, and 40 poker tables.