At the end of December at the Irish Cultural Centre, Hammersmith, London Anne Flaherty was in conversation with writer, actor and stand-up comic Ardal O'Hanlon. Our reporter MARTIN O'MALLEY was there.
Walking out on stage at the Irish Cultural Centre, Hammersmith irishculturalcentre.co.uk, after receiving the most scrupulously comprehensive of introductions, Ardal O'Hanlon saw fit to inform audiences that the intro had in fact left out the swimming medals he won at age seven – and just like that, he had the audience laughing. It set a sound precedent for the rest of the night.
Ardal, in conversation with Anne Flaherty, spent much of the night promoting his second novel, Brouhaha. In his own words, Brouhaha is "a black comedy with all the tropes of crime fiction: a missing person, a flawed detective, a ticking clock".
After Dove Conelly dies in the fictional border town of Tullyanna, his best friend Sharkey starts asking questions about the circumstances of his death and about Sandra Mohan, a girl who disappeared over a decade before.
Where Ardal's unique insight is perhaps best served in the well-worn crime genre is in his deadpan humour and definitive depiction of time and place, the sense of which is encapsulated perfectly in the book's title.
"A brouhaha is a commotion or a kerfuffle. It's a word we would use in the border region in an understated way. You might describe a massacre as a brouhaha, but it could equally be used to refer to a spilled drink."
What interested him most when writing Brouhaha was examining the disconnect in small-town life between piety and neighbourliness, and the undercurrents of rumour and scandal.
"You have a veneer of civilisation, but you don't have to scratch at the surface for too long to find forced adoptions, sectarianism, shocking poverty, and violence in all its forms.
"By the age of twelve, I had met at least three people who had killed other people. I don't think my time was exceptional, and none of those were Troubles-related killings, they were just common or garden murders. . . . and those were the three I knew about."
As a child, Ardal was likely more tuned into current affairs than most young people are. His father Rory O'Hanlon (now 88) was elected as TD for Fianna Fáil in the Cavan-Monaghan region in 1977 and would, in due time, become the Minister of State for Social Claims, Health and Environment, as well as becoming Ceann Comhairle of Dáil Éireann (equivalent to the House of Commons speaker in Britain)
But Ardal's fascination went deeper than the politic matters his father dealt with. He would frequently run home from school at lunch and read the Irish Press, with a particular interest in the court reports.
Citing literary inspirations such as Samuel Beckett, Raymond Chandler, Kevin Barry and Paul Beatty, Ardal hopes that Brouhaha strikes a good balance between the heavy subject matter and comedy.
By way of comedic inspiration, Ardal has a very long list that includes  Brendan Grace, Frank Kelly, Sean Hughes, Niall Tóibín, Robin Williams, Jo Brand and Eddie Murphy, to name just a few.
Inspiration from these names took him from Dublin's International Comedy Club, which he, Kevin Gildea, and Barry Murphy founded, to London in 1994.
From there, it was a short hop, skip and lucky jump into landing the role of Father Dougal in Father Ted, a move that has defined much of his career.
"What's brilliant is how Father Ted seeped into the popular consciousness. No protest can take place in Ireland without someone holding a sign that says, 'careful now' or, 'down with this sort of thing." He adds: "Even in court transcripts, you'll often see someone referencing, 'that money was just resting in my account.'"
Ardal was once accosted by a teary-eyed policeman who informed him that Father Dougal had ruined his life. The officer in question had a striking resemblance to Ardal and, when he went to make his first arrest, the detainee exclaimed, "Oh, Jesus, I've just been arrested by Father Dougal."
Ardal's words of sympathy for the policeman fell on stony ground: "I tried to point out to him that I look more like myself than he does, but he wasn't having any of it."
As a writer and a star of the stage and screen too, Ardal is a man of many talents. Yet, more often than not, it's stand-up that he feels compelled towards.
"It's like an addiction. It's more than a job; it's a vocation, if that's not too grandiose a term. You know, I've tried to stop, but it's like this itch that needs a scratch.
"It's a way of processing all the information that you imbibe every day [...] a way of dealing with the world. If I didn't have it, I think I'd be very down in the dumps a lot of the time. Life is hard and I think stand-up is a very useful tool."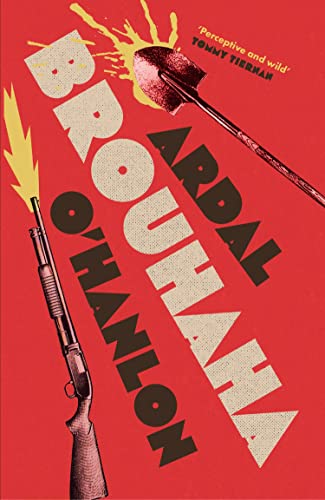 However, if he had to pick his one true passion, it would be writing. Ardal's first book, The Talk of the Town, was released in 1999.
"I started a second novel after the first, as I was contractually obliged. I built a kitchen with the advance, and I worked really hard on the novel, but it wasn't a good story from the start, and I knew that. I ploughed on but… Eventually, I had to give the money back – though I kept the kitchen."
Determined as he was to pursue another venture in writing when the right idea came along, it's clear to see that Brouhaha is a labour of love, inspired by many times and places throughout his life. Here's hoping it won't be another 25 years before we see his next written work!
It certainly won't be so long before you can see him again though as, in April, Ardal takes to the stage at The National Theatre in Josie Rourke's Dancing at Lughnasa, an award-winning Brian Friel play set in Donegal in the '30s, alongside Siobhán McSweeney and Tom Vaughan-Lawlor.
Brouhaha is available to buy in all reputable retailers, as well as on Audible, where Ardal narrates the tale unabridged.