Brought to you by Irish Network Atlanta
ST PATRICK'S DAY may not be around for another year, but look on the bright side – that gives you plenty of time to consider enjoying next March 17th somewhere a bit different!
Ireland's patron saint has been celebrated beyond the Emerald Isle's shores for hundreds of years, yet the association of many locations across the globe with St Patrick's Day is still largely underappreciated.
We've previously highlighted far-flung spots such as Singapore, Sydney and Montserrat as some of the best places beyond Ireland to celebrate the festival – with tens of thousands turning out in green each year.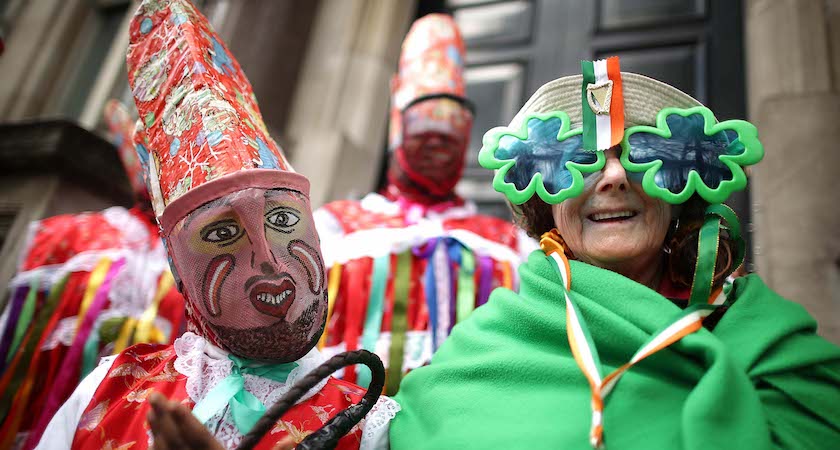 To put things into perspective, last year CNN estimated around 150 million people celebrated St Patrick's Day in the United States alone – over 30 times the population of Ireland itself!
New York City, Chicago and Boston undoubtedly host the largest March 17th celebrations in the country each year, but festivities in the state capital of Georgia deserve extra attention.
Atlanta St Patrick's Day Parade has been held every year since 1858, coursing through Midtown in what is the city's single longest-running active event.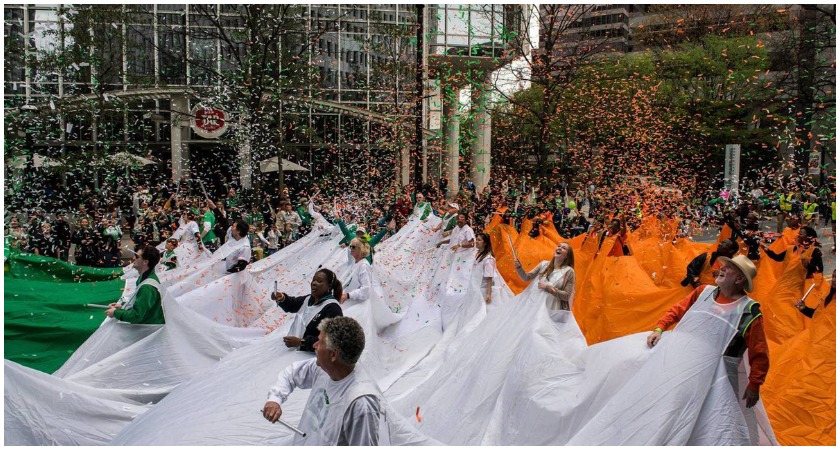 The parade hit headlines in 2012 for featuring the world's largest Irish flag in history (above), and in 2014, more than 200 units participated from across the American South and as far away as Ireland itself.
Georgia has been ranked the No. 1 state for business 5 years in a row, and Atlanta has seen evidence of this within the Irish community itself – with several huge Dublin-based firms such as CRH, Sysnet and Fineos setting up in the US city in recent years.
There is a huge energy and passion for Irish culture in Atlanta – and that has been particularly evident in the continued support of local St Patrick's festivities each year.
Celebrations in 2019 included:
Saturday March 9th
St Patrick's Black Tie Ball, Atlanta
The annual ball has been held for decades and has grown exponentially over the past few years having the most guests attend ever in 2019.  Originally started by Hibernian Benevolent Society, is now hosted in partnership with Irish Network Atlanta.  It truly is a spectacular evening bringing the Irish diaspora across metro Atlanta and the SE together to celebrate our Irish culture.  The evening includes ceilii musician performed by our young Atlanta Irish Musicians, seated dinner, band, Atlanta Irish Dance by Burke Connolly (who opened for "Celtic Woman" in the Fox Theatre, Atlanta on March 14th) and a Silent Auction.
The Silent Auction proceeds are given in part to a chosen charity and the Irish Arts in Atlanta.  This year's chosen charity was The Central Night Shelter, a very deserving charity that helps the homeless people here in Atlanta. Some members of the Irish community are involved with the charity and do phenomenal work.
We introduced the "Irish Community Award of Excellence" in 2018 due to the need to recognise the many achievements of our Irish community in Atlanta.  This year it was awarded to Clann na nGael North American Junior C Championship Winners.
This year we also had the privilege of the unveiling of the Blazing a Trail exhibition. The exhibition is a collaboration between EPIC, Herstory and the Department of Foreign Affairs and Trade.  The exhibition is set to travel to Irish embassies and consulates around the world over the coming years. It celebrates the lives and legacies of 21 pioneering Irish diaspora women of the 19th and 20th centuries who blazed a trail in a wide range of fields.
Shane Stephens, consul general of Ireland, Eilis O'Keefe Vice consul general of Ireland and Andrew Staunton consul general of Britain were in attendance this year.
This year, 2019, marked the parade's 137th presentation and was presented, for the first time, by Irish Network Atlanta.  The Grand Marshals were Atlanta Clan na nGael national champions.   The parade features 3,000 entertainers including bands, bagpipe & drum Corps, Irish dancers and for the first time this year, the world's largest potato on wheels - The famous Idaho Potato Tour.
Friday, March 15th
Fr O'Reilly Wreath Laying, City Hall Atlanta
Hibernian Benevolent Society of Atlanta lays a wreath each year at the memorial to Father O'Reilly at Atlanta City Hall and has a gathering at Shrine of the Immaculate Conception where Father O'Reilly is laid to rest.  We join the representatives from the five churches and two municipal buildings that Father O'Reilly saved from being burned during the Civil War in an event at the Shrine and at Atlanta City Hall
Our consul general of Ireland, Shane Stephens attended with Minister David Stanton, Minister for Equality, Immigration and Integration.
Irish Chamber of Atlanta's 17th Annual St Patrick's Day Breakfast Capital City Club Downtown
Featured Speakers included: Ireland's Minister of State for Equality, Immigration and Integration from the Department of Justice and Equality- David Stanton as well as representatives from Irish Companies new to Atlanta- Transfermate Global Payments, Worldnet Payments, Corlytics.
Saturday, March 16th 2019 
St Patrick's Day Parade Dignitary Breakfast 
An annual breakfast hosted by Irish Network Atlanta. Sponsored by Atlanta Convention Visitors Bureau and Cushman & Wakefield.
The Atlanta St. Patrick's Parade is a family-friendly Atlanta tradition. The annual parade is one of the oldest of its kind in the U.S. and is the longest running event in Atlanta's history attracting 1000's of spectators from metro Atlanta.  Started in 1858 by the Hibernian Benevolent Society, the parade celebrates the city's Irish culture and history.
This year, 2019, marked the parade's 137th presentation and was presented, for the first time, by Irish Network Atlanta. The parade features 3,000 entertainers including bands, bagpipe & drum Corps, Irish dancers and for the first time this year, the world's largest potato on wheels - The famous Idaho Potato Tour.
Atlanta is home to a large number of Irish groups, which include:
Irish Network Atlanta is the 20th chapter of Irish Network USA, the national umbrella organization integrating the Irish Networks that exist in various cities across the United States. Irish Network Atlanta was officially launched in March 2016. Its aim is to harness the energy and talents of the Irish Diaspora in the US, and provide a forum where individuals can network, connect, foster relationships and contribute to the Irish community in areas such as Irish heritage, culture, economics, sport and charitable organizations.
Website: www.irishnetworkatlanta.com
Facebook: @IrishNetworkATL
Twitter: @IrishNetworkATL
Instagram: @Irish_Network_ATL
Hibernian Benevolent Society Atlanta
Founded in 1858 by a group of Atlanta merchants, the Hibernian Benevolent Society of Atlanta has approximately 130 members and promotes Irish culture in the Atlanta area. The Society sponsored the first annual St. Patrick's Day Parade in 1858.
Website: www.hibernianatl.org
Facebook: @HibernianBenevolentSocietyAtlanta
Website: www.atlantagaa.com
Metropolitan Atlanta Police Emerald Society
Website: www.emeraldsociety.com
Fireflighters Emerald Society Metro Atlanta (FESMA)
Facebook: @Firefighters-Emerald-Society-of-Metro-Atlanta
Ancient Order of Hibernians
Website: www.aoh.com
Irish Traditions Atlanta, CCE 
A branch of Comhaltas Ceoltoiri Eireann, which promotes traditional Irish music and culture around the world.
Website: www.irishtraditionsatlanta.org
Traditionally held in November annually.  A weekend of cultural performances, lectures, and workshops in a festive environment.  It features guest artists of International, National, and Regional reputation who teach and perform throughout the weekend.
Website: www.irishfestatlanta.org
Atlanta is also home to 5 Irish dance schools and one Irish singing school:
King O'Sullivan School of Irish Dance
Social media: @kingosullivanatlanta
Atlanta Irish Dance by Burke Connolly
Website: www.burkeconnolly.com
Drake School of Irish Dance
Website: www.drakedance.com
Kelly Porter Irish Dance Academy
Website: www.kavanaghporterwarrenacademy.com
Carpenter Academy of Irish Dance
Website: www.carpenteririshdance.com
The Lisa Kelly Voice Academy
Website: thelisakellyvoiceacademy.com
And last, but not least:
Consulate General of Ireland Atlanta
Shane Stephens is Ireland's second consul general at this post, which in 2012 became the first Irish diplomatic mission to open in the United States in 75 years. Ireland has doubled its diplomatic staff at the Atlanta consulate that handles its relationship with the Southeast U.S.  Vice Consul Eilís O'Keeffe arrived to Atlanta in August 2018 joining Shane in his outreach to 7 states.
Website: www.dfa.ie/irish-consulate/atlanta
For more information on celebrating St Patrick's Day in Atlanta, Georgia click here