IRELAND is known for its natural beauty, but it's got a growing skincare and beauty market that we can be proud of too.
Time to meet some of the best homegrown beauty and skincare brands making a name for themselves.

1. Voya
Voya might be the biggest beauty success story to come out of Ireland yet. The family-run business began in Strandhill, Co.Sligo where the Walton family offered seaweed baths. From there, it has grown into a sought-after spa brand (found in elite spas and hotels across the globe) built on harnessing the qualities of seaweed harvested from Ireland's wild Atlantic coastline.
With seaweed the secret to its success, the premium brand continues to grow, and this year saw the launch of  a new sensitive skincare facial range to help tackle the effects of pollution, medication and fight red, dry or itchy skin.
Voya deserves kudos for championing certified Irish seaweed and as a company, they are committed to minimising their carbon footprint.
If you haven't tried their products yet, you are in for a treat.
The Awakening Eye Mask (pictured above) is a lifesaver pick-me-up for tired and swollen eyes. Pat it on before bed and wake up looking and feeling refreshed.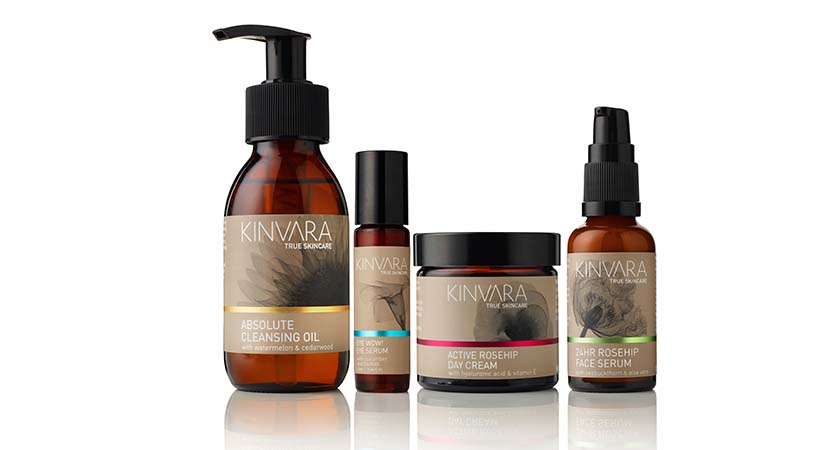 Kinvara's 'fab four' (Photo: Eoin Holland)
2. Kinvara Skincare
Award-winning skincare brand Kinvara has a lot to boast about. Based on the west coast of Ireland, it was developed by Dr. Joanne Reilly who believes you need to love and trust the products you use.
Let's start with trust – the products are made with formulations that combine essential fatty acids, antioxidants, anti-inflammatories, vitamins, minerals and essential oils and probiotics. More than 90 percent of the ingredients used are food source and all plant oils are certified organic.
Now for the love part – from the packaging to the product inside, Kinvara feels like top end luxury. Hero products include the 24 Hour Rosehip Face Serum, the addictive Active Rosehip Day Cream and Eye Wow Eye Serum. The Absolute Cleansing Oil  is a winner, and comes in a genius "unsmashable" recyclable plastic bottle.
Together, they call them the 'fab four', and they don't disappoint.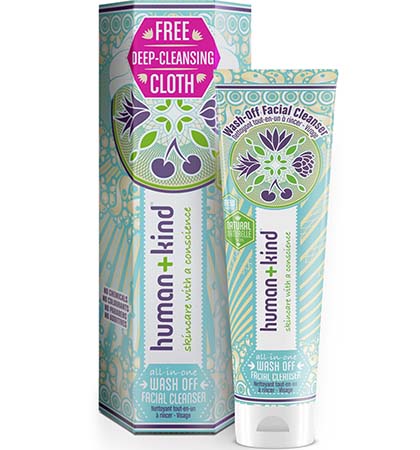 3. Human + Kind
You might not have heard of Human + Kind yet but that might be about to change. Available widely in Ireland already, it's still only in select stores in Britain but all the products can be bought online and shipped.
The brand philosophy is all about natural, gentle products that are free from harmful petrochemicals.
Products worth shouting about are the Body Soufflé, Body Oil and Day+Night Cream but the Wash-Off Facial Cleanser is the leader of the pack. It comes with an incredibly soft facial cloth and the smallest pea-size amount of product leaves your face feeling wonderfully cleansed, taking off every scrap of make up with minimal effort.
Bonus points for stand out, original packaging – not an easy feat for a small brand in the ultra-competitive skincare market.
Affordable, natural and multi-tasking, Human+Kind is a fuss-free brand to believe in.

4. Nía 
Nía (which means radiance in Irish) is the beauty brainchild of Celia O'Grady. A qualified beauty therapist and health fitness instructor with over 30 years experience in the business, O'Grady set out to create a brand free of chemical nasties and the result is 100 per cent natural Nía.
The Just Balm is their 'must-have' product – a multitasker that moisturises and softens and can also be used to soothe or calm anything from shaving rash to nappy rash.
Nía's packaging is basic, but the emphasis is on what's inside. The product line, hand-made in Limerick, also includes a range of anti-ageing products for the 40+ market, a range for combination/oily skin and a dry/sensitive range.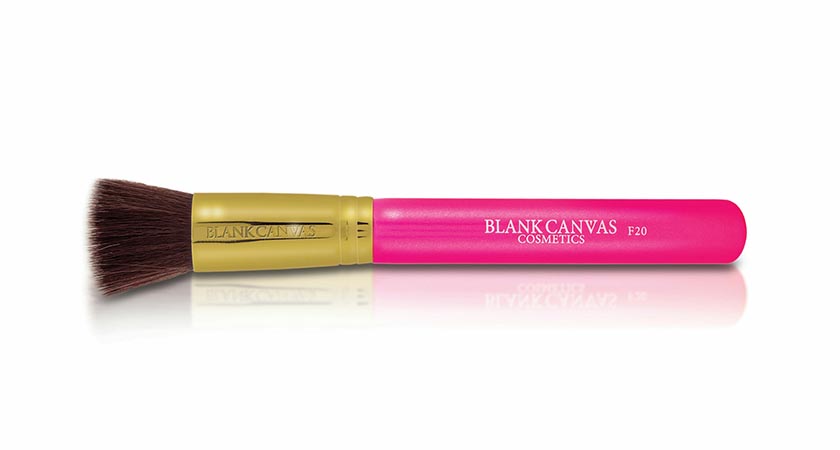 5. Black canvas 
The newcomer in the gang, Blank Canvas looks set for big things.
Managing director Una Tynan says the philosophy behind their clever cosmetics and make up tools is simple: "We see the face as a blank canvas with endless possibilities."
The online brand is based in Ireland but ships worldwide and is gaining attention for their nifty make up brushes.
The tried and tested F20 brush is a wonder for applying liquid, cream or powder products and gives a HD finish.
"We offer premium products at an affordable price tag. We innovate products ourselves and have built a strong customer base because of this", says Tynan.
Blank Canvas gets brownie points for developing a range of vegan brushes.