Ireland has always had a love for its native games of Gaelic Football and Hurling, so too have some famous Irish stars of the screen and other sports.
County Meath in 1670 has the earliest recorded references of Gaelic Football, - while Hurling has been popular in Ireland for a more than 3000 years, first record referenced from 1272 BC.
Ireland has also had world beating stars in Golf, Soccer (Football), Snooker, Rowing, Rugby, Darts, Australian Football, Athletics – and famous stars from Television,  the Big Screen, and Stage as well as singers, Comedians and band members.
But many of these grew up playing Gaelic Football and Hurling, or in a family steeped in the GAA. You may know them from another field –but might not know that they loved playing Gaelic Football or Hurling.
Who was it?
Who made crossbar history at Croke Park?
Who won an All-Ireland Senior Football Championship with Kerry, but became a celebrity in another sport?
Which 2 players - an Irish Rugby International and English League Footballer - played at the same Gaelic Football club?
Which Professional footballer once captained an Irish GAA youth side to Australia?
Whose father played for Wexford Hurlers?
Which Waterford talented hurler played for Reading, Hull City, Wolverhampton Wanderers?
Who won the Ulster Minor Football title with Derry - and went on to become a successful football player and manager?
Which Film and Hollywood actor recorded a hurling message of support for his home club?
Can you name the popular TV presenter in the UK,  who once hurled for Wicklow?
Which Minor and U21 Footballer for Roscommon starred in a Channel 4 comedy series?
Which Irish Rock band lead singer is Mad into the GAA, having played for Dublin at Minor level?
Which Band lead won a Leinster Under-21 Football Championship medal with Westmeath in 2000?
Are you a parent ? which World Champion has a daughter playing camogie? And which Band singer with 14 number 1 singles in Ireland and the UK, watched his son playing gaelic football in Croke Park?
Here are 33 Irish Stars and Celebrities with a love for the GAA.
Golfers
1. Shane Lowry - The Open Champion 2019
Lowry played gaelic football and hurling with his local Clara GAA and is a proud official Partner now of Offaly GAA.
He is son of Brendan Lowry – All-Ireland Football winner 1982  Offaly v Kerry.
2. Paul McGinley - was the Golf World Cup winner 1997 (with Padraig Harrington), and was on the Ryder Cup victorious European teams of 2002, 2004 and 2006. In 2002 he sank his ten-foot putt on the 18th hole, to secure victory for Europe. In 2014, he was the winning Ryder Cup Captain.
McGinley loves Gaelic Football. In 2016 as he attended Croke Park to support his club side Ballyboden, he stated "I played for Ballyboden from when I was Under-12 right up to senior, I played a few games at senior, before I got injured and that curtailed my career." He played in Croke Park as a juvenile player.
3. Padraig Harrington is one of Golf's few three-times Major Winner – winning The Open in the UK in 2000 and 2008 and the USA PGA Championship in 2008, as well as the World Cup in 1997.
In an interview, Harrington speaks passionately about his favourite sport of Hurling here to fellow pro Feherty.
Feherty: Paddy's favorite sport
Harrington played Gaelic Football, and in an extraordinary clip here – playing at Croke Park with Colaiste Eanna against St. Vincent's Secondary School in the Dublin Colleges final he took a free kick, watch what happens next, has it ever been seen at Croke Park before?
Rugby Union
4. Mick Galwey
Mick Galwey. Rugby star - played 113 times for Shannon, 130 for Munster – and for Ireland had 41 Caps. He was selected later to the Lions tour to New Zealand in 1993.
Mick Galwey won an All-Ireland Senior Football Championship with the Kerry Gaelic football team in 1986, playing for his club and county at U18 and U21 levels as well.
5. Rob Kearney
Irish International – and professional player with Australian side Western Force.
In Gaelic football he played for his club Naomh Mhuire and with Cooley Kickhams and Seniors and for Louth in the All-Ireland Minor Football Championship.

6. Tommy Bowe
Played for Ulster and Ospreys, and Ireland and the British & Irish Lions. He has 69 caps with Ireland, 5 with the Lions and 245 Professional club matches
He played Gaelic Football, representing Monaghan at U16 and Minor level.

 

7. Simon Zebo
Ireland rugby international & Munster Pro, Simon Zebo played   for St Michaels GAA Club  alongside David Meyler (see below)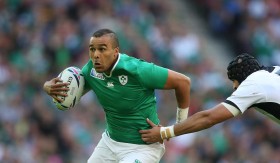 Snooker
8. Dennis Taylor
Known for his large spectacles which helped him play snooker, Taylor won the World Snooker Championship in 1985, defeating Steve Davis on  the last black ball 18-17 – having initially trailed 8-0 earlier in the match. In 1979 he had previously lost the Final to Terry Griffiths.
In his younger days, Taylor played Gaelic Football for Na Fianna in Coalisland Tyrone, and was selected to play for the Tyrone county minors in the 1960s.
Rowing
9 and 10. Gary and Paul O'Donovan Skibbereen,
Won Gold Medals at the World Championships and Silver at the 2016 Olympics. This year, with Fintan McCarthy, Paul O'Donovan is in lightweight men's double sculls with an Irish gold medal at the European Championships in Varese, Italy.
In an interview in 2016, they stated  "We did a little bit of Gaelic football for a while", before focussing on rowing.
Honorable mention to Parents :
Bonus. Derval O'Rourke
Record breaking Irish Athlete
World Indoor 60 M Hurdle Champion (2006), Silver medalist in the European Championships 100m hurdles in 2006 and 2010, and Bronze Medalist in the European Indoor Championships 2009 and 2013.

Derval spoke about supporting her daughter by bringing her playing camogie/hurling at weekends.
"Comparing track or Olympic sports with GAA, it's so hard. I had years of being a professional Olympic track athlete, but I have small kids now and I see when my daughter plays camogie, what a difference that makes community-wise, so I'm under no illusions as to how important GAA is."
Part 2 - features 12 English Footballers, who all love or played Gaelic Football or Hurling or both.
Part 3 features stars from film, television, stage and comedy who love their gaelic games.