DUP MP Gregory Campbell has steadfastly refused to apologise for the remarks he made on social media criticising a special gospel choir edition of Songs of Praise. 
The East Londonderry MP drew a strong rebuke over a Facebook post he made complaining about the episode's all-black lineup, describing it the BBC at it "Black Lives Matter Worst". 
It was part of a special competition set up to find the UK's best gospel choir. 
Campbell wrote on Facebook: "There were five singers, all of them black. There were three judges all of them black and one presenter who was incidentally, yes black. 
"The singers were all very good but can you imagine an all white line up with an all white jury and presented by a white person? No I can't either." 
His remarks drew strong criticism from the North West Migrants Forum, who described them "astonishing and shocking" and called on the DUP MP to remove the post. 
David Grant, who served as a judge on the episode, also called on DUP leader Arlene Foster to act. 
The First Minister addressed the Stormont Assembly on the matter this pastMonday and sought to clarify that the DUP was "absolutely committed" to racial equality. 
Foster did add that DUP colleague's Facebook post was not a "sentiment that I identify with". 
"We [the DUP] are totally, absolutely committed to racial equality," she told the Assembly.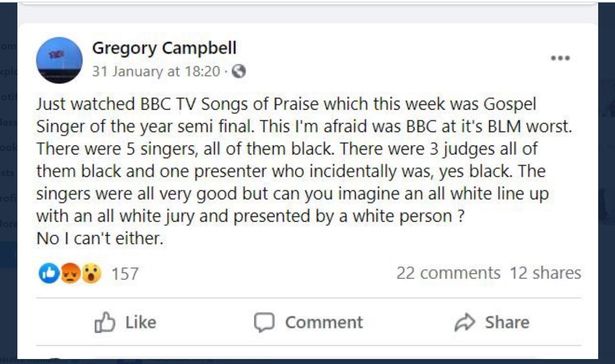 However, Campbell has stood by his remarks. 
Writing in response to the criticism on Facebook, he revealed he had been subjected to messages of a "violent and threatening in nature" in the wake of the post. 
He went on to defend his comments during an interview with BBC Radio Ulster's Evening Extra, claiming that the broadcaster had failed to deliver on its own diversity and inclusion policy in terms of representing the UK. 
Campbell said he was merely pointing out that there "wasn't much diversity or inclusion on that edition of Songs of Praise". 
He also refuted any suggestion of racism and refused to apologise for his remarks. 
"If I have caused offence by stating the obvious, by stating something that is irrefutable - that the BBC are committed to reflecting the diversity of the UK and they didn't on that occasion, and no-one can say that they did - why would I apologise for something that's correct and accurate?" he said 
"No I don't apologise. 
"I'm an anti-racist. Do I apologise for that? No. I stand with the black footballer [Nottingham Forest's black striker Lyle Taylor] who refused to take the knee. Do I apologise for that? No I don't. 
"I am a committed anti-racist, and I am happy to explain that to the [North West Migrants] forum or anyone else, and I have always been." 
Campell has nevertheless continued to garner criticism over his claim with Justice Minister Naomi Long described his remarks as "bizarre". 
Long explained that gospel music originated from those who were sent to the US as slaves and is therefore intrinsically linked to the music that originates from that ethnic background.  
"To suggest that there was anything at all to do with BLM or any other kind of positive discrimination in the fact that the best singers were through to the competition, and those most experienced were judging it, I think is a mistake," she said.