A CRITICALLY-ACCLAIMED Irish horror comedy is available to watch on Netflix now
Extra Ordinary stars comedian/writer/actress Maeve Higgins (Naked Camera, Inside Amy Schumer), along with Barry Ward (Jimmy's Hall, MAZE), Will Forte (Nebraska, McGruber, Last Man on Earth), and Claudia O'Doherty (Trainwreck, Love, Inside Amy Schumer, Long Shot).
It tells the story of Rose, a sweet and lonely small-town driving instructor who is enlisted use her supernatural 'talent' to save the daughter of a local man from a washed-up rock-star looking to use her in a satanic pact that will reignite his fame.
The film is the debut feature from writer/directors Mike Ahern and Enda Loughman. It had its world premiere at the renowned SXSW Film Festival earlier this year where it was nominated for the Grand Jury Award for Narrative Feature.
Since then it's picked up numerous awards including Best Irish Feature Film at the Galway Film Fleadh, the Jury Prize at the Brussels International Festival of Fantasy Film and both the Audience Award and Best Feature Film at the Neuchatel International Fantastic Film Festival.
The comedy had its English premiere at Manchester's Grimmfest and  currently holds a 98% rating on Rotten Tomatoes.
During its cinema release in Ireland critics called the comedy "one of the funniest movies of the year to date", "a potential cult classic", and "a consistently hilarious send-up of the horror genre… full of clever invention and sparkling writing".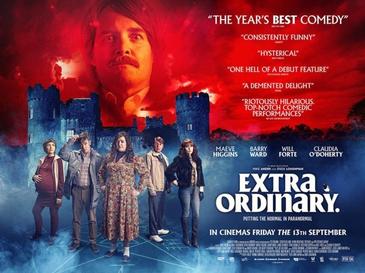 Extra Ordinary is available to watch on Netflix now.