AN IRISH priest is hoping that an anonymous letter handed to him could shed light on the tragic disappearance of Jo Jo Dullard.
21-year-old Josephine 'Jo Jo' Dullard disappeared on November 9, 1995.
She was last seen making a phone call from a telephone box in the Co Kildare village of Moone, having thumbed several lifts there after missing a direct bus from Dublin to her family's home in Callan.
Jo Jo was last heard telling a friend on the phone that a car had just pulled up to near to the phone box. She was never seen again, and no trace of Jo Jo has ever been found.
She told a friend on the phone that a car had pulled up but was never heard from again.
Last Saturday marked the 24th anniversary of her disappearance.
Her sister Kathleen Bergin has continued to campaign for information in the decades that have followed.
Police have previously speculated that Jo Jo likely fell victim to a serious sex offender but no trace of her has ever been found.
Rapist Larry Murphy was questioned over her disappearance but ultimately ruled out as a suspect.
Now Fr Willie Purcell from Kilkenny has opened up about an anonymous letter he believes could offer up crucial information on her disappearance.
Fr Purcell revealed to KCLR News that he was handed the note in the wake of an appeal for information related to Dullard's disappearance last year.
"It was an anonymous letter but I brought it straight to the Garda," he explained.
"It stated that they had some information into – and now they didn't mention Jo Jo by name – but in relation to missing persons.
"What they did in the letter was they outlined various circumstances and situations that they knew of."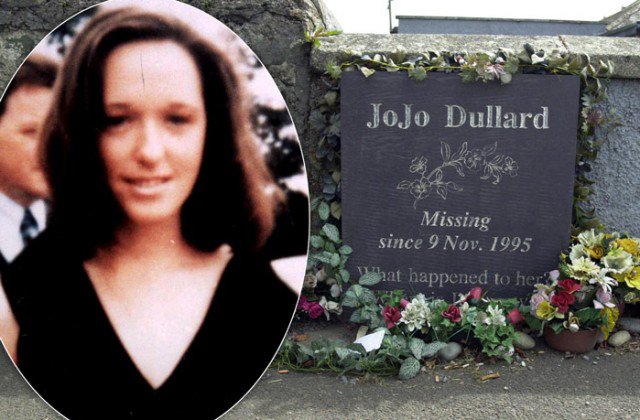 Her sister previously appealed for information as part of an emotional message describing what Jo Jo may have gone through all those years ago.
"A young woman faces into a cold November night and a long trip home from the capital," Kathleen wrote.
"She has just missed the last bus to her hometown and decides that she'll take another service, which will take her some of the way home and plans to hitchhike the rest of the way.
"When the bus reaches its final town, the young woman is still over 65 miles from home. Can you see her? She is 5'4" in height, medium build with dark shoulder-length hair. She zips up her black jacket and puts her black rucksack on her back, and proceeds to look for another way home. Can you see her?
"A young woman looking for a lift home. She manages to get to the next two towns by accepting lifts from passersby. She sees a phone box and decides to call her best friend to let them know where she is, the conversation is cut short at the sight of an oncoming vehicle. She manages to flag down the vehicle.
"Approximately 20-25 minutes later, a woman fitting the same description is seen leaning in the window of a dark coloured Toyota Carina in the next town. Can you see her? Did you see her?"
Bergin continued : "It's 9 November 1995 and 24 years have passed and there is still no sign of Jo Jo. There were no mobile phones or tablets in 1995, there were no texts or apps to contact a friend or a family member, to tell them, 'I'll be home soon' or 'I love you', no way to trace where a person is.
"Twenty-four years ago a young woman disappeared without a trace, a young woman who was starting out on a new adventure in life, a life that was stripped away. Can you see her?
"A beautiful young lady, dark shoulder-length hair, a beautiful smile and looking forward to her future. Can you picture her? Can you see her? Can you imagine if that was your daughter, your sister, your niece or your best friend? Can you see her now?
"Can you imagine not being able to reach out and touch that person's hand anymore, not being able to give that person a hug anymore, not being able to tell them you love them anymore?"
"When someone goes missing, it has a devastating effect on the family, her friends and the community. Our brother Tom and sister Mary have passed away not knowing what happened to Jo.
"She poured her heart and her soul into trying to find her, even up to the last moments of her life. It's time for Jo Jo to come back home to her family and be laid to rest with her Mam and Dad."