LEO VARADKAR has defended Prince Harry and Meghan Markle's decision to step away from royal life by saying he "totally understands" why they'd want more privacy.
He also noted that the Duke and Duchess of Sussex were "a lovely couple" and that he wished them "the very best".
It was announced on Wednesday evening that Harry and Meghan would be stepping down from most of their royal duties, as they look to carve out 'new progressive roles' for themselves and become financially independent.
The decision sparked controversy in the UK, with members of the Royal Family reportedly 'hurt' by the couple's announcement.
It emerged that the family, including The Queen, weren't informed of Harry and Meghan's decision until the news broke.
While many have branded the couple disrespectful and entitled, there are those who sympathise with their situation, including the Taoiseach, it seems.
Speaking at a post-Cabinet press conference, Mr Varadkar insisted that "any normal person" could understand the Duke and Duchess's wish for a private life.
"They're a lovely couple. I have to say I really enjoyed meeting them - they're very down to earth," he said.
"But I can totally understand, given each of their different life experiences, why they would like to have more privacy and why they would like to be able to raise their family in their way.
"I think any normal person can understand why they've taken the decision they've made. I wish them the very best."
On Thursday, Buckingham Palace released a brief statement, noting that "discussions" were taking place with Harry and Meghan, and that the situation was "complicated".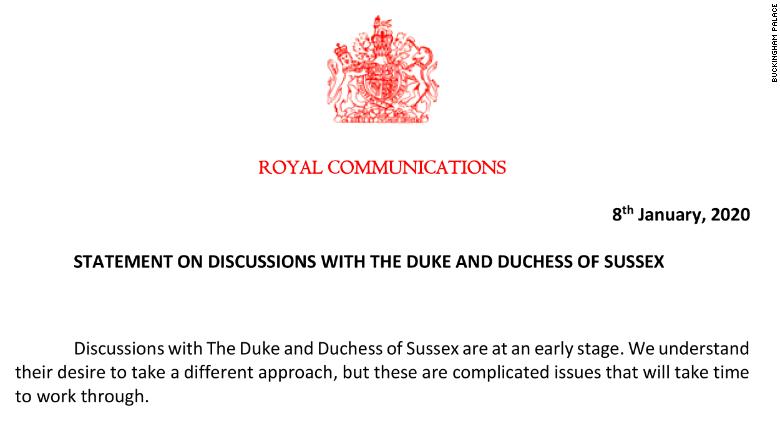 It's been reported that the couple now intend to split their time between the UK and North America.
After their wedding in 2018, Harry and Meghan's first state visit was to Ireland, where they met with Varadkar in July.