A GOLDEN retriever over in Co Donegal has been showing off a very special new trick.
Then again, Holly is a very special dog.
While other canines enjoy long walks or games of fetch with their owner, this particular pooch prefers something a little different.
For the past few weeks Holly has taken up a brand-new hobby: surfing.
Much of that is down to the fact she lives over in Rossnowlagh, Co Donegal, and an area of the Irish coast that has always proven popular with boarders.
Holly lives in this idyllic region of Ireland along with her owner Kiera Owens and her family, which includes nine-year-old daughter Beth.
According to Kiera, Holly ended up taking an interest while swimming out with Beth one sunny Summer day.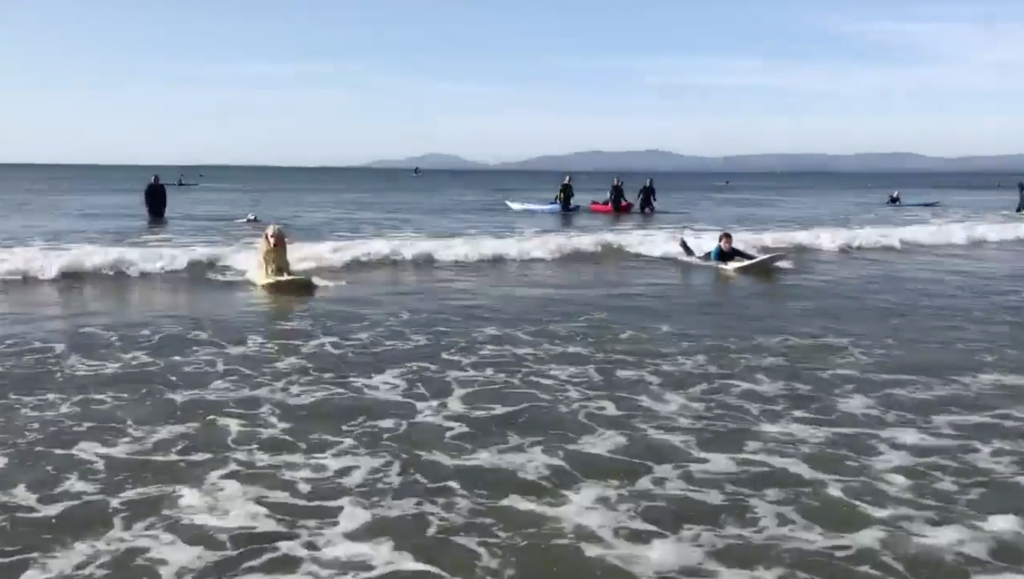 In fact, she credits her young daughter with helping Holly catching the surfing bug.
"She taught Holly to sit on the board," she told the Irish Post.
"Then off they went surfing together."
The rest, as they say, is history with Kiera happy to indulge her dog in the newfound interest.
"Holly now has her own board and loves a day at the beach," she says.
Kiera lives and works in Rossnowlagh, running the online tutorial website Tuition Farm – with Holly as the company's official mascot - from the scenic seaside location.
Like many families, the Owens have been impacted by the coronavirus pandemic, lockdown and general uncertainty spread by the virus.
However, Holly's newfound love of surfing has provided a welcome outlet not just at home but also on Facebook where a video of the golden retriever's board skills proved popular.
"What a star!" one friend commented under her latest clip.
"Holly needs her own Youtube channel" another joked.
"This is brilliant!" a third said.
As the video shows, there's no camera trickery, sneaky editing or hidden trick - just a dog on a surfboard doing a pretty impressive job of riding a wave.
Holly deserves a biscuit or two by our count. A star is born.