A SINN Fein councillor has come in for strong criticism over a series of "disgusting" social media posts mocking Prince Philip following the Royal's death.
Mid and East Antrim councillor James McKeown has drawn condemnation after writing on Facebook that there was "on less racist" in the world following the Duke of Edinburgh's death, aged 99, on Friday.
In another post, McKeown wrote: "Wonder if Prince Philip will come back the same person after dying saying he's 55 and still going strong" in reference to Rangers Football Club's administration and subsequent return to the Scottish football league.
The two offending posts have since been removed from McKeown's Facebook page.
However, by then they had been screenshotted by others on social media, including DUP MP Sammy Wilson, who branded the remarks "quite disgusting".

Posting pictures of the two McKeown posted, Wilson tweeted: "The respect agenda evaporating by the day. Will action be taken?"
The comments stood in stark contrast with many of those made by his Sinn Fein colleagues including Deputy First Minister Michelle O'Neill who had previously paid tribute to Prince Philip in the Assembly.
O'Neill praised the Duke and the royal family as a whole for making "significant interventions" over the years to help in the "building of relationships between Britain and Ireland".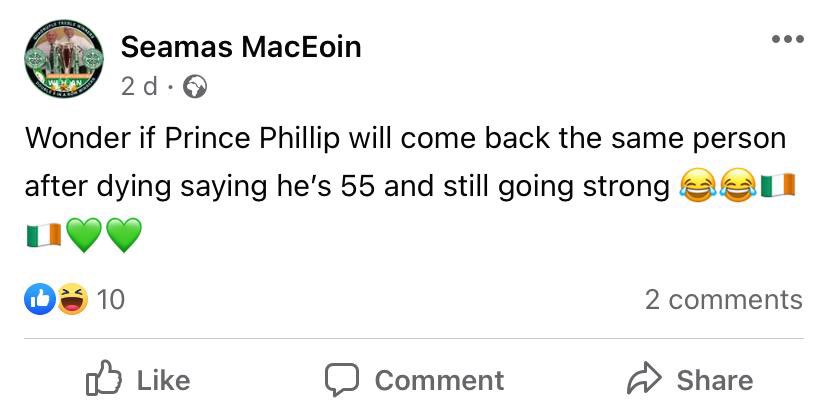 Deputy First Minister Michelle O'Neill Alex Maskey also praised the Prince's record of public service and efforts towards reconciliation in Ireland as well as his efforts in the foundation of the Duke of Edinburgh Aawrds.
Assembly Speaker Alex Maskey paid tribute to his record of public service, his reconciliation efforts and his work through the Duke of Edinburgh Awards.
"His priority was on opening the door for young people to participate, whatever their background," O'Neill said.
A Sinn Fein party spokesperson has confirmed that McKeown removed the offending posts. No other comment has been issued at this time.