DISCOUNT PUB chain Wetherspoons looks set to expand its operations in Ireland with three new pubs already in development and plans to seek out further sites in the offing.
J D Wetherspoon PLC chairman Tim Martin revealed the plans to the Irish Independent while discussing the company's latest development in the region.
The UK chain is set to invest €4m in a new pub called The Silver Penny which will be located on Lower Abbey Street in the heart of Dublin and is set to open in May 2019.
It's a move that will as many as 75 jobs will be created as part of the development.
On top of this, Wetherspoons is developing a pub and hotel on a series of derelict properties in the Irish capital. The facility is set to boast 92 rooms at a cost of €18.5m in Dublin 2.
Martin revealed how plans to expand were motivated by the "great success" the company has enjoyed in Ireland, where it already operates five pubs with plans in the offing for even more.
"We have enjoyed great success with our existing five pubs in the Republic of Ireland, and are pleased that we now have three new sites in development," Martin said.
"We will continue to look for other sites."
Despite the chain's reputation for offering discount food and drink, Wetherspoons has not been without controversy.
Martin was previously forced apologised to the group of Irish Travellers and English Gypsies who were refused entry to a Wetherspoons pub.
He's also a strong supporter of Brexit and, on November 1st, the company placed 500,000 beer mats in its pubs offering a message to parliament.
The beer mats, which featured in each of the company's 895 pubs in England, Scotland, Wales and Northern Ireland.
It calls on Theresa May, Jeremy Corbyn, Vince Cable and MPs to stop messing about and endorse Wetherspoons' three-point manifesto.
The manifesto reads as follows: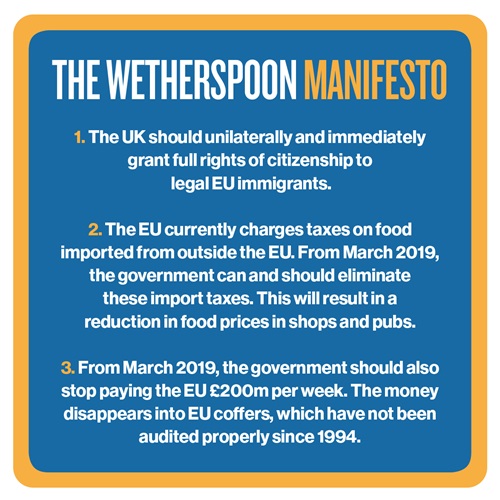 As a result of Brexit, Wetherspoons has already announced plans to stop serving Jägermeister (a herbal liqueur from Germany), well as French brandies Courvoisier VS and Hennessy Fine de Cognac.
They have been replaced with will stock E&J Brandy (the number two selling brandy in the US), Black Bottle (the number one selling brandy in Australia), and Strika, a herbal liqueur produced in England.
Wetherspoons also opted to close down its Facebook, Instagram and Twitter accounts citing bad publicity surrounding social media including the "trolling" of MPs.