SHE is a double World Champion cyclist after recent success in Italy and secured gold and silver for Ireland at the 2016 Paralympics in Rio.
But for Katie-George Dunlevy, the burning desire to improve and achieve even more becomes apparent within a few minutes of speaking to her.
"I have always been determined – or stubborn is probably a better way of describing it," she jokes.
"When I was diagnosed with my eye condition (retinitis pigmentosa) at the age of 11, I didn't want to be treated any differently. To the point that I would refuse help when offered.
"Sport was huge for me back then, athletics mostly. It really brought me out of myself.
"Then later in life, when I had to give up rowing, I threw myself into cycling body, mind and soul. I'm so glad I did. It has been the best opportunity that ever came my way. It is an incredible feeling to represent Ireland."
Donegal connection
Based in Crawley, Katie's family come from Mountcharles in Donegal and summer breaks there instilled a love of the country that has never dimmed.
"I was born in England but I am very much Irish," she said.
"I had all my family holidays over in Mountcharles and I have great memories of my time there with my sisters. Those were special times for us and I still get a thrill anytime I go back to visit relatives, or when I have training camps over there with Eve."

Eve is Eve McCrystal, her Dundalk-based partner or 'pilot' for the tandem events. The pair met in 2014 and the connection was instant.
"My coach (national performance coach) Neil Delahaye introduced us via my former pilot Sandra Fitzgerald," Dunlevy explained.
"We pretty much clicked straight away.
"The first time we were on the bike, I remember it was a busy road with roundabouts.  It was in at the deep end for Eve, at the front of the tandem. But she did really well and just got on with it. And then when we went on a camp together, I felt there is something special here. A few months later we won World Cup winners medals in Italy in 2014, so I think we made the right call."
Tandem is a distinctive sport in more ways than one, and the demands it places on both riders are tough.
"I feel what Eve is doing at the front. Our combined power is going through the bike to drive it. It is the efficiency of both of us working together.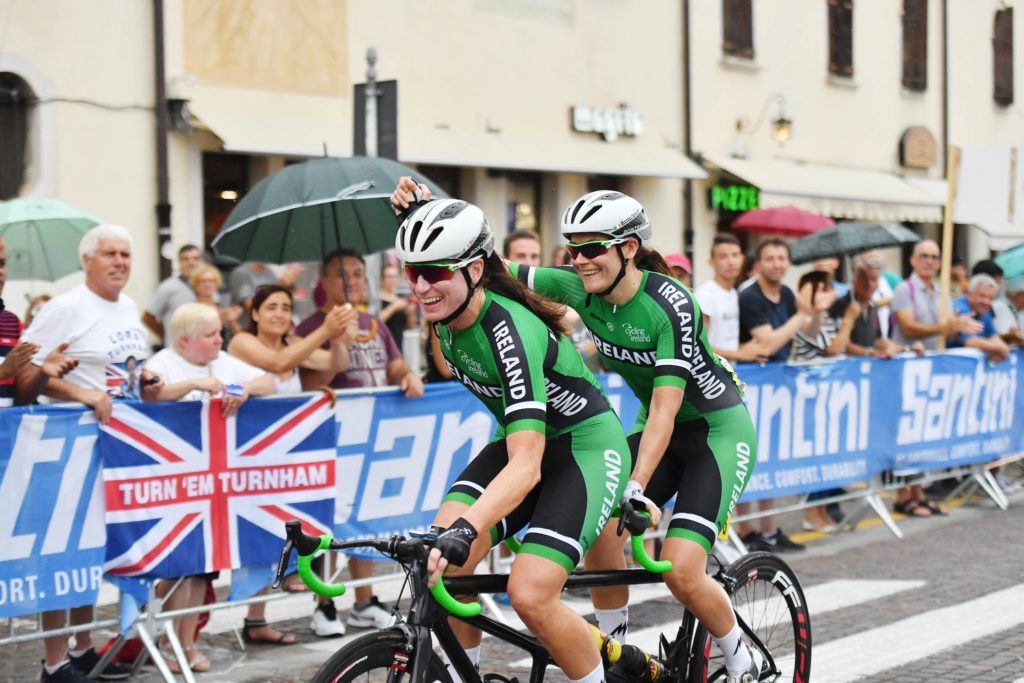 "And I would feel through the pedals – our pedals are connected- I would feel her putting pressure on and off. She may be giving me some information that I need, but a lot of the time I would rely on that feeling alone."
Training
"I represent Ireland at the highest level, and it's fantastic. I train full-time, as does the pilot. That will be six days a week for anywhere between one to five hours a day.
"The sight isn't an issue, we race and we go all out just as much as the solo bikers. You can't take any short cuts. Even in training I push myself 110 per cent."
The pair face other challenges. The events they compete in are Track World Championships and Road World Championships ("almost two different sports," says Katie).
At present, Ireland doesn't possess suitable track facilities - though steps have been taken to remedy that.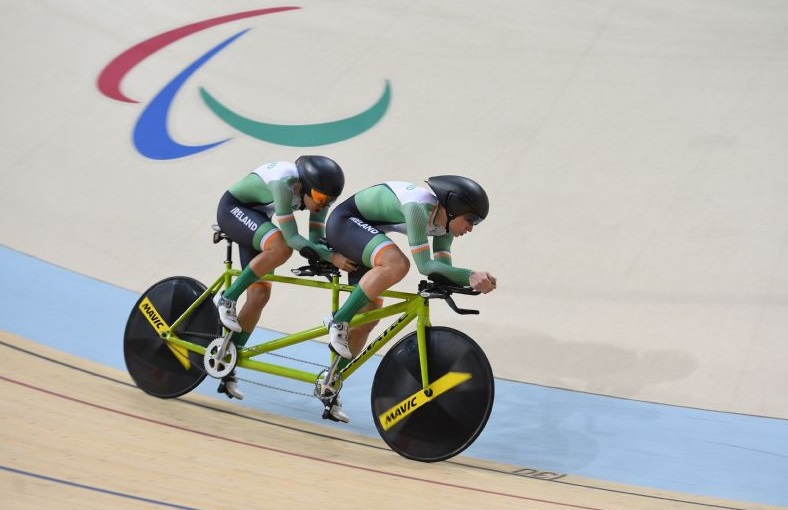 "We hold some training camps in Ireland but we need to travel to Mallorca. The roads are better there and the weather is good.
"There is also a suitable track there. Ireland doesn't have a track at present, and we have got to race on the track for the World Championships every year."
Tokyo 2020
Perhaps due in no small part to the success and the pair have achieved, plans are afoot to address that issue -with the Irish government pledging to have a new velodrome built in Dublin by 2021.  Before that, there is the little matter of the Tokyo Paralympics in 2020, where Dunlevy and McCrystal will be going all out to repeat their 2016 success.
"At the moment we are at the top and have been double world champions and Paralympic champions in the time trial," said Dunlevy.
"There is fierce competition there between ourselves and Great Britain on the track and on the road. Then you have other countries like Poland, who are very good road racers. Belgium are improving every year, they are just getting stronger and faster every year.
"New Zealand who are very good on the road and on the track as well. Along with us, they are a threat in both disciplines.  Countries like that have great support and resources. You just know that they will be putting everything into getting those girls to the top.
And she added: "Success there is the biggest goal, the ultimate goal that everyone is aiming for. Everyone steps up for the Paralympics.
"But Eve and I are confident. We make a great team and we are going to Tokyo to retain our title."
Wow can't believe it's two years to go until the Tokyo Paralympic Games. #Tokyo2020 Nearly two years since we became Paralympic champions in Rio @evemccrystal https://t.co/nS2YQWx13q

— Katie-George Dunlevy 🏳️‍🌈 (@KatieGDunlevy) August 25, 2018