The third round of The Iron Games saw 6 teams – Careys, ECL Civil Engineering, J.Coffey, Murphys, Oliver Connell and Toureen go head to head for the Iron Cup in hurling, which took place at McGovern Park, Ruislip on Saturday 27 July.
The past events in The Iron Games have been filled with passion and competitiveness, and the hurling was no different. Spectators cheered on, as Saturday's event was fast paced and hugely entertaining. Even the morning drizzle didn't dampen the competitive spirit at the hurling tournament on Saturday.
In a series of fast paced round robin matches Careys' looked although they were going to dominate from the start, taking their early games with big points differences. Oliver Connell also started strongly, winning their first three without a rest break between them. In the later matches Carey's grip on the leader board falters as Murphy's came through strongly. It went to the wire and in match 15 – the very last of the round robin matches – Carey's and Oliver Connell battled it out with both teams in with a shout of meeting Murphy's in the final. Match 15 was a gritty one that saw pieces of hurley fly and Oliver Connell going through to the final, Carey's losing out by a single point on points difference.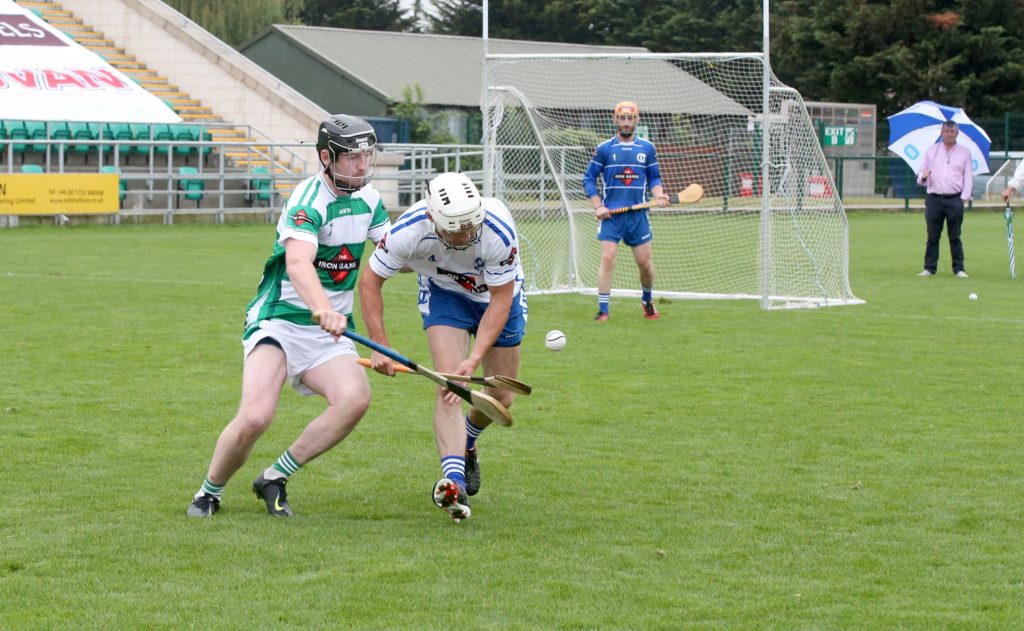 The final between Murphy's and Oliver Connell was played with equal passion, both teams demonstrating some excellent catching skills, and plenty of running, which was commendable considering each team was playing their sixth match of the day. However, there could only be one winner and Oliver Connell it was who lifted the third Iron Cup of 2019 – and their second after winning the Gaelic Football last month.
Runners up medals was kindly presented to Murphy's by Neil O'Sullivan, Vice President of the Provincial Council of Britain and John Gormley the Vice Chairperson of the Hertfordshire County Board.
The Iron Cup was presented the winners, Oliver Connell by Corrina Towers and Roger Keytes, Chairperson and Treasurer at Haemochromatosis UK (HUK).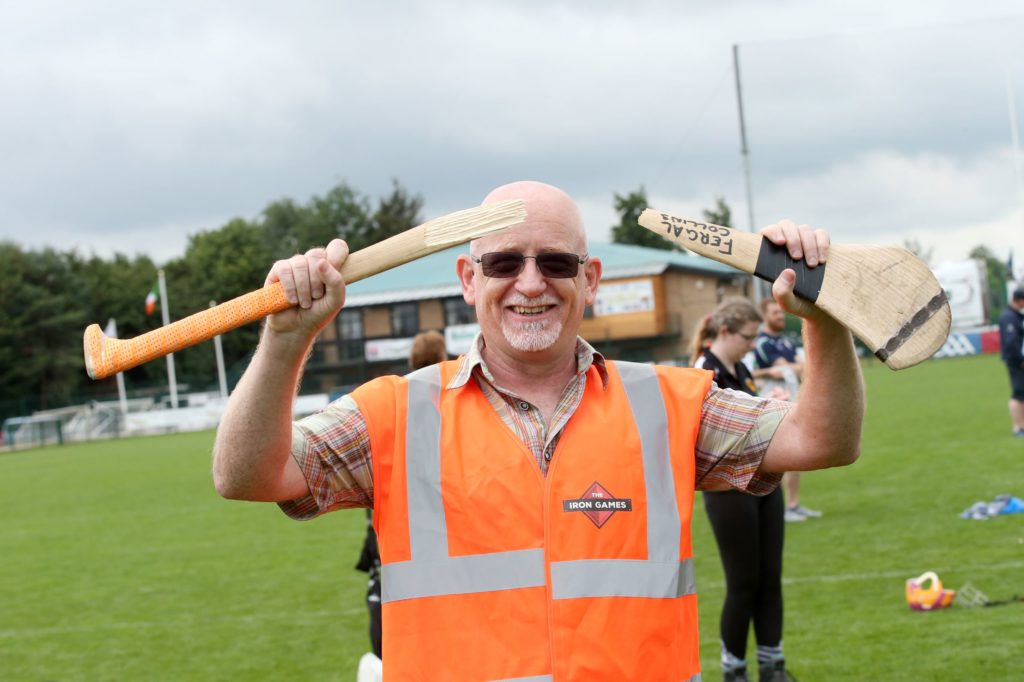 David Head, Operations Exec at HUK, commented after the tournament "This was my first experience of hurling and I found it to be an incredibly skilful and amazingly fast sport. The lads out on the pitch were obviously very well practiced and committed, and it seemed to me that no quarter was given – everyone was out to win. The fact that it was such a close competition added to the excitement, and to have access to the GAA London facilities at McGovern Park was wonderful too."
He added, "obviously a big vote of congratulations is due to Oliver Connell for lifting their second trophy of the games, but also I'd like to thank all the teams involved for giving their time, skills, and in some cases blood, bumps and bruises, for the cause. It's great to see that The Iron Games generates such healthy competitiveness and how much the Iron Cups are coming to mean to those involved."
"Thanks are also due to tournament sponsor Toureen, hurling hosts GAA London, and the spectators and volunteers on the day. The success of The Iron Games has led to some £200,000 being generated to fund the work of Haemochromatosis UK and it would not be possible without the support of everyone involved."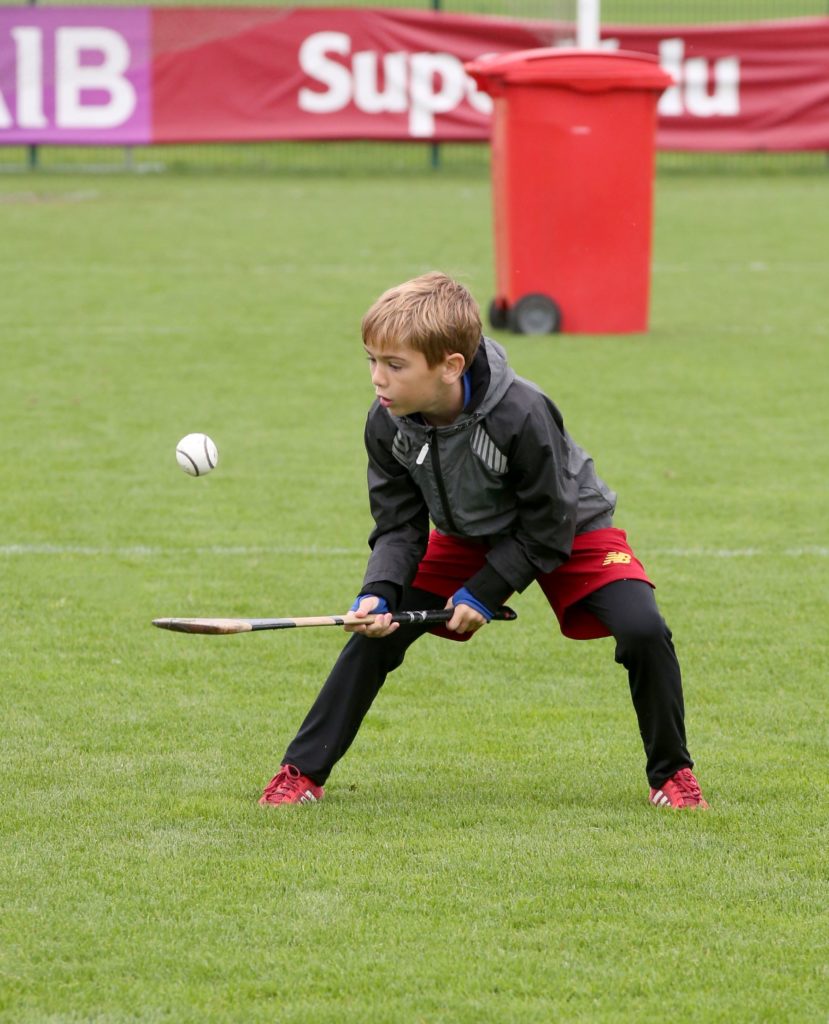 Neil McClements, Chief Executive at HUK said, "The craic this year has been great. We are grateful to everyone who took part, to help us raise funds to support people affected by this common but – sadly too often – undiagnosed genetic condition. Early diagnosis saves lives – and every diagnosis starts with awareness. The support of the team and their sponsors helps us to help others – thank you!"
The Iron Games are a four-part sporting tournament raising funds for a three year Genetic Haemochromatosis Education Programme, which educates and informs healthcare professionals about haemochromatosis.