IT'S an oft forgotten piece of sporting history. The day Ireland shook the world of football, without anyone really realising.
On September 21, 1949 - 33 years after the Easter Rising, and just eight months after Ireland officially declared itself a Republic - a group of lads calling themselves the Irish national football team made the short ferry trip across to Liverpool for what would prove to be a rather historic fixture against England.
Though England refused to call the visitors 'Ireland', instead calling them 'The FA of Ireland' in a bizarre display of anti-diplomatic oneupmanship.
Nevertheless, with both countries keen to mend a strained relationship, football was used as something of a bridge-builder.
Three years previously, the very first match between Ireland and England took place in Dublin. The atmosphere was boisterous but peaceful, and not even a 1-0 defeat could dampen the spirits of the 31,000 Irish men, women and children who piled into Dalymount Park to watch.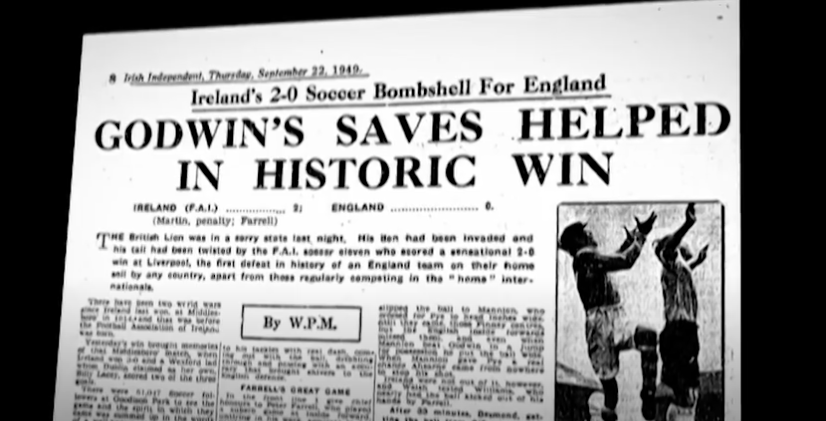 Ireland were therefore out for a little revenge when they turned up at Goodison Park three years later, but facing a team boasting top-level talent such as Tom Finney and Billy Wright, a rout was expected, and Ireland were there to simply play their part rather submissively.
But that's never really been Ireland's thing, has it?
In the 33rd minute, Ireland forward Peter Desmond, after collecting a pass from Tommy O'Connor, burst into the penalty area and was fouled.
Con Martin converted the subsequent penalty kick, and England were shaken. Despite missing the brilliance of Stanley Matthews, Tommy Lawton and Stan Mortensen, this still wasn't part of the plan.
A cagey game turned desperate as the English threw everything they had forward in a flurry of attacks, desperate to avoid the 'embarrassment' that was staring them in the face.
Ireland's defence stood rock-steady, and with just minutes remaining, Dublin-born Peter Farrell - playing at his club Everton's home ground no less - waltzed through the English back-line before lobbing their on-rushing goalkeeper Bert Williams.
2-0, and Ireland had done it.
But few would be allowed to remember. In fact, it was more or less swept under the rug, such was England's mortification.
Ireland's famous victory that day would be celebrated in earnest back in Dublin, but more or less scrubbed from history anywhere else.
Any English football fan worth his or her salt will tell you the first team to beat England on home soil was the famous Hungary side featuring Ferenc Puskas in the game dubbed 'Match of the Century'.
But that was in 1953, four years after Ireland's triumph.
Why the cover-up? Well, it wasn't anything systematic. More a simple, slightly depressing reflection of Anglo-Irish relations at the time.
'We couldn't possible be beaten by *them*. Well let's just pretend we didn't.' Life goes on.
Despite the head-in-the-sandedness on England's part, sporting relations between the two nations would improve exponentially, and the matches in Dublin and Goodison Park laid a crucial foundation for what has now become something of an enjoyably heated rivalry across a number of sporting fronts.
And if 1988 is any clue, the next time an Irish side beats an English one on home soil, we'll make damn sure no one will ever forget about it.