IRELAND'S Katie-George Dunlevy is aiming for a podium finish at the Rio de Janeiro Paralympics to build on the three fifth places she gained at London 2012.
The tandem track cyclist has a more pressing engagement though – the world Championships in Aguascalientes, Mexico, at altitude, which take place April 10-13.
Dunlevy – who was brought up in Crawley and qualifies for Ireland through her Mountcharles Donegal-born dad John – is relishing the challenge.
"It's the first track competition after London," she told The Irish Post, "So we'll see how we're going.
"Also there are points on offer for Rio. The aim is always for the podium; to get a medal. I'm really up for the challenge, so is my pilot."
Advertisement
Dunleavy, 32, is a partially sighted athlete and competes on a tandem with a pilot. She is currently getting used to a new partner, Eve McCrystal.
"It takes some time to get that relationship going," said Dunlevy, "... to be as effective and efficient on the bike as possible. It's going really well with myself and Eve."
Competing with riders from hugely-resourced nations like Britain is tough for Ireland and Dunlevy, but the Maidenhead resident stresses the importance of positive thinking and positive action.
"It's challenging for sure," she said.
"You have limited time on the track. You just have to make the most of what you have. It's difficult because you are at a disadvantage before you even come to the competition but you just have to make the most of what you have and try and do your best. That's all you can do.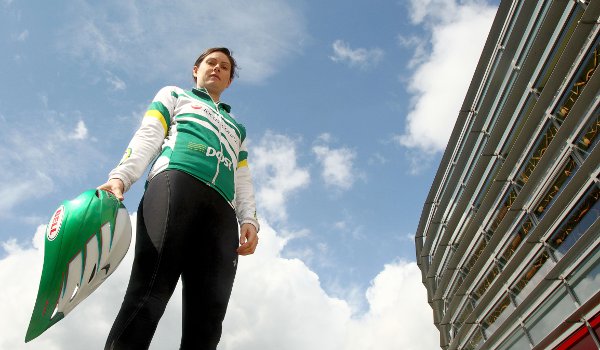 "I have a training programme from my coach in Ireland, I stick to that. I get out as much as I can on the tandem here. I have a few pilots, local riders. They'll work to my training programme with me.
Advertisement
"The rest of the time I'll be on a turbo. Lot of hours are spent on the turbo when the weather's not good."
Unfortunately the acquisition and maintenance of tandem bikes is not cheap. Dunlevy is currently in the market for a road bike that she will use to prepare (and to compete) in Rio. It will cost in the region of £10,000. The second-generation is on the lookout for a sponsor to help meet these costs.
In her previous athletic career, such expenses were not quite so prevalent. Before becoming a cyclist, Dunlevy was a rower.
"I was trying out for the Ireland rowing squad in 2011 and was approached by the cycling coaches. I tried cycling and did well enough to get in the squad. I had represented Great Britain in at 2004 and 05 World Championships and got two gold medals."
Rowers and cyclists, says Dunlevy, use a lot of the same muscles groups and rely on their qualities of endurance.
"I'm so glad I took cycling up because it meant me going to London in 2012," she said. "One door closes another opens."
Asked which sport she prefers, stressed the merits of both but added:  "I love racing, absolutely love the tandem and the freedom of going out on the bike."
Advertisement
If you are interested in sponsoring Katie-George Dunlevy please contact the sports desk here (contact info on back page) and we'll put you in touch with her.