IN NEWS
Troubles backlash unavoidable, says Gerry Adams
In our exclusive interview with Gerry Adams, the Sinn Féin President speaks about the Troubles, his brother's abuse 'confession', and the Queen. Niall O Sullivan met the Louth TD.
Red carpet treatment for the real Philomena Lee
A survivor of an Irish Mother and Baby Home took to the red carpet as a blockbuster movie based on her experiences premiered in London.
Advertisement
Philomena Lee, whose tragic life story has been made into a critically acclaimed film starring Judi Dench and Steve Coogan, walked side by side with the stars at the film launch this month.
Ireland is a 'class-ridden' dump, claims Eamon Dunphy
One of Ireland's most outspoken commentators claims the country is a 'class-ridden dump' which he would encourage his children to leave were they young enough.
Find out why he thinks so in this week's paper.
NUT 'anti-Irish' remarks cast a shadow over teachers' strike
In-fighting has erupted within a national teachers' union after a boss was accused of making 'anti-Irish' remarks.
Teacher Rob Harrington tore up his National Union of Teachers membership card after comments made by Kent branch secretary John Walder.
Advertisement
Murder of Big Issue sellers may never be released
A homeless Irishman has been sentenced to life in prison after admitting he stabbed two Big Issue sellers to death.
IN ENTERTAINMENT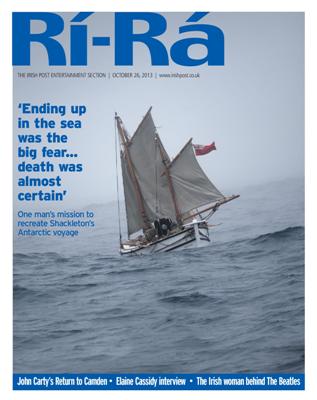 'Ending up in the sea was the big fear... death was almost certain'
Robert Mulhern discovers that recreating Ernest Shackleton's legendary journey to safety in the Antarctic was just as hazardous for a TV team that recreated his mission as it was for the heroes of 1916.
Setting the tone for 50 years
Advertisement
Wolfe Tone Brian Warfield tells Joe Giltrap about five decades of bringing the ballad to the people.
'London was a special place to be playing Irish music'
John Carty on growing up in London's underground traditional Irish music scene, settling in Boyle and returning to Camden.
Interview:  Moira Buffini
The writer of the hit new play Handbagged tells Fiona Audley how she struck writing gold with the passing of Margaret Thatcher.
Handbagged runs at the Tricycle until November 16.
Back in the saddle
Advertisement
Six years on from winning an Irish talent show, David O'Connor is in London to prepare his debut album with Ronan Keating's producers.
He discusses his love of horseracing, Wexford and following his dream.
Maeve Higgins' final column
In the last of the Cork comedian's hilarious weekly columns, Maeve tries to get her house in order before moving back to Ireland.
IN SPORT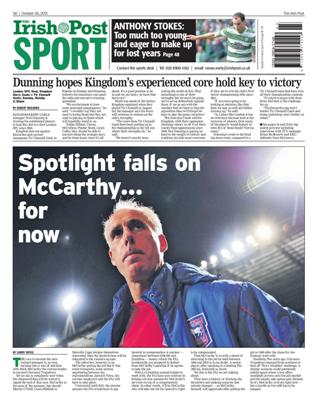 Spotlight falls on McCarthy... for now T
Advertisement
The race to become the new Ireland manager is, as ever, turning into a war of attrition with Mick McCarthy the current leader to succeed Giovanni Trapattoni, writes Garry Doyle.
Dunning hopes Kingdom's experienced core hold key to victory
Robert Mulhern previews this Sunday's  London SFC final between Kingdom Kerry Gaels and Tir Chonaill Gaels. He speaks to Kingdom manager Noel Dunning.
Anthony Stokes: Too much too young and eager to make up for lost years
The Celtic and Ireland striker talks to Garry Doyle.
Match reports: McArdle Cup and Collins Cup finals
All the action from the hurling and football finals at Ruislip, as well as the London Division 3 final and the All Britain Junior Hurling quarter-finals.
Advertisement