AN IRISHWOMAN and her English boyfriend have written a comedy song about their English/Irish relationship, and even better — it's all for charity.
The couple submitted the song as part of the My Lovely Horse Rescue charity's 'A Rubbish New Song for Europe' competition, which will take place at the music festival Electric Picnic this Sunday.
The competition will mark the twentieth anniversary of the classic episode of Father Ted, in which Ted and Dougal perform their now famous 'A Song for Europe' entry, My Lovely Horse.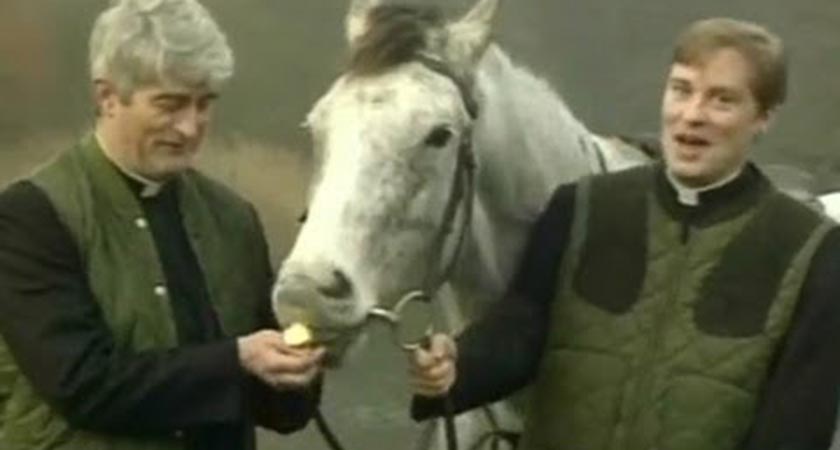 Katie Walsh (26) of Galway and  her boyfriend Sam (26) of Wiltshire, who have been together for a year-and-a-half, played on the cross-border dynamic of their Anglo-Irish relationship to cook up their hilarious entry I Can't Tell My Mam That My Boyfriend's a Tan.
Advertisement
Katie told The Irish Post the advice her father gave her when she moved to Britain.
"The day I moved to London everyone was saying their goodbyes, and my dad came up and whispered into my ear: Whatever you do, don't come home with an Englishman!"
Whatever you do, don't come home with an Englishman!
Not only will Katie be doing just that this weekend, but the pair will be performing their track live on stage to a panel of judges come Sunday in Stradbally, Co. Laois.
Thirteen other competitors will be hoping to see them off, with other finalist's song titles including 'The Fish That Couldn't Swim', 'The Wonderful Whistling Willy' and 'Bad Cabbage'.
If Katie and Sam do well, perhaps there will be one Irish mam particularly happy that her daughter did bring home a 'tan'.
Check out the music video here...
Advertisement