JOHN F Kennedy might be the most famous Irish-American US president, but he certainly wasn't the only one.
Barack Obama has a whole petrol station dedicated to him in Moneygall, there's a statue of Bill Clinton playing golf in Ballybunion, and Galway's famous Eyre Square is also known as John F Kennedy Memorial Park-- but how many of them have real Irish roots?
The answer is almost half-- at least 22 US Presidents have Irish or Scotch-Irish ancestry.
Which American Presidents have Irish roots?
John F Kennedy
Starting with the most famous Irish-American president, both sides of John F Kennedy's families have roots stretching back to Ireland, with all four of his grandparents being the children of Irish immigrants-- from Dunganstown and Owenduff in Wexford, and Counties Limerick and Cavan respectively.
Ulysses S. Grant
The 18th US President was the first with Irish roots to visit Ireland, although he was not a sitting president at the time. His grandmother on his father's side was the daughter of an Irish pioneer, and his mother, Hannah, was descended from Irish immigrants from Ballygawley in County Tyrone.
Harry S Truman
The very first US president to receive the now-traditional pot of shamrocks from Ireland, Harry S Truman's ancestry is primarily English but also contains Scots-Irish.
Ronald Reagan
Ronald Reagan has strong ties to Ireland, with his great-grandparents hailing from County Tipperary, but chose to embrace the Protestant Christian faith rather than his father's Roman Catholic upbringing.
Richard Nixon
The 37th President of the United States had roots in Timahoe in County Kildare, and his wife, Pat, was descended from Tipperary immigrants. The President visited his family's graveside on a visit to the Emerald Isle in 1970, but didn't receive the warm welcome Ireland is famous for, as he was pelted by an egg thrown by an anti-war protester.
George H W Bush & George W Bush
The father-son Presidential duo have largely English and German ancestry, but can also claim distant Irish roots-- though not the type an Irishman would be proud of.
In 2005, local historians and genealogists in Wexford traced the Bush's roots all the way back to the Norman invasion of Ireland, and discovered George H W Bush & George W Bush may be a direct descendant of Dermot McMorrough, the King of Leinster, who betrayed Ireland for his own personal gain.
Further research indicated that the pair are direct descendent of Richard de Clare-- better known as Strongbow, the nobleman who led the Norman invasion of Ireland in the 12th century.
Barack Obama
The 44th President of the United States can trace his roots to Moneygall village in County Offaly, and famously visited the area in 2011, trying a pint of the black stuff in a local pub and gaining the fond Irish nickname Barack O'Bama.
Bill Clinton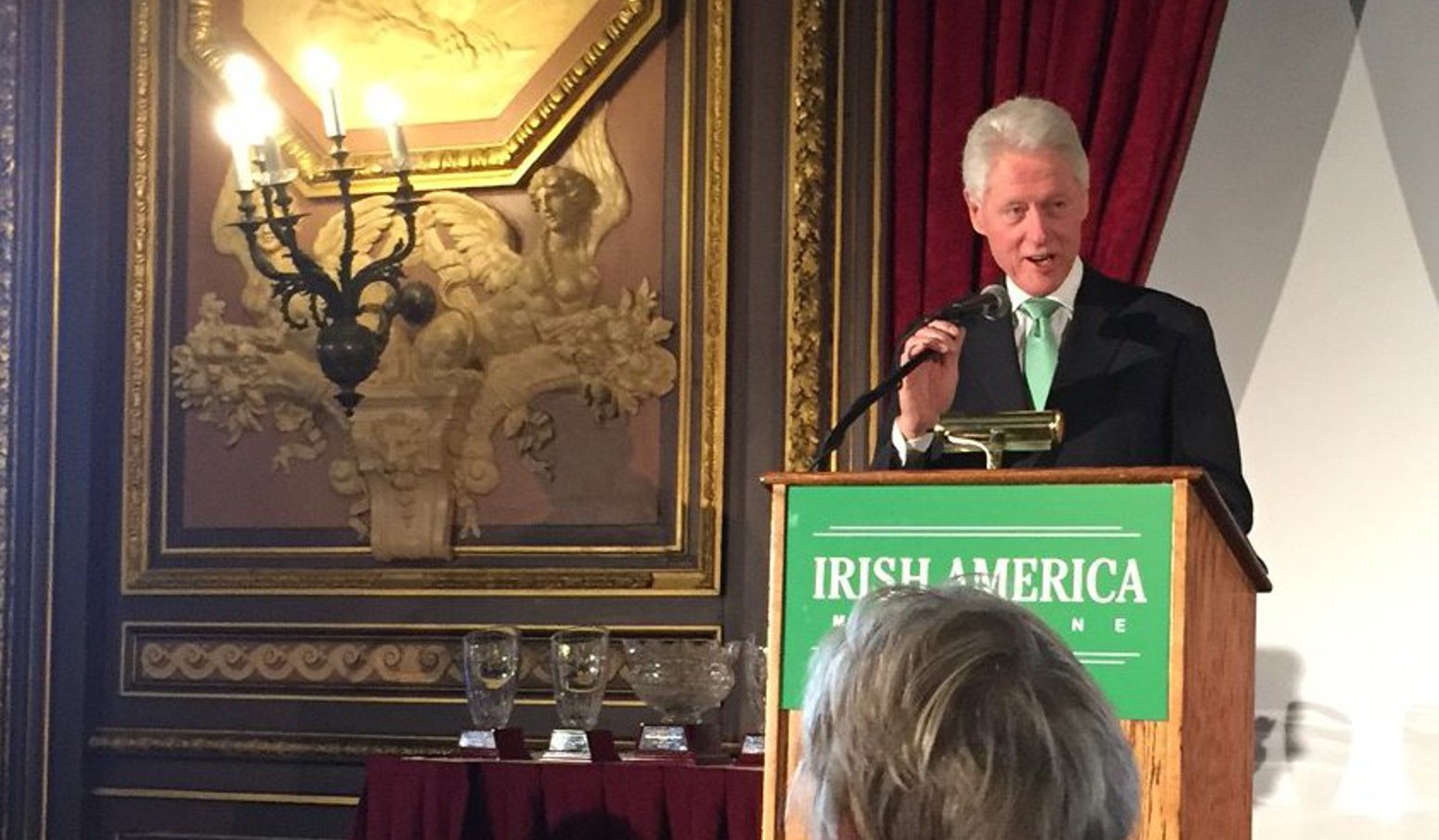 While it has never been proven, former President Bill Clinton claims to have Irish ancestry on his mother's side. But whether or not Irish blood runs in his veins, he was one of the most important US presidents when it came to Irish-US relations, famously helping to create the Good Friday Agreement which brought peace to Northern Ireland. He was also the first-ever US President to visit Northern Ireland.
Which American presidents have Ulster-Scots / Scots-Irish heritage?
Andrew Jackson
While the 7th President of the United States was born in America, his parents had immigrated from Boneybefore, near Carrickfergus in County Antrim, just two years previously.
James Knox Polk
The 11th US President had strong ties to Northern Ireland, with his ancestors having left Coleraine in County Derry in 1680 to become one of the first Ulster-Scots to move to the 'New World'.
Andrew Johnson
President Johnson's grandfather left Mounthill in County Antrim in the years just before the US Republic was formed-- the 17th US President succeeded President Abraham Lincoln following his assassination.
James Buchanan
The 15th US President spoke proudly of his Ulster origins, stating his roots-- from County Tyrone-- were "a priceless heritage".
Chester A Arthur
Serving one term between 1881 - 1885, Chester A Arthur's ancestors left Dreen near Cullybackey in County Antrim in 1815.
Grover Cleveland
The only US President in history to secure non-consecutive terms has roots in County Antrim, with his merchant grandfather immigrating to America in the late 1700's.
Benjamin Harrison
The 23rd president had Scotch-Irish ancestry on both sides, with both great-grandfathers hailing from  what is now known as Northern Ireland.
William McKinley
Another US President whose life was sadly cut short by an assassination, William McKinley's roots stem back to Ballymoney in County Antrim.
Theodore Roosevelt
The 26th president had ancestry from Ireland, Holland, Scotland, England and France, with his Scotch-Irish ancestry coming from Glenroe in County Antrim--  however he rejected the term Irish-American, stating a "hyphenated American is not an American at all".
William Howard Taft
The 27th President of the United States was born in Cincinnati, Ohio, but his heritage can be traced back to England and Ulster.
Woodrow Wilson
The Democratic politician had strong ties to Ulster on both sides of his family-- his grandfather's home in Dergalt, near Strabane in County Tyrone, is now open as a museum.
Warren G Harding
The 29th president of the United States is believed to have English, Dutch and Scotch-Irish ancestry.
Jimmy Carter
The 39th president of the United States, who served from 1977-1981, is understood to have roots stemming back to County Antrim.