AN ANTI-MASK activist has been arrested by gardaí responding to reports on an individual hanging up signs speaking out against public health advice on Covid-19. 
According to The Irish Times, the individual was a woman, said to be in her early 50s, who had attended the recent anti-lockdown protests in Dublin. 
She was arrested for a public order offence by officers responding to several complaints about a group of protestors spotted hanging large banners across a footbridge located on the N11 at Kilmacanogue. 
Gardaí attending the scene just before 4pm this past Friday, August 28, encountered a small group of protesters, who proceeded to film the officers as they removed the banners. 
Two banners were placed over the busy road, one which read "Masks spread germs", the other: "No forced vaccines."
Footage of the incident was streamed on Facebook with the woman heard saying: "How dare you. Look at this. This is a gangster" as the officers take down the banners.
In the video, a garda can be seen asking a female protester for her name and address under the terms of Ireland's Public Order Act. 
When she refused to provide either, a small scuffle breaks out with the woman, at one point, heard calling the gardaí "traitors to the Irish people" and warning them they will "go viral". 
She was subsequently placed under arrest under Section 24 of the Public Order Act.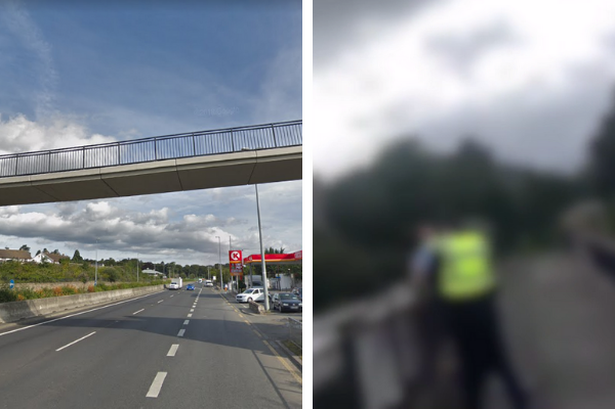 The act gives gardaí the power to arrest a person who refuses to give their name and address in the event that they suspect an offence has been committed. 
A Garda spokesperson has confirmed an arrest was made with investigations into the incident still ongoing 
"Gardaí were alerted to an incident on the N11 flyover footbridge at Kilmacanogue as a result of a number of complaints received from members of the public earlier this afternoon, Friday, 28th August, 2020 shortly after 4pm," a Garda spokeswoman said. 
"Gardaí attended the scene and arrested one female (early 50s) under the Criminal Justice and Public Order Act, 1994. She is currently in Bray Garda station." 
The incident comes less than a week after four people were arrested following mass demonstrations against the Irish government's ongoing lockdown restrictions and rules making the wearing of masks in shops and on public transport mandatory. 
Dublin Live has since reported that the woman arrested was Gemma O'Doherty a former journalist, noted conspiracy theorist and vehement opponent of the government's lockdown measures.