CHRISTMAS is right around the corner, and we think we've found the perfect Irish treat for the dinner table this year.
As we've said a number times before on this site, booze and pudding are an often unmatchable compliment to one another.
To make one yourself, here's everything you need to know, courtesy of Baileys themselves: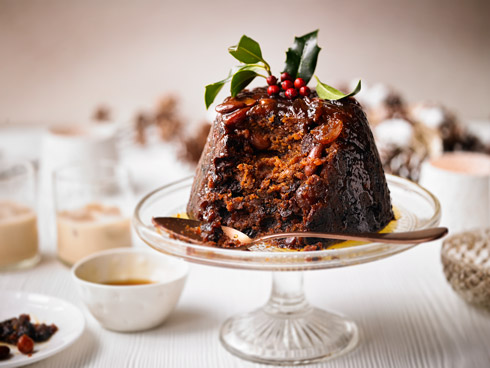 What you will need:
50g chopped prunes
300g mixed dried fruit
150g glacé cherries, roughly chopped or halved
zest and juice 1 lemon
zest and juice 1 orange
100g soft brown sugar
2 tsp mixed spice
150ml (2.4 alcohol units) Baileys Original Irish Cream
2 eggs
50g hazelnuts halved
50g almonds, roughly chopped
1 apple peeled, cored and chopped
100g self-raising flour
175g fresh breadcrumbs
125g frozen butter
red currants and holly, to serve
For the syrup
2 tbsp honey
1 tbsp (0.3 alcohol units) Baileys Original Irish cream
1 tbsp butter
How to make it:
In a medium bowl, add the mixed prunes, dried fruit, glacé cherries, lemon and orange zest, sugar, mixed spice and the Baileys. Cover and leave overnight to soak up the flavour and soften.
Heat oven to 160C/140C fan/gas 3. Grease a 1.5l pudding bowl with butter and line the bottom with a circle of baking paper. Add the eggs, nuts, apple, self-raising flour and breadcrumbs to the fruit mixture. Mix together and grate in the frozen butter. Spoon into the lined bowl, cover with baking paper and then foil. Secure with a large rubber band or tight string.
Place in a roasting tin and pour boiling water around the bowl. Cook for 6 hrs. Remove and keep in the fridge for 6 weeks.
On the day of serving, place a strong saucer in the bottom of large stock pot. Pour water in and then place the bowl on top. Leave to steam on a low heat for 2 hrs. Remove and place a plate on top. Turn over and remove the bowl and paper.
Heat the honey, Baileys and butter in a small pan until melted. Brush over the pudding, then add red currants and holly, to serve.