THERE'S plenty about Conor McGregor that could be described as 'unique'.
His signature in-ring strut, his proficiency in smacking pub-dwelling pensioners in the face, and indeed his tattoos.
Now admittedly, some of his 'tats' are striking, but pieces of art? Hardly, according to a study commissioned by Compare Bet.
McGregor was ranked ninth in the list of sportsmen with the worst tattoos, behind the likes of Real Madrid defender Sergio Ramos, former heavyweight boxer Mike Tyson and England and Manchester City forward Raheem Sterling.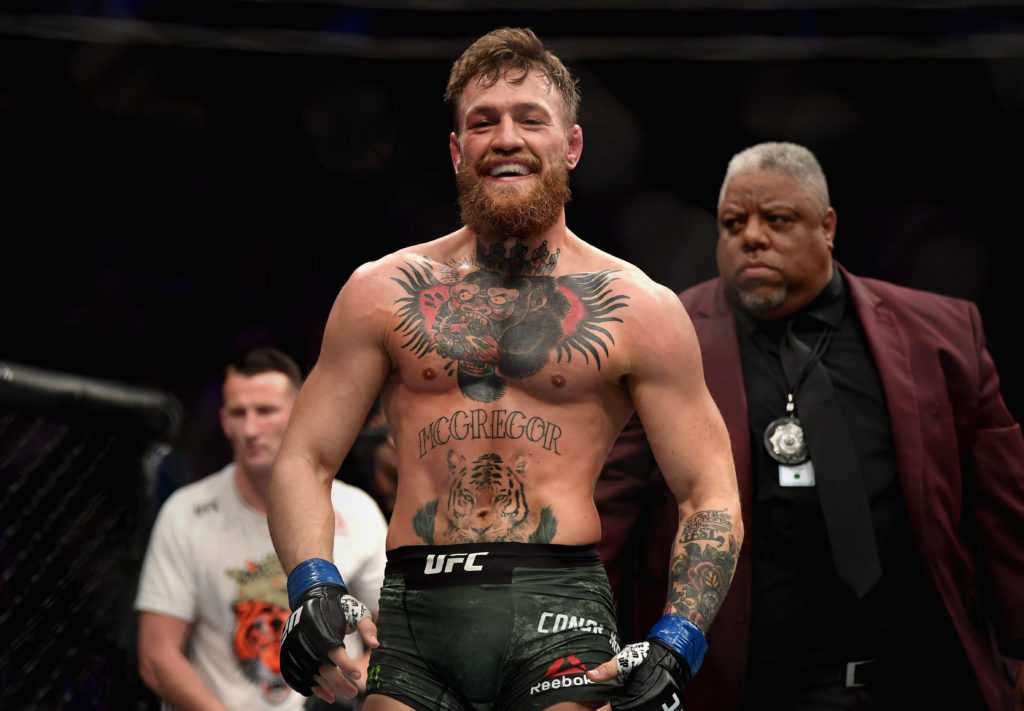 Some of the ink McGregor has had done splits opinion. The huge gorilla and tiger emblazoned on his chest and torso respectively are anything but dull. In a way they personify the Irishman's scrappy approach to fighting and his bold approach to life. But as memorable as they are, in certain lights they're pretty tacky.
Elsewhere the UFC star has plenty more which really are ... well, awful.
He has fairly boring-looking Arabic writing on his heel, and admits he doesn't even know the translation.
"This was my first [tattoo], when I was drunk. I got it in Ayia Napa for €20. It could mean anything," said McGregor.
On his forearm there is a clock face amongst a rosebush - which wouldn't look out of place in an 13-year-old's art homework - beside which is a rather plain looking dagger and a bizarre figure of a gentleman wearing a top hat.
Also on his arm is the phrase 'slow is smooth, smooth is fast', which admittedly is a fairly reasonable motto (often used by US Navy SEALs), but again, it looks like it was drawn by a child with a sharpie.
Despite this though, McGregor also made the list for sportsmen with the best tattoos, too.
He was ranked fifth, behind David Beckham, British boxer Anthony Joshua and Lionel Messi.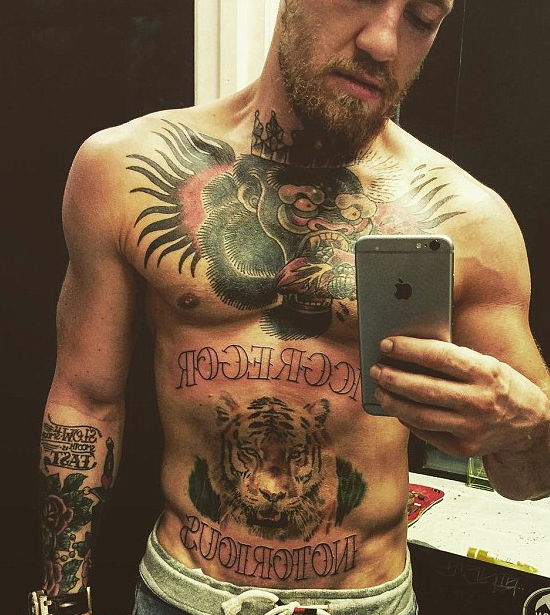 For some, tattoos are a reflection of personality, and no one can deny that about McGregor. On your average 'Joe-working-man' a crowned gorilla with a heart in its mouth would look beyond ridiculous, but on McGregor's chest, it kind of fits.
As do his 'MCGREGOR' and 'NOTORIOUS' tattoos across his abdomen. They're not works of art, but they don't need to be, as I'm sure Conor himself 'just doesn't give a fook' what anyone else thinks.