A HILARIOUSLY heart-warming 'In Memorium' message has been shared online, showcasing the unique Irish sense of humour in all its brilliance. 
In a message taken from an unknown local Irish newspaper, a group of sons have paid tribute to their dearly departed dad with a witty message reflecting the sacrifices being made. 
Or, more specifically, the lack of pubs for many living through lockdown. 
Published on the second anniversary of his passing, the message reads: "Da, you're probably better off where you are," the message begins. 
"There's not even a pub open down here." 
"Sadly missed by his sons Patrick, James, and Ronan, daughters-in-law and all his grandchildren." 
The post was first shared on Reddit, where it quickly drew a warm response.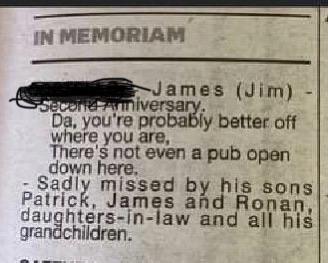 "Bet the Big Pub in The Sky is always open. And they never, ever run 'em dry," one person commented. 
Another concurred: "The Irish heaven." 
The good news for this particular family is that many of those closed pubs are now very much open. 
Earlier this week, wet pubs, serving only drinks, were given the green light to reopen with social distancing, hand sanitiser and other Covid-19 restrictions in place. 
They follow on from pubs serving food, which reopened earlier this summer.