An ambitious fundraiser begins a 400 mile charity jog today down the length of Ireland to raise funds for Macmillan Cancer Support.
London's Pádraig Belton, or Paddy as he is known to friends and family, started his solo mission in Malin  and is due to cross the finish line in Mizen on October 12.
The 400 mile route, being undertaken in memory of his late mother, will take him from Ireland's north to south coast where he will be aiming to average 33 miles per day.
The greatest distance he will need to complete in a single day is 43.3 miles, from Portumna in Co. Galway to Limerick on October 8.
A group of locals from Movile, Derry and Donegal were on hand to give him a sendoff as he began this endurance challenge, which has so far raised over £2,500.
Advertisement
He will be met in Mizen Head on October 12 by a collection of supporters from around West Cork.
Throughout his journey, being dubbed Paddy's Run down Ireland, Mr Belton is being hosted by generous locals - Lions Club members in Portumna, Rotarians in Athlone and a town councillor in Co. Leitrim.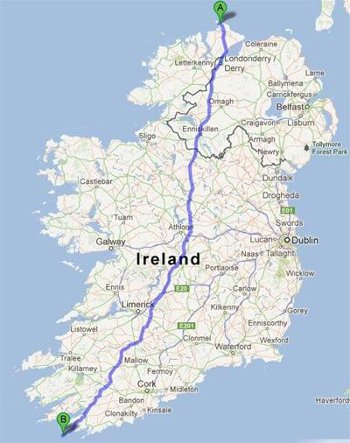 This run follows his solo, unaccompanied 1,000 mile Land's End-John O' Groats cycle last October, which raised £3,500 for a new portable CT scanner in the Royal London Hospital's Trauma Unit.
Both fundraising expeditions end on the October 12, in memory of his mother who died on that day.
To his knowledge he says he may be the first person to run the length of Ireland solo and unaccompanied, a feat he jokingly attributes to not knowing anyone who owns a car.
Further information about his run, route and donations can be found online at www.justgiving.com/RunPaddy.
Advertisement
Paddy's Run Down Ireland stages:
October 1: Malin Head to Derry/Londonderry: 32 miles
October 2: Derry/Londonderry to Omagh: 33 miles
October 3: Omagh to Enniskillen: 25 miles
October 4: Enniskillen to Ballinamore, Co Leitrim: 24.1 miles
October 5: Ballinamore to Longford: 25.7 miles
Advertisement
October 6: Longford to Athlone: 28 miles
October 7: Athlone to Portumna, Co. Galway: 35 miles
October 8: Portumna to Limerick: 43.3 miles
October 9: Limerick to Buttevant, Co. Cork: 32.9 miles
October 10: Buttevant to Macroom, Co. Cork: 33.3 miles
October 11: Macroom to Bantry: 30 miles
October 12: Bantry to Mizen Head, 30 miles
Advertisement