THE OWNER of a restaurant in Donegal has gone out of his way to help anyone who may be struggling for money or food due to the Covid-19 pandemic.
Martin Hernandez, who owns Mexican restaurant La Fiesta, took to Facebook on Monday urging people to get in touch with him if they're having trouble.
"Please don't let you or your kids go to sleep on an empty stomach," he wrote, as he offered to drop meals off at people's doors to prevent anyone from going to bed hungry.
With Level Five restrictions set to kick in at midnight tonight, Mr Herndandez said he recognised that many people may have fallen on hard times, with job losses, pay cuts and a shrinking jobs disrupting so many lives and families.
"We are now 8 months into this pandemic and the country has been put into recession. If anyone is not working, not getting paid, has had their hours cut and runs out of food or times are just too tough, please don't let you or your kids go to sleep on an empty stomach," he said.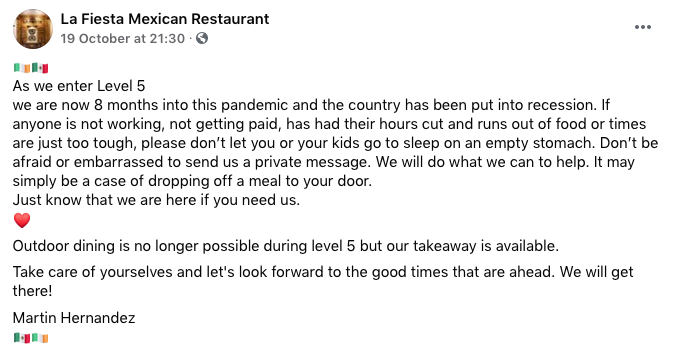 "Don't be afraid or embarrassed to send us a private message. We will do what we can to help. It may simply be a case of dropping off a meal to your door.
"Just know that we are here if you need us," he continued.
"Outdoor dining is no longer possible during level 5 but our takeaway is available.
"Take care of yourselves and let's look forward to the good times that are ahead. We will get there!"
What a lovely fella.