DUBLIN'S LOVE affair with Krispy Kreme looks set to continue with a special limited-edition doughnut celebrating the first birthday of the pastry company's first shop opening in Ireland.
Available for a limited time only, the O'riginal Party doughnut has been made with Krispy Kreme's dedicated Irish customer base in mind.
A unique twist on Krispy Kreme's signature glazed ring doughnut, this particular version comes hand-dipped in a special candy floss-flavoured icing.
That icing is further complimented by a vanilla flavoured frosting and a few sweet sprinkles and stars added for that extra bit of decadence.
The O'riginal Party Krispy Kreme doughnut is set to be made available will be available in-store from Dublin's Blanchardstown store from this Thursday, September 26.
Krispy Kreme is hosting a first birthday party at the Blanchardstown shop that same day.
The party will feature live DJs, face painting, balloon modelling and other doughnut-based surprises.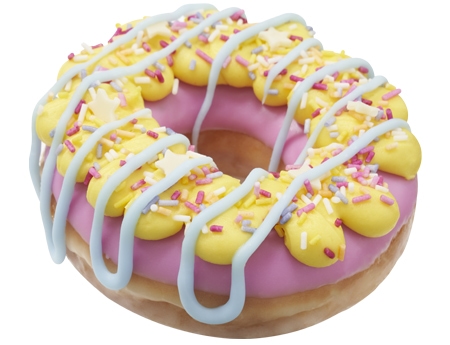 Doughnut lovers in attendance will be able to get their hands on a coupon allowing them to get an Original Glazed dozen for only €1.
Party bags will also be handed out to the first 365 customers through the doors or Drive-Thru while a Original Glazed doughnut is on offer to anyone sharing their birthday with the shop.
It's almost a year since Krispy Kreme first arrived in the Irish capital with a 24-hour shop opening in the city way back on September 26, 2018.
The arrival of the store sent Blanchardstown into meltdown, with doughnut lovers descending on the Dublin region in their thousands in search of late-night sweet treats.
It was a situation that saw cars lining up around the block to get their hands on some Krispy Kremes via the shop's drive-thru facility.
Those traffic jams prompted raucous scenes which eventually forced the shop to scale back its hours following complaints from local residents about noise levels.
Things have calmed down a little since then, but Krispy Kreme remains as popular as ever with Dubliners.