A VERY different kind of Leprechaun is coming to Ireland.
This one doesn't carry a pot of gold and won't grant you wishes. It doesn't come complete with a little beard or cute green coat and hat either.
In fact, this Leprechaun isn't even a man. It's not even a person, it's a pizza.
But don't let that difference put you off. Like its namesake, the Leprechaun Pizza is a thing of some mystery and mischief, rarely spotted but forever discussed.
Some say it's a myth. Something to be passed down from generation to generation but rarely seen in the flesh, this Leprechaun pizza recipe from The Spiffy Cookie says otherwise though and really has to be seen to be believed.
What you'll need:
For the pizza dough:
5 oz. fresh spinach
1/2 cup warm water, plus more for the spinach
1 pkg. (2-1/4 tsp) active dry yeast
1 tsp sugar
1 tsp salt
2 Tbsp olive oil
3-1/2 cups bread flour (may also use all-purpose or whole wheat)
Cornmeal for dusting
For the toppings:
1/4 cup basil pesto
1 cup shredded Mozzarella
4 oz. (1/2 cup) crumbled goat cheese
1 green and 1 yellow 4-section bell peppers, sliced into rounds 1/4-inch thick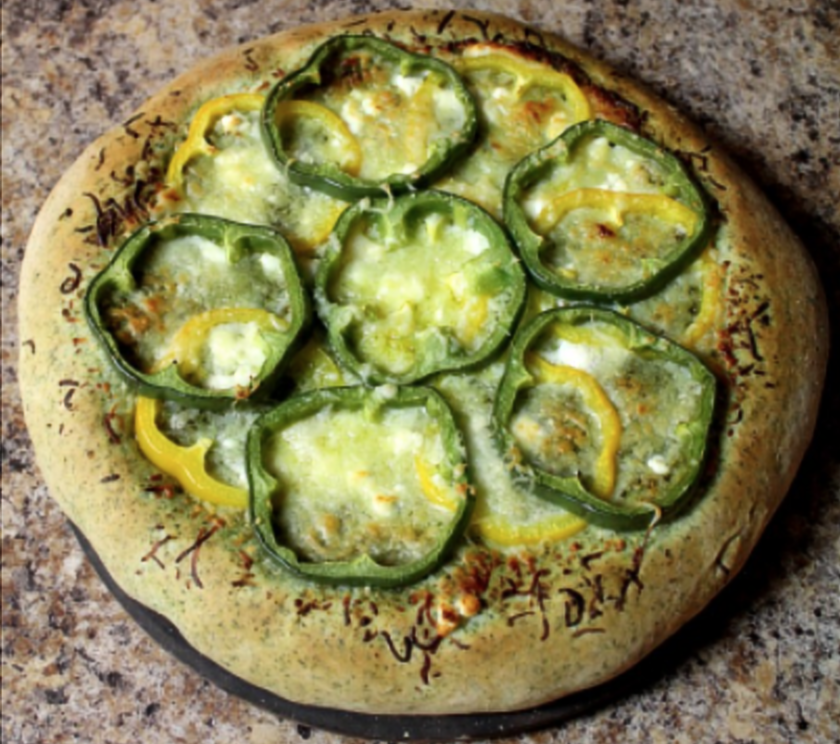 How to make it:
1. Bring a large pot of water to a boil, add the spinach and boil until wilted. Drain and squeeze out any excess water.
2. Place the spinach in a measuring cup and add water to make a volume of 1/2 cup. Add to a blender and pulse until pureed.
3. In a large bowl, add 1/2 cup warm water. Sprinkle sugar and yeast over the water, and stir to combine. Set aside until foamy.
4. Add one cup flour, salt, oil, and the spinach puree. While kneading add remaining flour, one cup at a time and continue kneading until flour is well incorporated. Add extra flour (too sticky) or water (too dry) if necessary.
5. Form into a ball, coat with oil on all sides, place in a bowl and cover. Let rise for 30 minutes or until doubled.
6. Place pizza stone on the bottom rack of the oven and allow to preheat in the oven to 400 degrees, for at least 10 minutes.
7. Roll out dough and transfer to a pizza peel sprinkled with cornmeal.
8. Spread pesto over the dough, and top with Mozzarella, goat cheese and bell pepper slices.
9. Transfer to the pizza stone and bake for 20-25 minutes, until  the crust turns golden and  cheese starts to bubble.
10. Allow to cool slightly before cutting.