ON THIS DAY in 1921, Irish and British forces negotiated and brought and end to the Irish War of Independence.
Ireland's troubled and divided modern history is a reflection of this controversial turning point, and within certain circles remains a subject of bitter debate to this day.
Up to this point, throughout history the people of Ireland were typically united as they faced oppressive rule from the British. There were always exceptions to this, of course, and initially even the Easter Rising of 1916 proved unpopular with a large portion of the Irish public.
It was the swift and callous execution of 14 rebels behind the Rising which ignited the Irish public's fury and bound the country together: Irish Independence was declared and the Dáil Éireann was formed, though neither were recognised by England.
The Dáil was outlawed and the notorious Black and Tans entered the country, and for several years a bloody war raged across the country.
Ireland was partitioned, and counties Fermanagh, Antrim, Tyrone, Antrim, Down and Derry became known as Northern Ireland.
Eventually, a tentative ceasefire was called, and Irish revolutionary Michael Collins, along with Arthur Griffith, Robert Barton, Eamonn Duggan and George Gavan Duffy, were sent to London to negotiate a truce with the British-- President of the Republic of Ireland, Eamon DeValera was conspicuously missing from the negotiations.
On December 6th, 1921-- 98 years ago today-- Michael Collins negotiated and signed the controversial Anglo-Irish Treaty, arguing that the treaty offered Ireland "the freedom to achieve freedom".
Despite ensuring the Crown forces would withdraw from Ireland, and that Ireland would be recognised as a self-governing state, the treaty also tied the northern six counties to the United Kingdom and required members of Ireland's government to swear allegiance to the King of England.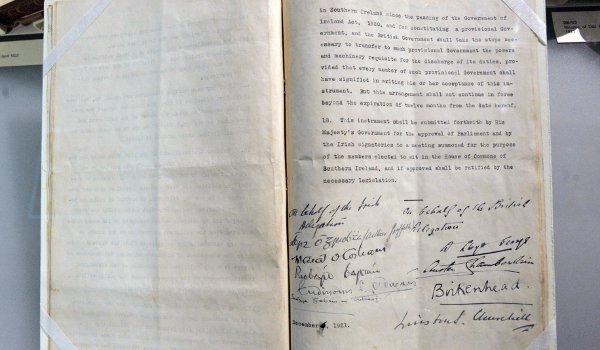 The treaty caused a hugely divisive split within Ireland, and despite passing in the Dáil, led to the desperate Irish Civil War between those in favour of the treaty and those who wished to continue fighting to ensure complete and total independence for the entire island of Ireland.
On his return to Ireland, Collins famously predicted that his support of the treaty meant that he may "have signed my actual death warrant"-- he was killed in the subsequent civil war, ambushed in his home county and anti-Treaty stronghold of Cork as he travelled through Béal na mBláth.
While the country was still fighting a brutal war with itself, and despite Collins being an enormously divisive figure at the time, one fifth of Ireland's entire population lined the streets of Dublin for his funeral, highlighting the potential for future peace and unity in Ireland.