AT THIS point we've all heard of-- and likely tried-- Baileys-infused chocolatey desserts, and so far they haven't disappointed.
Guinness, however, is usually used in heartier recipes like Irish stews and doesn't make as regular appearances in sweet treats as its Irish cream counterpart.
This might all be about to change, however, as one woman has created the ultimate Irish alcoholic dessert: a super-chocolatey Guinness and Baileys cake with ganache frosting and buttercream filling.
Is your mouth watering yet? If not, check out the photograph of the finished product below.
The mastermind behind the Baileys and Guinness Cake, Olivia, published her incredible recipe on Livforcake-- here's how she did it.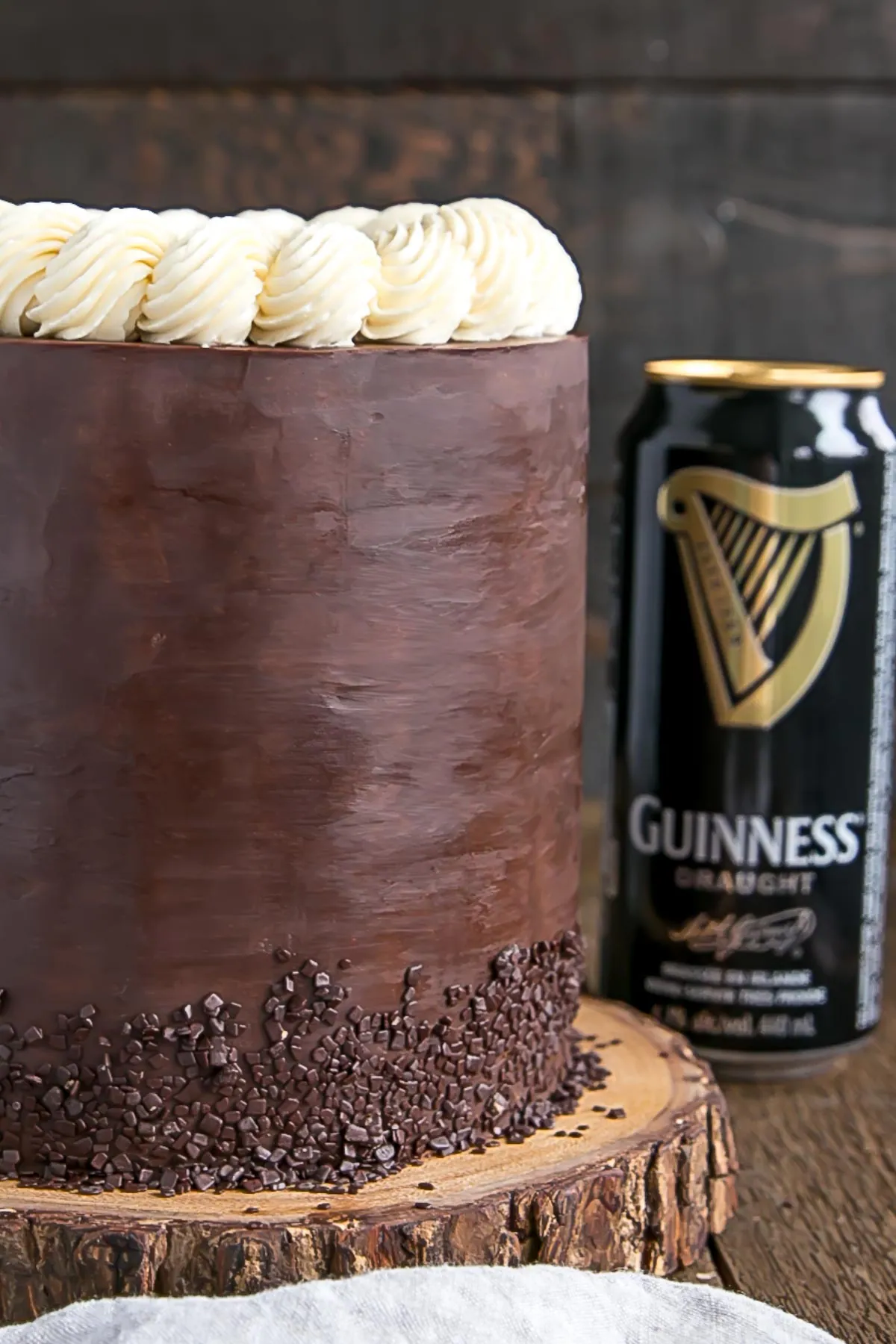 WHAT YOU'LL NEED:
For the Baileys chocolate ganache frosting:
20 oz good quality chopped dark chocolate
1 cup heavy cream
1/2 cup Baileys
1/2 cup unsalted butter
For the chocolate Guinness cake:
2 cups all purpose flour
1 cup granulated sugar
1 cup light brown sugar
1/2 cup Dutch-processed cocoa powder
1/4 cup black cocoa powder
2 tsp baking soda
1 tsp baking powder
1/2 tsp salt
1 cup Guinness
1/2 cup vegetable oil
1 cup room temperature buttermilk
2 large room temperature eggs
1 tsp vanilla
For the Baileys swiss meringe buttercream:
4 large egg whites
1 cup granulated sugar
1 cup unsalted butter room temperature, cubed
2 Tbsp Baileys
1 tsp vanilla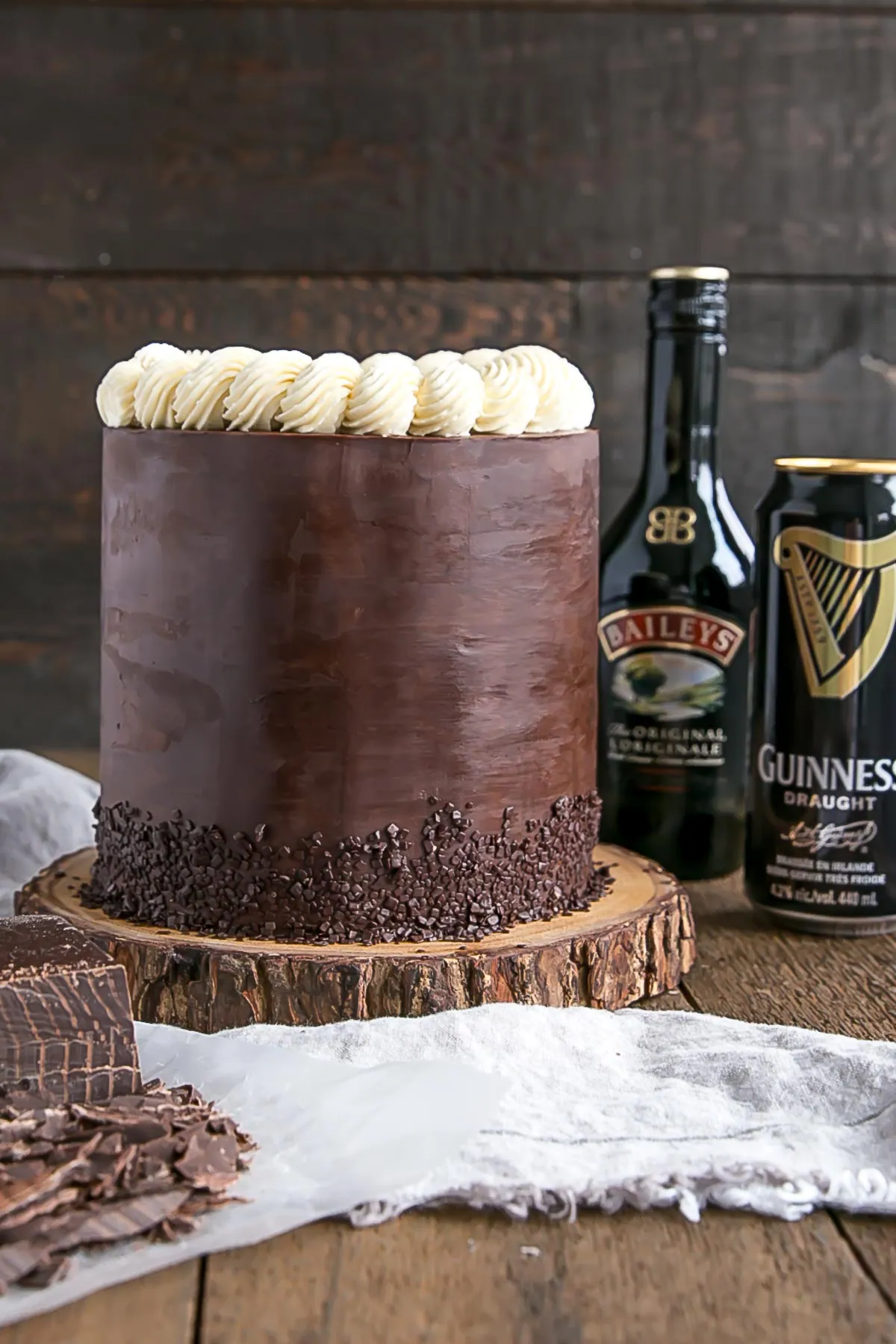 HOW TO MAKE IT:
Baileys Chocolate Ganache Frosting:
Combine heaby cream, Baileys and butter in a medium saucepan and melt in over medium heat, stirring often, until mixture begins to simmer.
Grab your chopped dark chocolate and place in a large heatproof bowl. Add heated mixture to the chocolate, cover with plastic wrap and leave for five minutes.
Once the time has passed, stir with a spatula until the mixture is completely smooth. If lumps remain, place over double boiler and stir constantly until completely smooth.
Place plastic wrap over mixture and leave overnight to allow the ganache to set.
Chocolate Guinness cake:
Preheat oven to 350F (175C), grease three 6" circular baking pans, dust with cocoa powder and cover bottoms with parchment.
Use a mixer to stir and combine flour, sugars, cocoas, baking powder, baking soda, and salt.
Whisk buttermilk, eggs, oil, and vanilla together in a medium bowl and heat Guinness in separate small saucepan until it begins to simmer.
Pour the hot Guinness into the bowl of buttermilk/eggs mix very slowly, making sure to whisk the egg mixture constantly.
Add the Guinness and egg mix to the flour/sugars/cocoas mix and stir on medium for 2-3 mins.  (The batter will be very thin, don't worry!)
Pour batter evenly into greased and dusted pans, using kitchen scale to ensure the batter is evenly distributed for best result.
Bake for a total of 35-40mins or until thin knife comes out mostly clean.
Cool for 10 minutes in the pans before turning out onto wire rack to cool completely.
Baileys Swiss Meringe:
Combine egg whites and sugar together until before placing bowl over 'hot water bath' on stove.
Whisk constantly until the mixture is hot (160F/70C) and no longer grainy to the touch (this should take approximately 3 mins)
Take mix from hot water bath, place on stand mixer and whisk on med-high until the meringue is stiff and cooled and the bowl is no longer warm to the touch(this shoud take approximately 5-10 mins)
Switch to paddle attachment. Add cubed butter bit by bit and mix until smooth.
Add Baileys and vanilla and whip until smooth.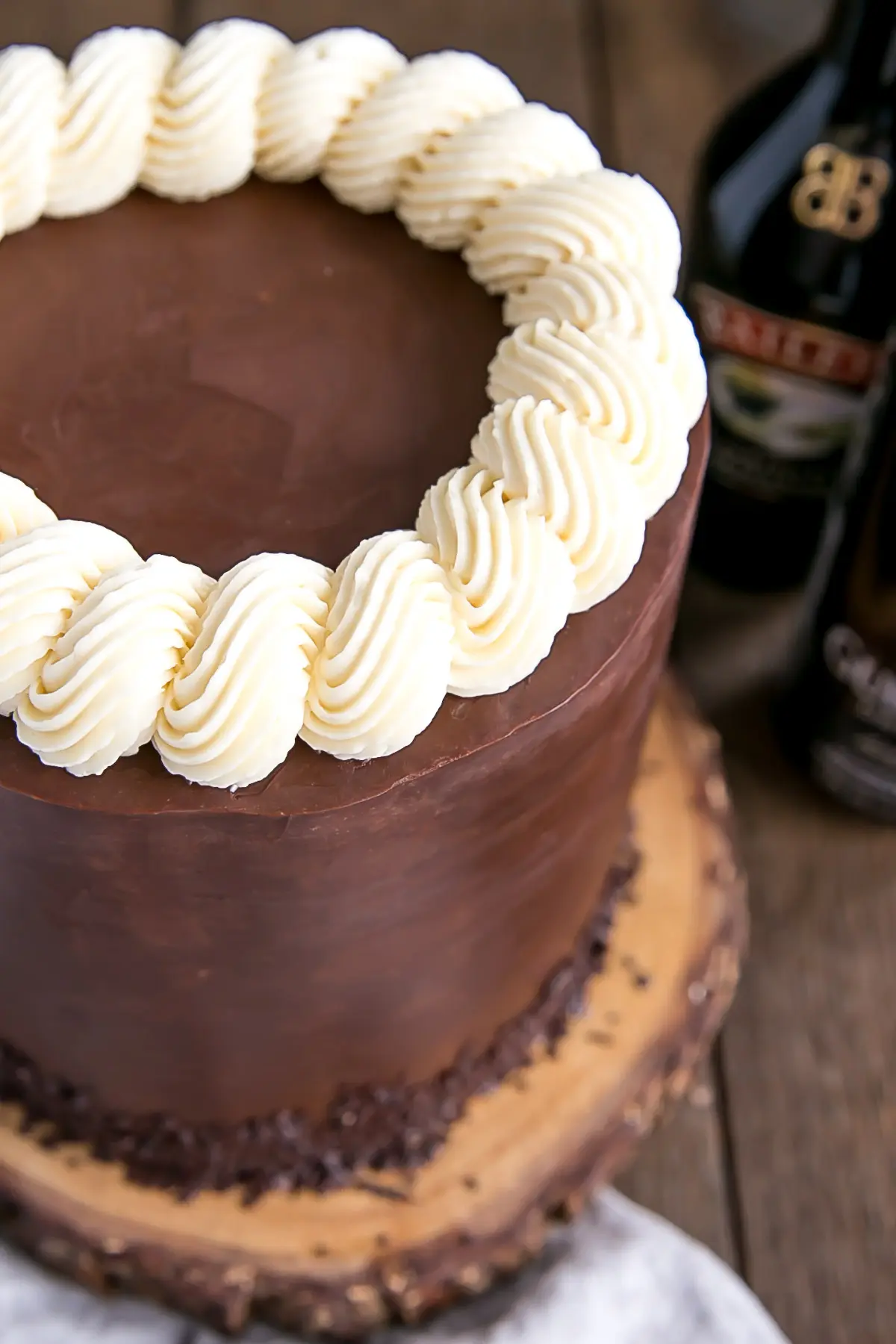 PUTTING IT ALL TOGETHER...
Here's what chef Olivia says will give you the best looking Guinness and Baileys cake...
"Cut each layer of cake in half horizontally.
Place one layer on a cake stand or serving dish. Top with 1/2 cup buttercream, spreading mixture evenly. Repeat with remaining layers switching between buttercream with ganache. Frost and smooth the outside with a thin crumb coat. Allow to chill and set for 20 minutes.
Frost the chilled cake with the remaining ganache. It will start to set against the cold cake.
To smooth the top and sides of the cake, use a metal bench scraper and offset spatula that have been run under hot water (wipe them off before use). Keep heating the scraper/spatula and repeat the process until the sides and top are smooth.
Using the remainder of the buttercream, do a rope border on the top using a Wilton 6B piping tip.
Decorate bottom with chocolate flakes if desired."
(To see the original recipe and find more, visit Livforcake.com)