RETAIL giant Marks and Spencer has found itself at the centre of a social media storm about tea. 
An irritated Irish woman's complaint on the company's official Facebook page after her parents were served weak tea in its Blanchardstown café in Dublin has since gone viral.
Marie Byrne's mother, 78, and father, 80, requested a second teabag for their pot of tea to make it stronger, but they were refused.
"They were told they must BUY a second pot, they asked for a supervisor who confirmed they must pay", Ms Byrne wrote.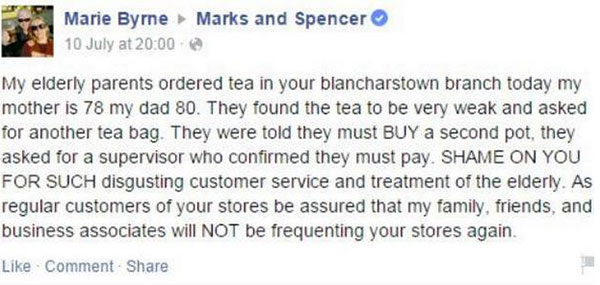 The post has so far been 'liked' by over 10,000 people.
Marks and Spencer apologised for the service that Ms Byrne's parents received, and stated that the comments would be passed onto the Café manager.
Read Café Manger, Chris' reply here: