NORTHERN IRELAND First Minister Arlene Foster has refused to back the UK's government's new coronavirus slogan, which has seen the previous message of "stay at home" replaced with "stay alert". 
Ms. Foster told the BBC that she will continue to us the "stay at home" message despite UK Prime Minister Boris Johnson moving to update plans. 
"On the whole, the message is to stay at home. We will say we are not deviating from the message at this time," she said. 
Her response echoes that of Scotland's First Minister Nicola Sturgeon and points to a possible rift in the UK's response to the ongoing pandemic. 
Mr. Johnson is due to address the United Kingdom this evening in a broadcast that will see him outline plans for helping ease the country out of lockdown and into what is being termed the new normal. 
As part of his "road map" for recovery, the UK Prime Minister is set to tell the country to "stay alert, control the virus and save lives". 
It's a slogan that has attracted wider criticism online, with many outside the world of politics expressing concern that the vague nature of the slogan's message could encourage many to break with the lockdown restrictions in place. 
Those concerns are evidently felt in Northern Ireland with Ms Foster agreeing with Ms Sturgeon on the need to maintain strict clarity with the message to the public. 
Writing on Twitter, Scotland's First Minister said: "The Sunday papers is the first I've seen of the PM's new slogan.  
"It is of course for him to decide what's most appropriate for England, but given the critical point we are at in tackling the virus, #StayHomeSaveLives remains my clear message to Scotland at this stage." 
Vaughan Gething, health minister for Wales, also expressed concern over the change in tact, adding that there had been little to no discussion with other nations regarding the shift.  
"I've seen the media briefings and changed message for England. There has not been a 4 nations agreement or discussion on this," Mr Gething tweeted.  
"The @WelshGovernment message has not changed. Stay at home and if you do go out observe the social distancing rules. #StayHomeSaveLives".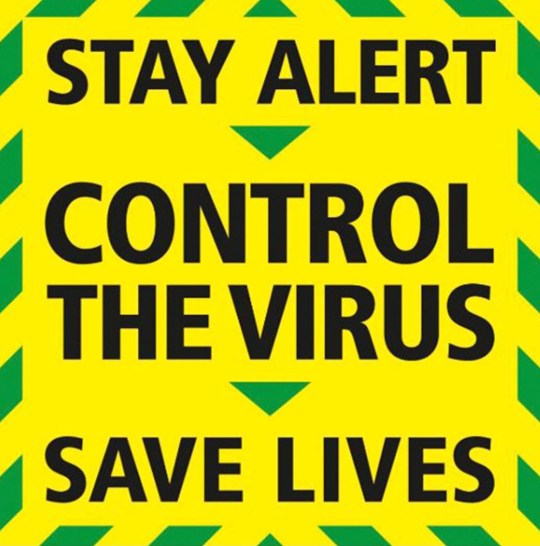 Despite the evident lack of communication, UK Communities Secretary Robert Jenrick has called for a united approach to the plans, telling Sky's Sophy Ridge on Sunday: "We hope that they will agree to a consistent approach across the country, that's our strong preference." 
Mr Johnson is expected to use tonight's address to the nation to unveil a new coronavirus warning system which is designed to detect local increases in infection rates. 
Any spike in numbers could result in an increase in rectrictions on a local level. 
The pre-recorded address will also see Mr Johnson outline plans for when workers who cannot do their jobs can begin to resume work, albeit in a new social-distancing friendly setting. 
It comes after figures indicated the UK's overall death toll now stands at more than 36,500.